All-Ireland final appearances are par for the course in Mayo, but the county's sixth decider in a decade hasn't diminished interest in the action.
There are the usual flags, scarves and headbands at every turn; local papers are bulging with big match build- ups and anything and everything that can be turned green and red has been altered in a show of support.
You can get spray paint for your sheep, bespoke breakfast pudding or any number of specially designed t-shirts.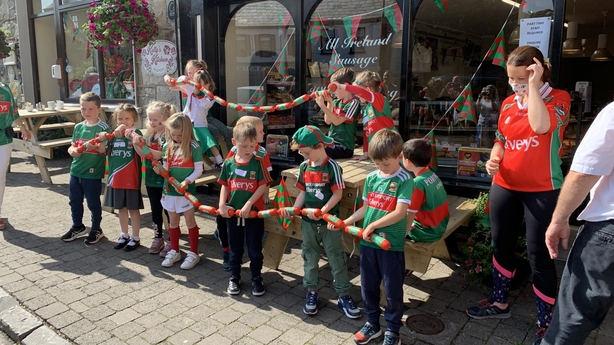 Like children across the county, pupils at Holy Trinity School in Westport have eased back into the academic year, with the sweetener of an All-Ireland to look forward to.
Jersey days have become jersey weeks in some schools and every square inch of space has been given over to bunting, posters, drawings and predictions, ahead of tomorrow's game.
Holy Trinity Principal, Orla Brickenden, has a special association with the footballers' endeavours. Her son Rory is on James Horan's panel.
"The mood is extra special this year … because we're coming out of Covid, the weather is great and we're keeping an eye on all the Westport based players on the team.
"It's a team full of reserves of energy and strength and they're great role models for the children here."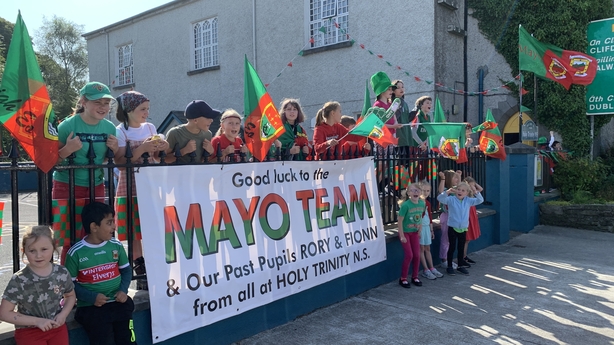 Another parent with a link to the panel, via his son Fionn, is Willie McDonagh. He's filled with confidence about Mayo's prospects.
"The panel is in a great space. Westport has five players involved and they're very upbeat and positive.
"We haven't got over the line yet but this year, I think, is our year," he said.
Mr McDonagh expects an outpouring of emotion if the county prevails against Tyrone.
"There's no baggage going there [Croke Park] this year… Over the last ten to 15 years in Mayo football, we have been at the top table and performed to our limit.
"If we are at our best on Saturday evening, we'll win the All Ireland."
---
Read more:
Excitement builds in Tyrone ahead of All-Ireland final
A look ahead to the weekend clashes
---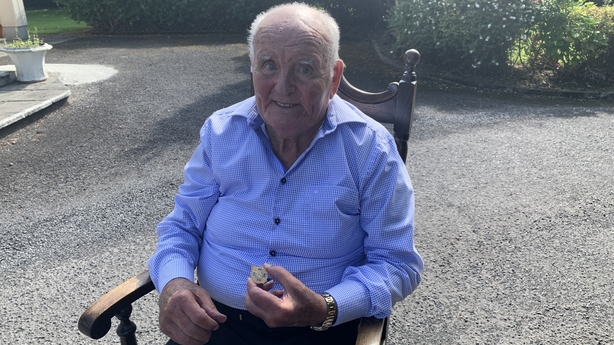 Another keen observer of the game is a little more reserved in his analysis.
In glorious autumn sunshine this week, Dr Mick Loftus spoke of his own involvement with the last Mayo panel to win Sam Maguire and looked ahead to tomorrow evening's match.
As he displayed the medal presented to him for his involvement, as a non-playing substitute on the 1951 panel, he spoke of the likelihood of a close game.
"The easy answer to you is it's a 50/50 game, but it's difficult to say. This is a good Mayo team … they're a very strong team, good footballers, so please God it will go the right way.
"It would be great to see a good, open, fast game … but it's going to be a difficult one to win."
The former GAA President says a victory would give a lift to the county, comparable to the scenes in 1951 when the last Mayo team came home with the trophy.
Dismissing talk of curses from that homecoming, Dr Loftus recalled travelling through to Castlebar on the back of a lorry with his team-mates.
"It did something for the county, there were such celebrations, people were thrilled and it's hard to believe it's so long ago."
A reprise of those celebrations has been tantalisingly close, especially in recent years. Barring a repeat of 2016, when Mayo brought Dublin to replay, we'll know by tomorrow evening if this is the year.