With just days to go to the All-Ireland final, Co Tyrone is throbbing with anticipation.
The flags are out, the banners are up and the hunt for the last few tickets is under way.
In Strabane, five 18-foot-tall metal sculptures, nicknamed the Tinnies, are a local landmark.
And for the past week they have been festooned in giant GAA rigs.
It's the work of the Strabane Sigersons club, said chairman Liam Sweeney.
"When Tyrone qualify for the All-Ireland the club comes out and with the help of O'Neills we basically get new jerseys designed and we dress the Tinnies to support the team.
"It takes five or six people per statue, a couple of hours, but as you can see it's well worth it."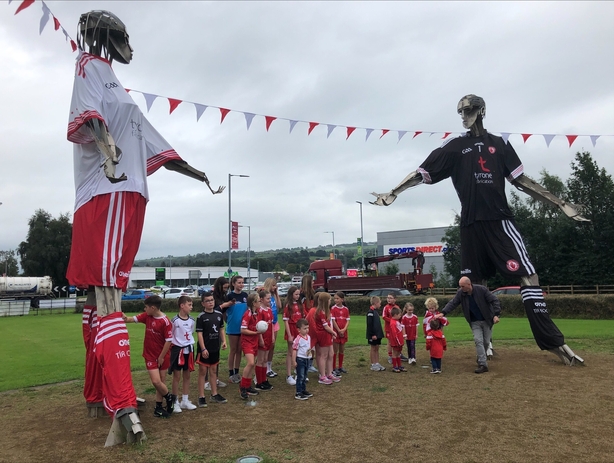 At St Mary's Primary School Cabragh, near Ballygawley, 212 excited children, decked out in their county colours, are awaiting the arrival of Tyrone star Tiernan McCann.
In an impromptu question-and-answer session in the playground, he is bombarded.
Is he nervous about the upcoming match? Who's his best friend on the team? And from a budding sports journalist in the ranks, does he rate the current management team of Brian Dooher and Feargal Logan?
"Well, I'll ask you back the question," he said diplomatically.
"So it's their first year in charge, we've stayed in Division One, which is important, we've won the Ulster Championship and we're now we're in an All-Ireland final, do you think they're good managers?"
Cue a chorus of cheers.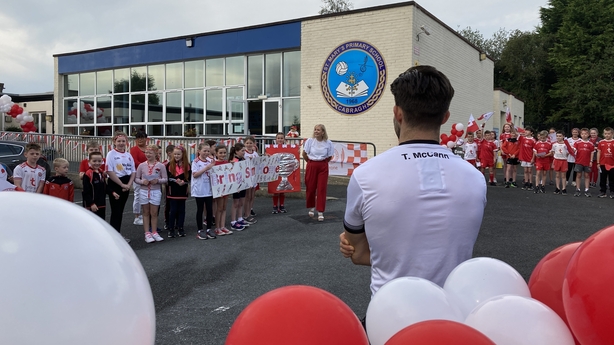 Principal Louise Quinn said the run-up to the game and the excitement it has generated has been a welcome relief for schools that have been dealing with Covid complications.
"It has given the school a tremendous lift. It has just been so heartwarming to see the children so excited because their emotional well-being is so important to us here. To see them excited and happy and the atmosphere in school has just been amazing," she said.
The children have considered no other outcome than a Tyrone win. Eight-year-old Barry said his confidence was based on the fact that his team had won several games "by a tonne".
Eleven-year old Caitlin said they would win because "Tyrone have the best players".
But it's not just unbridled enthusiasm in Tyrone; there is a lot of in-depth analysis going on too.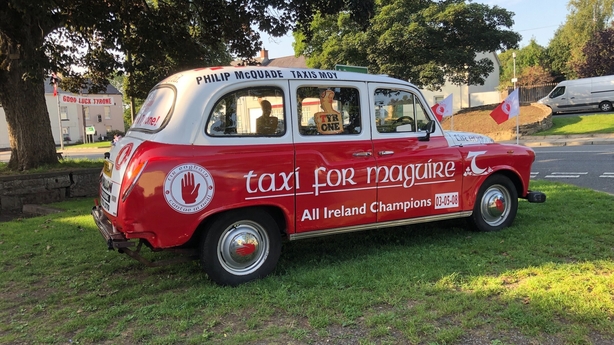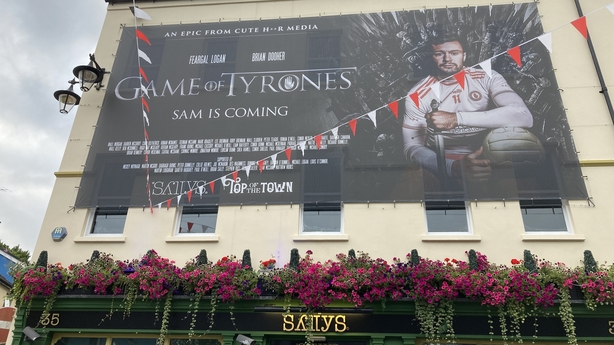 At talk nights in advance of the game, former county stars dissect the championship run in front of knowledgeable fans.
They are hosted by Noel McGinn, who played in the 1986 final and who is not sure who will win at the weekend.
He said: "I find it very hard to call to be honest. Every morning I wake up and I'm thinking we will win it, and then by lunchtime I've convinced myself that we won't.
"If we do win it, it will be brilliant. If we lose it, it's the end of Mayo's 70-year wait and I think that would be brilliant to see as well."
Across the county, the flags are out and the banners are up.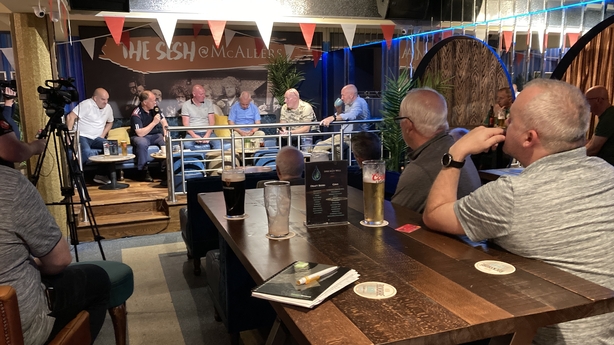 In the Moy, we met two bemused Englishmen, Kevin Rowe and Rob Angel, who were enjoying a pint in the late afternoon sun. Both were struck by the passionate support.
Kevin, who played soccer to conference league level, welcomed the robustness of Gaelic football.
"It's just the physicality of the game. It's a very strong game and I was really impressed. English football is moving away in a different direction, but this, this is a different thing," he said.
County songs have been written and recorded. There are at least three doing the rounds.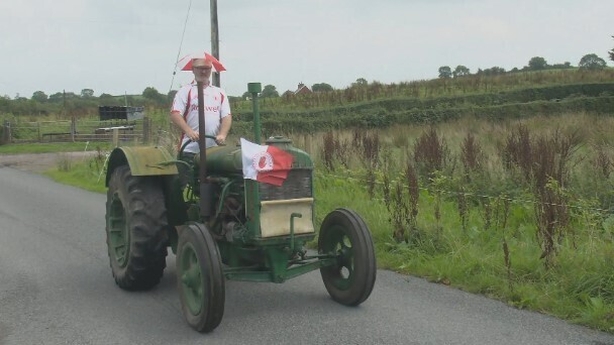 Actor Conor Grimes has an alter ego, Datsun Donaghy, who appears whenever Tyrone reaches the final.
The song video features a catchy tune, an umbrella hat and a 1936 Fordson tractor en route to Croke Park for the game.
The fans will be hoping for another vintage performance from their team when they get there.