Four statues that were temporarily removed from plinths outside the Shelbourne hotel in Dublin last July have been reinstated. 
The statues, depicting women holding torches, have been a familiar sight there for 153 years but they were taken down after being mistakenly identified as slaves.
Their reinstatement follows a special report on the statues by Paula Murphy, one of Ireland's foremost experts on sculpture, which was carried out in order to fully understand the provenance of the statues and place them within their proper context.
The reinstallation took place after professional restoration work was carried out on the statues, as recommended in this expert report, and in line with statutory consent received from Dublin City Council.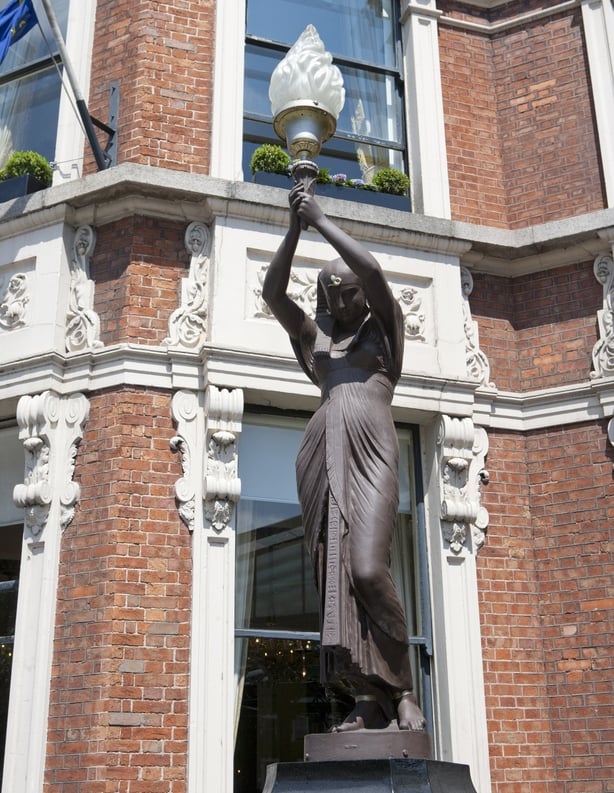 The Mathurin Moreau pieces were sculpted in 1867 in Paris.
The decision to take them down prompted complaints to Dublin City Council that the removal was a breach of planning permission.
The former environment Editor with the Irish Times, Frank McDonald, has said the statues should not of been taken down in the first place. 
"They were part of a protected structure, part of the history of Dublin and very much associated with the Shelbourne Hotel." he said.
"I think what happened really was a shame, it turned out to be much ado about nothing in the end. It was an attempt to import American cancel culture into Ireland, that the American owners and operations decided to get rid of them because two of them might have been slave girls.
"Then art historians established as a matter of fact that they were cast in Paris in the 1860s, very much of their time and depict two Nubian princesses and two Egyptian princesses holding up torches," Mr McDonald added. 
Ian Whyte, managing director of Whyte's Irish Art and Collectables Auctioneers, said the statues have an aura about them and are very beautiful. 
"They were acquired by the hotel in the mid-19th century. They were very fashionable, the was a vogue for things like this especially from North Africa," he said.
"The artist Mathurin Moreau was quite popular at the time. He would be regarded as one of the better sculptors from his age and he was able to mass produce some of his works so people could buy them as decorations, smaller ones, for their homes. The larger ones are rare nowadays. I'm delighted to see them back and I think Dubliners appreciate these kinds of things," Mr Whyte said.  
Meanwhile, An Taisce has said it welcomes the reinstatement of the four bronze statues to the front of the hotel, which are part of the original 1860s front boundary treatment of the protected structure decorating the front to St Stephen's Green.