The plinths outside Dublin's historic Shelbourne hotel will soon have their statues restored.
The four statues, depicting women holding torches, have been a familiar sight for generations of residents and Dubliners.
They had stood at the front of the hotel for 153 years but they were removed in July after being mistakenly identified as slaves.
The hotel commissioned a study to research their origins and concluded that they are not depictions of female slaves.
Art historian, Kyle Leyden, conducted his own independent research and found proof in the archives about their representation.
"They were created in France and were of Egyptian and sub-Saharan women," he told RTE News.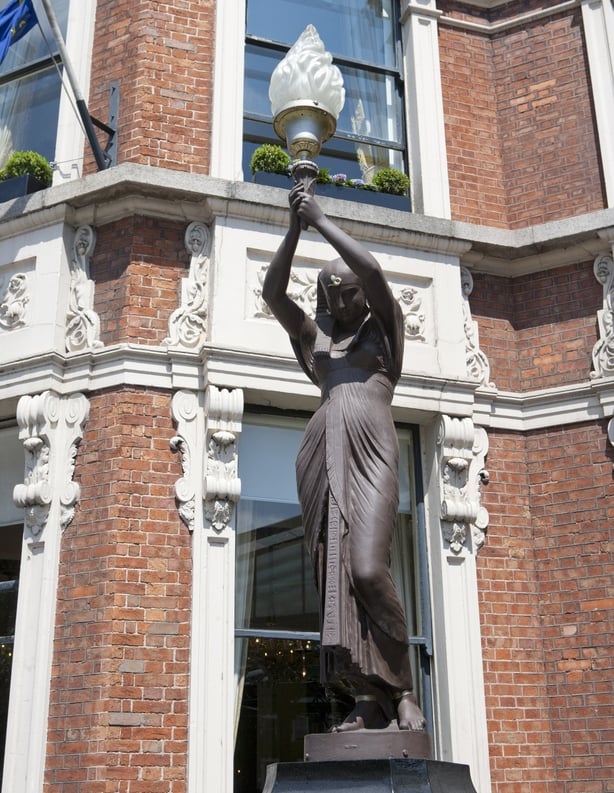 Mr Leyden believes they are an 'aristocratic representation' of Nubian and Egyptian princesses rather than depictions of slaves.
"They were likely purchased as part of the 'Egyptian-mania' that made all things Egyptian fashionable in the 19th century and were likely seen as representations of luxury and wealth," Mr Leyden said.
The Mathurin Moreau pieces were sculpted in 1867 in Paris.
The decision to take them down prompted complaints to Dublin City Council that the removal was a breach of planning permission.
Now they're going back up, some academics believe it's time for a radical change in thinking.
"I think it is a missed opportunity," Dr Ebun Joseph, lecturer in Black Studies at UCD told RTÉ News.
"Ireland was offered to correct a wrong that was done and we have missed that by going back to reinforce a negative presentation that is there," she said.
Dr Joseph is highly critical of the decision to put the four statues back front and centre outside the Shelbourne Hotel.
"This is 2020, let us make history for the next generation,'' she said.
"Let them say that this is the year that all racist representations were taken away and housed somewhere. That is the history I'm looking for," Ms Joseph said.
But art historian Kyle Leyden disagrees.
"It would be disproportionate to remove them as the Shelbourne Hotel is the only surviving 19th century hotel on this scale in Ireland and the statues are part of the hotel's history and were not intended to have a political meaning," he said.
The Shelbourne hotel has confirmed that the statues will be restored to their plinths after they have been cleaned and restored to their former glory.
Once they are back in position a plaque will be installed to explain their background and history to the public.
We need your consent to load this rte-player contentWe use rte-player to manage extra content that can set cookies on your device and collect data about your activity. Please review their details and accept them to load the content.Manage Preferences