Dún Laoghaire Rathdown Council said a two way segregated cycleway, built between Blackrock and Sandycove, is getting people out of their cars and onto bicycles.
It was built in July and the council said that was in response to a 100% increase in people cycling during Covid-19 restrictions
While the 3.9km route has been welcome by the 17,000 people cycling on it weekly, there have also been concerns that making the coast road one way for motor traffic would increase traffic and parking problems in areas such as Monkstown and Glasthule villages.
However, Dún Laoghaire's Director of Infrastructure and Climate Action Robert Burns said new data gathered by the council shows that congestion has eased for drivers since the route was installed.
He said on the busiest day, which is Sunday, journey time for cars travelling from the city direction to Dún Laoghaire has dropped by four minutes from 13 minutes to nine minutes.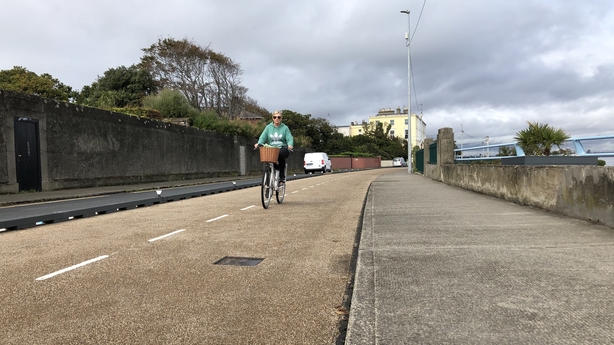 He said this is also the busiest day for cycling and to him that suggests some people are choosing to get out of the car and use the cycle route, a process sometimes described as traffic evaporation.
He also said men and women of all ages and children are all using the route whereas in areas without segregated cycle routes working age men are over-represented amongst cyclists.
The cycleway which is called the Coastal Mobility Route is a temporary measure albeit one without a definite end date.
Robert Burns said its future will ultimately be decided by the people of Dun Laoghaire and their elected representatives