Patients with obesity and their doctors are expressing concern at shortages of a drug which is having a dramatic impact on weight loss.
Ashley O'Driscoll told Prime Time she has lost a staggering 41kg or six and a half stone since first being prescribed the injectable pen, Ozempic, almost a year ago.
The drug was originally designed and is licensed for type 2 diabetes in Ireland, but more recently it has been widely prescribed by doctors to treat obesity.
Guidance from the drug's manufacturer to prioritise patients with diabetes, which was quoted in a letter sent to pharmacists and doctors by the main medical authorities in the State, has led to Ashley and other patients with obesity having difficulty filling their prescriptions. The Dublin mother contacted 26 different pharmacies before getting her most recent batch of the weekly injection.
"A lot of pharmacies won't have it because they are prioritising diabetics which I 100% agree with," she explained, "but they should also have one or two pens put away for the weight loss community."
Her results with the drug have been transformational.
"For someone who always saw triple digits on the scales (134 kg) to get on and see 93kg, it was the most amazing feeling in the world."
Ozempic's active ingredient, semaglutide is licensed for use for obesity here in a larger dose under the brand name Wegovy but that version is not for sale yet.
"I was very worried that I was heading for a heart attack or something along those lines," Ashley explained, describing how a photograph taken at her daughter's confirmation was a catalyst for change.
Her GP who prescribed Ozempic also referred her to a HSE weight management service where the waiting list, according to the letter she received, is five years long.
"I laughed when I got the referral letter. If Ozempic hadn't worked for me I could have gotten bigger and bigger."
Professor Francis Finucane has prescribed the drug to 3,000 patients with obesity at Galway University Hospitals. He explained how it changes the threshold at which people feel like continuing to eat or feel like starting to eat in between meals.
"These drugs have transformed our clinical practice and our clinical approach to obesity."
Up to 2017, like many leading obesity practitioners, he consulted with the pharmaceutical companies that develop these medicines.
There is an emerging scientific consensus that the approach of 'eat less, move more' doesn't work for those with severe obesity. Professor Finucane contends that there is not a problem with someone's personality or their fat cells, rather the issue arises in parts of the brain that are out of our control.
"We know from animal studies, for example, that it's almost impossible to overcome the changes that occur within the brain when somebody has gained a lot of extra weight."
Research has shown high doses of semagultide led to a 15% reduction in body weight, on average.
Ashley O'Driscoll describes the drug as a "miracle" which, combined with exercise and a calorie deficit, has led to her dramatic weight loss. The medicine has become an internet sensation with a billion views of #Ozempic on TikTok. Ashley is among those documenting her journey in video diaries on social media.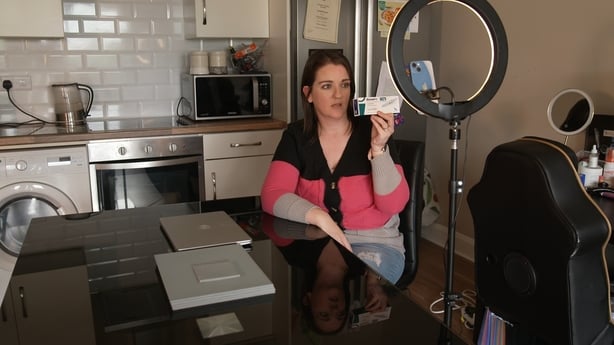 In her online posts she doesn't sugar coat the drug's side effects which can be very unpleasant. Vomiting, headaches and issues with diarrhoea are not unusual. But there's another side effect - the cost.
Ozempic only has a license in Ireland for type 2 diabetes. Currently only diabetes patients can obtain the medicine on medical cards or under the drugs payment scheme. Ashley's dose is now two pens a month which costs her €300.
"In order for me to lose weight successfully, I have to pay €300 a month to do it. It's a huge expense."
Kathy Maher, who owns Haven Pharmacy in Duleek, says Ozempic is in short supply globally.
"What we're finding is we don't have the stock. It is one of these high profile medicine shortage supplies that we've experienced over the past 12 months like some antibiotics and HRT."
Last week the Medical Council and the Pharmaceutical Society of Ireland wrote to doctors and pharmacists quoting the Novo Nordisk position that using Ozempic for obesity represents 'off label' use and places supply at risk for diabetics.
Off-label use is where a drug that's approved for certain conditions is prescribed for another purpose.
Kathy Maher said pharmacists have to work within the drug's license and it was a challenge to supply the drug to everyone.
"It depends on your own patient cohort, what supply you have in stock and who you can supply it to," she explained.
"The challenge here is there are patients that have had great success with Ozembic for weight loss but we have been asked to be careful because the supply of Ozempic into Ireland is so intermittent."
Some diabetic patients have been on the drug for a number of years and are also experiencing difficulty obtaining their prescriptions. Diabetes Ireland is urging prescribers to use the drug "as outlined in the guidelines and specified by the regulatory bodies in Ireland to help to maintain the continuity of care of people with type 2 diabetes".
There are alternative medicines for diabetic patients and pharmacists are calling for them to be given the authority to change a customer's medication, if necessary, where there is another option.
But the current main alternative for obesity in Ireland, Saxenda, costs more and is less effective, according to doctors like Francis Finucane who also argues that because semiglitude is licensed in a larger dose, although not on sale yet, Ozempic should not be considered off-label for obesity.
The Medical Council told Prime Time the letter sent to doctors wasn't inferring they shouldn't prescribe Ozempic for obesity but reminding them that shortages should inform their decision-making.
But Prof Finucane argues the council should also issue a statement that semaglutide is licensed and appropriate for obesity.
"I'm concerned that our patients aren't getting access to the very best treatment that's available out there to them, and this is occurring on a background of a totally inadequate level of access to other treatment strategies like bariatric surgery," he told Prime Time.
Because obesity has become a problem not just for individuals but for society, there are some who question whether there's a risk of prioritising curing obesity with these drugs over preventing it happening in the first place.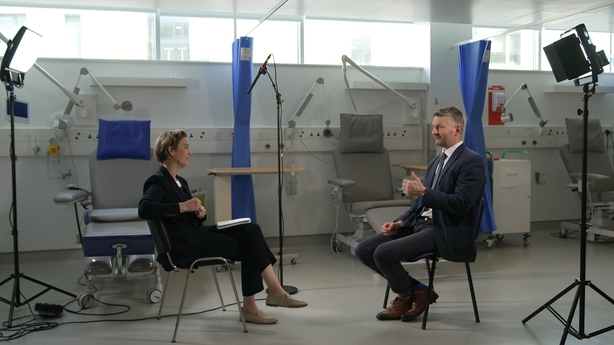 Prof Louis Aronne, Director at the Weill Cornell Medicine, New York was in Dublin recently for the 30th European Congress on Obesity. He disputed the suggestion that medicine may have given up on preventing obesity.
"Stopping smoking is a way to prevent lung cancer, but it's not a treatment for lung cancer. We now have a treatment for obesity, but no one thinks it's a prevention for obesity."
Prof Aronne, who is currently consulting with the companies making weight loss drugs, said he believed they were safe for long term use. "The general category of these drugs has been around since 2005 and I believe that if we were going to see problems, we would have seen something develop at some point."
Research suggests weight can be regained if the drug is discontinued entirely and Prof Aronne suggested that interim, lifetime use could be the future for patients with obesity.
"I don't think anybody wants to be on a medication forever, but if that's the only option in order to achieve a lower weight and to feel better, I think that many people would be willing to do that."
A medicine you might have to be on for life is a potential pharmaceutical goldmine and it also presents a dilemma for policy makers. Can the State afford to pay for drugs which have such a wide, potential use?
Prof Michael Barry, Director of the The National Centre for Pharmacoeconomics which evaluates the cost effectiveness of medicines in Ireland said the new generation of weight loss drugs were, "one of the greatest challenges we face today in terms of reimbursement".
He said that in future if Wegovy which is the brand name for the larger dose of semaglutide is reimbursed by the State for its full licensed indication it could cost in the region of 100m euro a year.
"We haven't seen anything like this level of demand for a drug therapy before."
The centre is recommending a full cost-benefit analysis be undertaken on Wegovy particularly, Prof Barry explained, in the context of a growing national bill for drug expenditure.
"Maybe this drug will do what we think it might do - reduce cardiovascular disease and the other comorbidities associated with obesity, but that's where a full economic evaluation would be very useful."
For Ashley O'Driscoll the cost of buying Ozempic every month is having an impact and she is hoping, once she reaches her goal weight, to taper off the drug. In the meantime, she is anxious about filling her prescription.
"I'm already panicking. Will I be able to get it when I need it again? I don't know."
---
An RTÉ Prime Time report on ozempic broadcasts on Thursday June 1 at 9.35pm