Dublin woman, Ashley O'Driscoll, says she is "panicking." The drug that she has relied on for her astonishing weight loss is in short supply and available batches are being prioritised for those with diabetes rather than obesity.
Ms O'Driscoll's weight has plunged 41 kilos to 93 kilos since she began taking weekly Ozempic doses almost a year ago.
"I'm already panicking. I need it again for next week. I need it again. Will I be able to get it? I don't know."
She is not alone. Obesity patients in Ireland are struggling to source the drug.
Ozempic was originally designed and is licensed for type 2 diabetes in Ireland, but its active ingredient, semaglutide, is also being widely prescribed by doctors to treat obesity.
It mimics a hormone which slows the release of insulin, but also extends the feeling of being full.
Its popularity as an obesity treatment has fuelled the Ozempic shortage.
Recent correspondence from its manufacturer, Novo Nordisk, highlighted the shortage and reminded clinicians that this particular version of the drug is only licensed for type 2 diabetes and said that any other use, including for weight-management, represented off-label use.
This has resulted in those with diabetes being prioritised, leaving obesity patients and their doctors demanding answers.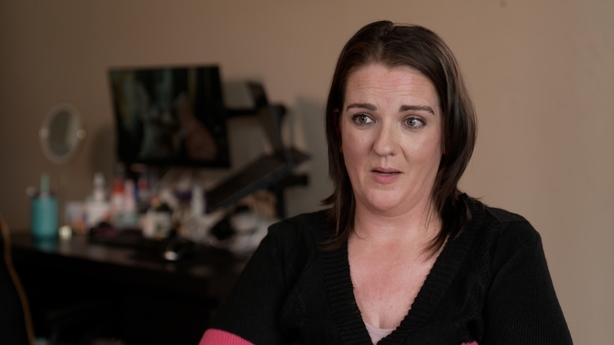 "These drugs have transformed our clinical practice and our clinical approach to obesity," Professor Francis Finucane of Galway University Hosptial told Prime Time.
Diabetes Ireland, too, has urged all prescribers "to prescribe Ozempic as outlined in the guidelines and specified by the regulatory bodies in Ireland to help to maintain the continuity of care of people with type 2 diabetes."
There are alternative medicines for diabetic patients and pharmacists are calling for them to be given the authority to change a customer's medication where there is another option.
Prof Finucane wants the Medical Council to clarify that semaglutide is appropriate for prescribing to obesity patients.
"These drugs are very safe, very effective, and they transform the health of our patients day in, day out."
However, there are concerns that the potential long-term impact of using such drugs may be under-appreciated. There are also those who caution that the focus should be on measures to prevent obesity in the first place rather than on a medical cure.
Others question how much the State should pay to cover the cost of such drugs, with estimates saying that, once supply increases and the next generation of medicines are on the market here the potential costs could run to €100 million a year.
---
An RTÉ Prime Time report on ozempic broadcasts on Thursday June 1 at 9.35pm