Living at the office used to mean working long hours but what if you could literally live in an office?
Jackie McKenna is proof that the idea can work. Last year, she moved into a Dublin office block that has been converted into apartments.
Her third floor flat in the Park West business park in Cherry Orchard in Dublin is a feat of creative thinking. It's bigger than average, has plenty of storage and the large cement pillar that hints at the building's former use is tucked into a corner.
The complex, which had been empty for two decades, was converted last year into 86 apartments by Harcourt Developments and bought for social housing by housing charity, Tuath.
"I couldn't visualise it until I saw it myself," Ms McKenna told Prime Time.
"I came up to have a look and couldn't believe the two office blocks were going to be apartments. To see them now, it's amazing."
The units cost an average of €300,000, and according to Tuath's Director of New Business, Martin Loughran, took slightly less time to complete than traditional builds.
"Some of the apartments have quite unusual shapes and they're larger than a typical flat," he told the programme.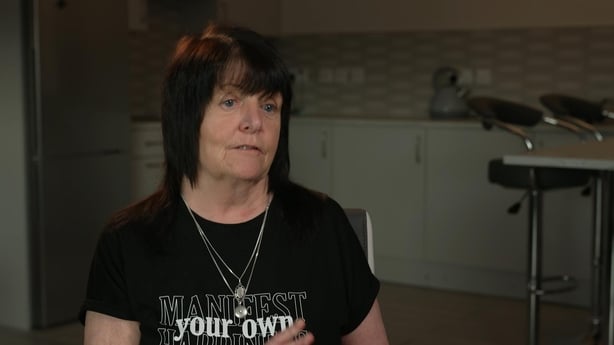 To meet regulations static windows in the office's original facade were replaced with windows that open, while in place of traditional balconies winter gardens have been created offering daylight and extra space.
"All 86 apartments are now fully occupied by 200 tenants from Dublin City Council's housing list. We could have filled them multiple times over," Mr Loughran said.
Since the launch of the scheme, Tuath said a number of developers have approached with similar projects and a second office conversion is almost complete in Cork city.
The business park's unconventional neighbourhood isn't an issue for Jackie McKenna.
"The weekends are quiet, but it's a nice walk into Ballyfermot. There's a bus and a train station. You're not stuck."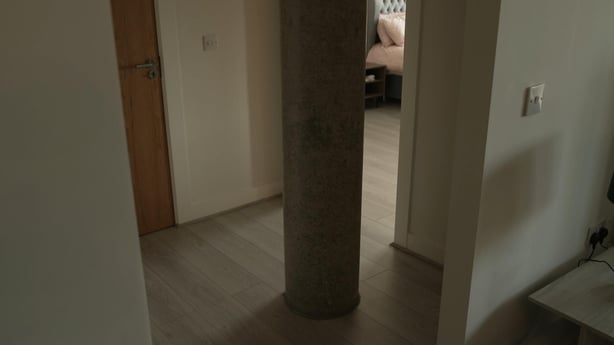 The Cherry Orchard project was one of the first large-scale office conversion in the country, but might changing work patterns offer opportunities for other buildings?
Recent research by Savills and Dublin Chamber suggests less than 10% of workers attend the office on a Monday or Friday. Wednesday is the busiest day of the week when companies report that between 61% and 70% of their staff attend in person.
But Roland O'Connell, Director at Savills, is not writing off the office just yet.
"The office building has a future even if they're not being used as efficiently as they may have been in the past," he argued.
The real potential for conversion to accommodation may lie in wider trends. A so-called flight to quality could start to free up buildings that are older or in less desirable locations.
"What we're seeing is that the suburbs, which maybe had a bit of a heyday, are becoming less popular and the city centre is where people want to be," he explained.
"There are some extreme examples of this. Salesforce, who have always been out in Sandyford, in Dublin, are in the process of relocating to a huge new building on the north side of the quays."
Older buildings from the 1960s and 1970s are excellent candidates for conversion to housing, according to John Dobbin, architect with Shay Cleary Architects.
Originally built with single offices around the exterior of the building and clerical pools in the centre, the design of many Irish buildings are out of step with modern working.
"No organisations actually do work like that anymore," Mr Dobbin explained.
"The very things that make them bad for modern office space make them good for residential space."
He's devised a blueprint to convert older office stock which have shallow enough floor depths to residential units.
"We found a way of making a duplex within these units which works very well with the characteristics of the office building and, serendipitously, gives you a perfect family-sized, two-bed apartment."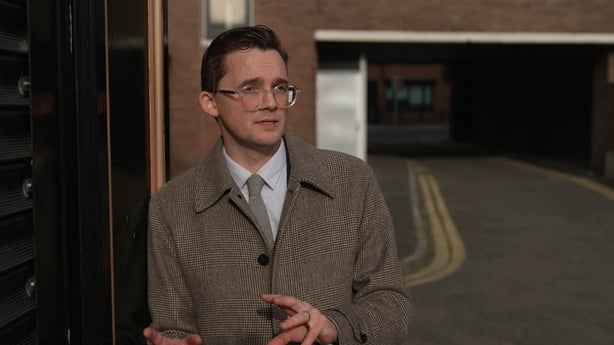 Mr Dobbin estimates that around 50 offices in Dublin city centre could be potential candidates for conversion.
If even 10% or 15% of these buildings were viable, he believes it could provide hundreds of new homes.
Taking Mount Street Lower in Dublin as an example, he said the area was originally Georgian housing before office blocks replaced the residential units.
"At the time the major occupier was the State because it had to move its employees into upgraded offices," he said.
Some are worth considering for residential conversion, he argued.
"It would be a beautiful irony if the very buildings that replaced those residential buildings could be the medium for bringing people back into the city centre."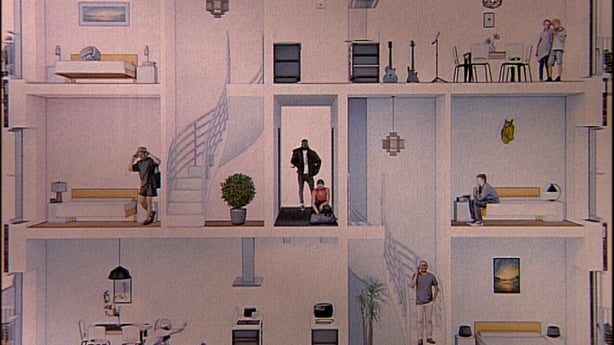 The idea is gaining ground in other cities, particularly in North America, which has greater problems with office vacancy.
The world's largest architecture firm, Gensler, is involved in a major project of office conversions.
Speaking from Toronto, Principal and Architect, Steven Paynter explained that it's about trying to re-think the built environment.
He said: "There's always this joke that architecture and construction haven't changed for 5,000 years, which is basically true.
"We haven't gotten any more efficient when other industries have."
The firm has looked at 700 buildings across North America and Europe with a view to converting them from offices to apartments.
"We found that 70% of buildings aren't viable, so you just don't do those buildings and you focus on the ones where it makes sense," Mr Paynter said.
In Calgary, Canada, Gensler worked with the city authorities facing an office vacancy crisis in its downtown area.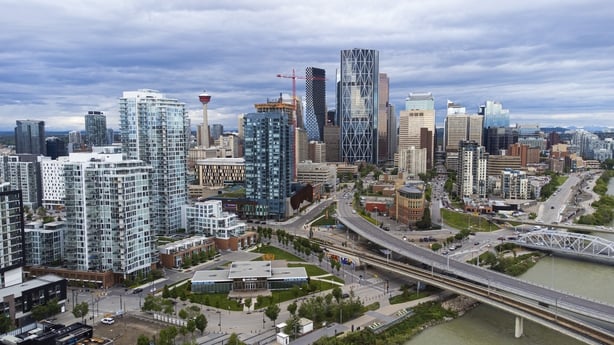 The Government gave financial incentives to developers to convert empty buildings to housing and dramatically shortened the approval process to just four weeks.
"As long as you weren't making the building bigger or changing the layout of it too much, you could convert it straight from office to residential," he explained.
"That's the advantage of existing buildings. Neighbourhoods are already comfortable with them being there."
According to Mr Paynter, the first batch of Calgary's office conversions will increase the downtown population by 23%.
"It's something that I think all cities really need to be studying right now so they stay protected as places that people want to live."
At the moment it may not make business sense for developers to do something similar in Ireland.
Calgary had an office vacancy rate higher than Ireland's, which currently stands at 14%, so the impetus to convert to residential was greater.
"Irish office values have to decrease hugely for them to even equal residential values," Roland O'Connell of Savills pointed out.
In prime office locations in Dublin city, he estimates that quality office buildings are worth 50% more than residential buildings.
"It's only in areas where offices are no longer viable where conversion to residential will ever become an issue," he added, arguing that building costs are still lower for new builds.
Fresh thinking is required around regulations, Mr O'Connell contended.
"Most of the building regulations are aimed at new developments and there are no concessions made to people who are trying to convert older buildings to a new use.
"Not to lower quality but to make it easier for people and more financially viable to convert."
Repurposed buildings do far less damage to the environment than developments built from scratch – a key consideration with housing targets set at 33,000 new homes a year.
Relying on new builds to get there could make meeting our carbon commitments even harder.
"The concrete industry that is heavily involved in most construction accounts for about 8% of all global carbon emissions compared to the airline industry, which is about 2%," Gensler's Steven Paynter pointed out.
"The impact of building and construction is absolutely massive, so not tearing those buildings down can really have a big impact."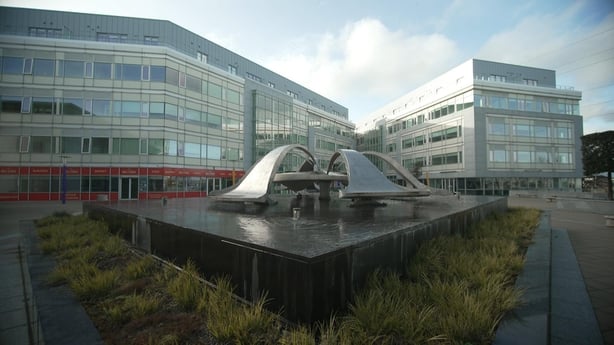 Smaller commercial buildings, such as pubs and shops, can be converted without planning permission following regulation changes in recent years.
There were 260 exempted developments in 2022 with the potential for 665 homes but there is not an equivalent initiative for larger buildings.
For architect, John Dobbin repurposing buildings must be a "cornerstone" of meeting our housing targets.
"It's not going to be a side issue, it's one of the main things we have to do. The way to attack it will be through environmental legislation and I don't think that is too far away."
In Park West business park, tenant Jackie McKeever isn't bothered that her new apartment is in a former office block.
Her family live nearby and while she spent last Christmas in her son's house, she's planning on having them all to her place this year.
"It will be lovely to put the Christmas tree up and presents underneath," she said.
After almost a decade on the housing list, it's a dream come true.
"This is all I ever wanted - somewhere to call home."