A blurry video taken at night of a distressed and partially clothed man running down a Dublin Street is posted on TikTok in late January. The person filming asks "what happened? Are you OK?" To which the distressed man replies in a muffled voice "I've been raped." The video clip ends.
Not long afterwards the same clip makes its way onto another social media platform with the post: "Rumours circulating in Pearse Street area that over the weekend just gone, an Irish man (a local) was attacked by 5 refugees held down and raped by each refugee in turn. Has anyone heard anything? To which another person responds "Just had it confirmed tonight that this was not a rumour but true.. five illegals."
This is just one of 20 sample video clips originating on TikTok which went viral in Ireland and were tracked and analysed by the London based monitoring group, the Institute of Strategic Dialogue (ISD), since last November.
In new analysis shared with Prime Time, the monitoring group found that nine of these videos made unverified claims of attacks and sexual assaults against women, men and children allegedly perpetrated by migrants. Five of those videos claimed that migrants had tried to harass or sexually assault children. In ten clips, migrants were directly confronted by the person filming and their faces were clearly recognisable in the footage. Of these, three target Ukrainian refugees specifically.
"The main finding is that this analysis provides evidence of rumours and racially charged fears are circulating through social media platforms in Ireland and have given rise to a series of worrying new trends culminating in real life harm," according to ISD senior analyst, Ciarán O'Connor.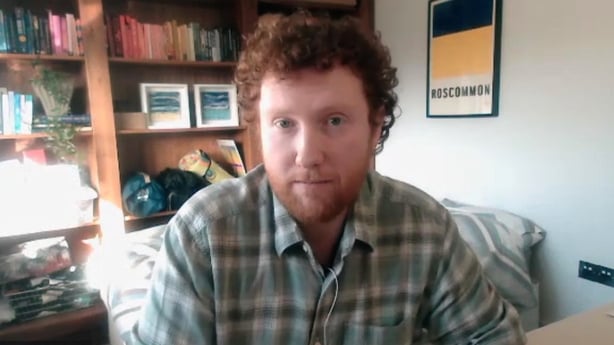 "Many TikTok videos featured in this report make unverified claims of attacks and sexual assaults against women, children and men perpetrated by migrants. And these videos also show migrants being confronted in public, harassed, or in some cases, assaulted. And some of these videos have been viewed over a million times" O'Connor adds.
Another example of a thread tracked by the ISD is a screen shot of migrant walking into Dublin's Temple Street hospital in late January, which was used in a post alleging the man was entering the hospital to sexually assault children.
The ISD report found that "Footage featuring his face was widely spread across TikTok, and other social media platforms. Videos from that day with overlaid text accuse the man of having entered the hospital to rape children, and to have sexually assaulted staff and parents who confronted him."
The man was later filmed interacting with gardaí. Gardaí later said he was a "vulnerable adult" with possible mental health issues, and no charges were brought.
Yet according to O'Connor, ISD found "two different videos have shown the man later being attacked on the street."
The ISD found a notable rising trend of the circulation of accusations about sexual violence on Twitter also.
Over three months from November to early February, it found 877 separate accusations of rape and sexual violence by migrants, circulated and mentioned 21,000 times on Twitter. In one day alone in late January, 86 separate allegations originated.
From the start of this year, the ISD study also finds, "Eight other videos that have been shared across TikTok, Twitter, and Telegram from January 2023 include similar incidents. Seven similarly include close-ups of the alleged perpetrators."
The report states "This doxxing – [unauthorised online publication of an individual's personal details] and subsequent attacks, based on unverified rumours spread online, represent a concerning new trend of online incitement leading to offline harm".
Science and technology journalist, Elaine Burke, says this observable trend of accusing migrants of being a danger to women and children hateful comment is from an old far-right playbook and nothing new.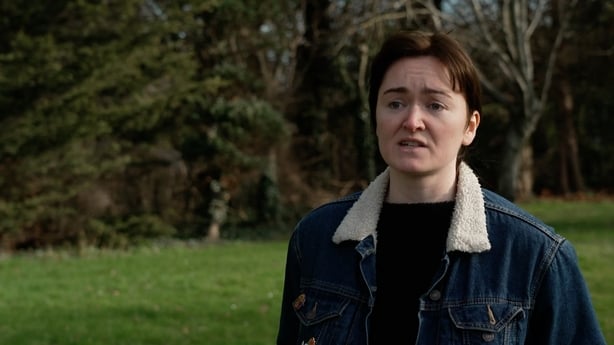 "It's a new wave, but actually it's really old tricks being used in new ways. We've seen this with hateful groups in the past, how they have used this weaponising of that these people are dangerous to women and children. That goes back decades. Using social media to do that just means it can spread faster and can really reach people at a moment where they're more action-based than thinking oriented."
The spike in allegations of sexual violence by migrants has coincided with a surge in protests often instigated by far-right actors who put out messages with a "call to action", mostly via the platform Telegram.
According to O'Connor, a posting about a protest will appear online, "it will give a time and a date, and it will say that this is a protest against the general system of migrants being brought into Ireland. You often see these posters either being created and shared by far-right activists, agitators, or these same people are promoting and sharing the video clips as they serve to amplify the protests on the ground. They've led to people coming out in the street in various towns around the country."
So far since the start of the year, there have been 37 such local protests instigated by the far right. In February alone, there have been protests in Mullingar on two occasions, in Carrickmacross, Navan, Carrick-on-Shannon and Sligo as well as several locations in Dublin. There are three currently billed in Dublin, Kilkenny and Offaly in coming days.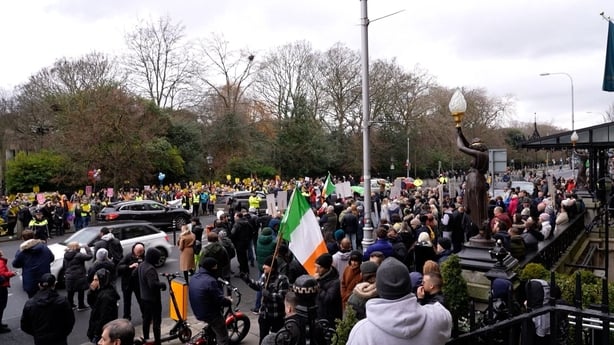 The controlling of hate speech and misinformation on social media is partly carried out by teams of 'moderators' – people who spot or respond to complaints about inappropriate content.
But according to Elaine Burke, the main control is left to artificial Intelligence & computer algorithms, which are weak,
"So what you're looking at is this is a maths problem. Even if you had one to a few million capacity, that's more than any human can take on. And if you leave these decisions to algorithms, algorithms can't make editorial or curatorial decisions."
In her view, more human moderators are needed to begin to make a dent in toxic social media messaging against migrants. "You just can't leave these kinds of things to Artificial Intelligence and algorithms, because they can't tell if your engagement is because of frustration or because of incitement to hatred. It just sees all engagement as equal. All engagement is essentially a positive. And that leads to the larger spread of these messages. "
"It's difficult but not impossible to moderate things online, especially when you're trying to target maybe a certain scenario that's happening where you've identified certain groups. We saw it with COVID-19 misinformation teams, and we saw the teams that were used to kind of effectively control misinformation around US elections, but they were massive events."
In a statement TikTok's parent company, ByteDance, told Prime Time that "Of the 21 videos highlighted in this report, every piece of content that violated our policies has been removed. With more than 40,000 dedicated safety professionals, we are committed to keeping TikTok a safe home for our community. Hate has no place on TikTok. We continually invest in our enforcement efforts, including regular training on how to detect hateful behaviour, symbols, terms, and offensive stereotypes."
Neither Twitter nor Telegram could be contacted by Prime Time.
The Department of Justice stated that the new Online Safety and Media Regulation Act enacted last December, provides for a new regulator, an Online Safety Commissioner who will develop and enforce a regulatory framework for online safety.
"This will be done through the creation and application of binding online safety codes, the main aim of which is to minimise the availability of some of the most serious forms of harmful online content. This includes online content which relates to one or more of 42 existing criminal offences in Irish law, including offences from the Prohibition of Incitement to Hatred Act 1989 which can relate to racist expression online."
Ciarán O'Connor says, however, that more swift action needs to be taken. "The longer the situation goes on, the more dangerous this path becomes. The feedback loop in which a claim is leading to people taking to the streets is leading to potential incitement towards violence. It's rapid right now, it's so immediate and we need brakes or levers or some sort of collaborative collective effort to try and slow that down because there are very real dangers towards asylum seekers."