"It's like my Irish mother and my Irish father. They helped us with all our questions. It's very important to have somebody who can help you here. You're not alone, you're safe", Tetiana Pochip told Prime Time referring to Mary and Paddy O'Shea, a retired host couple from the Curragh in Co Kildare.
After many months in temporary accommodation, Tetiana and her son Vova, finally found a home in early September, with the O'Shea's who pledged to take in a family last March, but waited six months to welcome them.
"It's a long time from March to September. A long time to wait to take in a family. With people sleeping in the airport and people going into tents, I just couldn't understand when we had a home here. We were ready from the time we pledged," said Mary.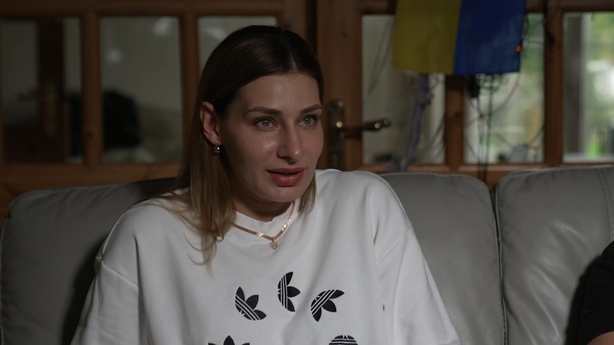 Over the six months, Mary and Paddy were garda vetted, and they received several emails from the Red Cross and their local authority Kildare County Council, but no plan was activated until last August.
It was only in the crisis of Maynooth University needing its accommodation back for students and staff, that Mary got a phone call late August from a volunteer group, Helping Irish Hosts, who assist the Red Cross.
At the time, Tetiana and Vova, along with a total of 900 Ukrainian refugees, were told they had to leave Maynooth University campus within ten days.
Such is the bureaucratic disarray in allocating refugees to pledged homes, weeks after Tetiana and Vova had settled into Mary and Paddy's home they got a call from Kildare County Council seeking to assess their home to take refugees. They were unaware that Mary was already hosting.
According to Mary, "Things are not working properly, the sequence is not right with everything".
Last night, the government announced it plans to double the monthly payment to host families to €800 to encourage more to come forward, and is seeking several different solutions, including whether beds in army barracks could be used, and the use of modular homes.
But those working to help refugees say it doesn't address the fundamental problem which is the organisational problems at central and local government level in overseeing the allocation of accommodation.
"We don't see a management structure behind the plan that's been announced. The plan is great, but it needs somebody to lead it, to manage it structure on it, and to empower all the parts of the plan to get on and do what they've been tasked to do", according to Angie Gough, from Helping Irish Hosts.
Figures show that we have fallen well short of using the accommodation already pledged.
According to the Red Cross data, for the roughly 55 thousand Ukrainian refugees who came to Ireland needing accommodation, there have been 21,000 pledged homes. 10 thousand of which have been deemed to be useable. Today 4,800 have been put to use, which means that over 5,200 homes have not been allocated.
"There's no capacity within local authorities to do the thing that makes hosting happen and work which is matching. It's about speaking to Ukrainians and speaking to the pledgers about who's going to work best in each house" Angie Gough told Prime Time.
"There is no shortage of people in Ireland who want to open their homes to people coming from Ukraine and elsewhere. There's just a shortage of people to ring and activate them, and there's an absence of a plan that's clear," according to Angie Gough.
There are also owners of multiple occupancy buildings and those with many beds on offer who are frustrated with the Department of Children, Equality, Integration and Youth's allocation process.
"We've had offers from people who have up to 40 houses to give who remain frustrated by the system", says Ms Gough.
Reacting the Government's new plans to address the Ukrainian refugee accommodation crisis, Emma Lane Spollen from the Ukraine Civil Society Emergency Response Coordination said that the Dept of Children, Equality Integration Disability and Youth have done an "extraordinary job, securing emergency shelter" for tens of thousands of refugees over several months.
However, "They are now flagging. We face a likely deficit of 15,000 beds by year-end. Clearly we need a strong pipeline of medium-term accommodation to create capacity for new arrivals."
Commenting on the new proposals announced on Monday, she said "we need to see how proposals agreed at cabinet will deliver on the additional capacity needed. It is not immediately evident.
She said a fresh approach is needed with "Local Authorities, local development companies and most importantly local communities need to be at the centre of this."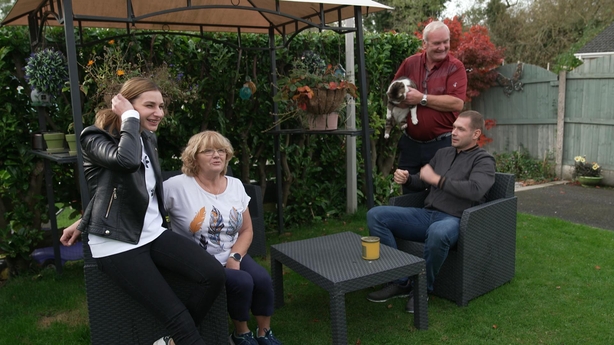 Mary O'Shea told Prime Time she was on the verge of withdrawing her pledge when she finally got the call to take in the Pochips in September. She says the government needs to become far more efficient in taking up the homes offered by people like her.
"I'd say there's loads of people out there who want to take a family in, but the procedure is not allowing them to do so."
From Dnipro in South East Ukraine, recently bombed again, Tetiana, and her family, say returning to Ukraine is not an option in the near future. Their focus is on finding jobs and ensuring that Vova can settle into school and form friendships. Underpinning all this is having a stable home.
"It's good for us now. It's stability" Tetiana tells Prime Time.
The family are immensely grateful, but they want to see other Ukrainians helped in the same way.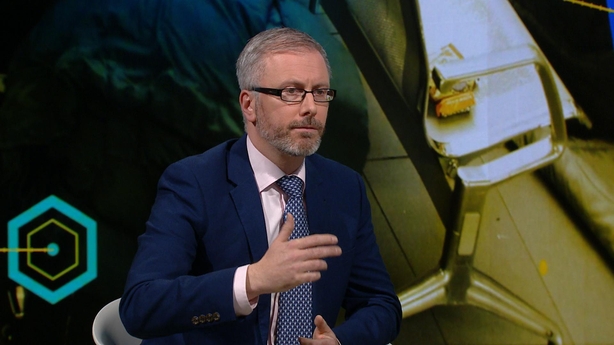 Speaking on RTÉ's Prime Time, Minister for Children, Equality, Disability, Integration and Youth Roderic O'Gorman said that pledged properties by homeowners "is a really important strand of our accommodation strategy" but acknowledged that "the original pledge system was imperfect."
He said: "The new vacant properties call will be run through local authorities rather than being run through the Red Cross, as was originally the case. Undoubtedly the mechanisms that were in place weren't ready for the scale of pledges we received.
"The Red Cross Cross pledging system was designed to accommodate tens, maybe hundreds of pledges. In a year it received 21,000. And that system wasn't able to deliver to everybody."
Speaking about the Government's promise to refurbish up to 500 state and private properties for Ukrainian refugees and to make approximately 100 of these operational within weeks, Minister O'Gorman said that only ten of such properties were operational.
"I think it's fair to say the refurbishment scheme is behind schedule."
On the Government pledge to deliver 500 modular homes by this month, Minister O'Gorman said he hoped to see the first batch of them "delivered by the end of this year or early in January and the second tranche brought in in March of next year."
Despite plans falling behind schedule, Minister O'Gorman added: "By and large, we've done it well. We have done it in a way that the Ukrainian government, and that the Ukrainian community, recognise the very significant accommodation supports and the very significant education, health and other supported. It's a significant task. And we're working hard."