Construction vehicles milling around the edges of the Croke Park pitch were an appropriate backdrop as the Construction Industry Federation met for its annual conference.
It was timely, too, that, earlier in the day, the ESRI had warned residential property may be overvalued by more than 7%.
The think-tank said the increases in house prices - driven in part by Covid savings - could not continue and would likely "moderate substantially".
It was not the only warning of the day.
Conor O'Connell, the federation's director of housing, said there is some concern that there could be a fall-off in the number of homes built in 2023, citing rising interest rates and increasing material costs.
"The reports we're getting at the moment from our members - homebuilders right around the country - is that there does seem as if there could be a decline in output," Mr O'Connell told Prime Time.
"We are concerned about next year. There's no doubt about it."
John Downey, CEO of Downey Planning, told Prime Time that he expected just 22,000 homes to be built next year - far short of the Government's target of an average of 33,000 new homes annually between now and 2030.
Mr Downey predicted a drop-off in the commencement of new housing until the middle of next year, although he added that the annual targets were still achievable "over the next two to three years".
The Construction Industry Federation also finds it hard to envisage new homes getting cheaper.
"Concrete has increased by 30% since February 2021 and the ESRI acknowledges a 50% year-on-year increase in steel," Mr O'Connell said.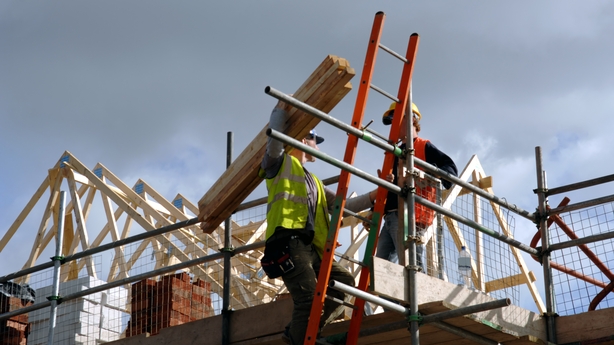 "It is increasingly difficult to see how prices of new homes could drop when we've got such high input costs."
Whatever about prices actually falling, there has certainly been a slowdown in price growth.
The rate of house price inflation fell to 13% in July, down from 14% in June.
Tipperary-based Clancy Construction is delivering 100 new homes this year and aiming to double those numbers next year with developments in Kilkenny, Cork and Wexford.
Managing director John O'Shaughnessy said he isn't expecting the prices of new homes to come down.
"The only way that new homes can drop in price is if the builder can afford to drop them and at the moment they can't afford to," he said.
"We've got huge hyperinflation in the construction industry at the moment, so our input costs are increasing weekly."
Mr O'Shaughnessy suggested that the market for second-hand homes was different and may see slower growth in prices, adding: "I can't see new house prices reducing any time in the near future."
While housing is not as straightforward as simple supply and demand, it does not help if we aren't building enough homes. The warnings on future supply at the conference were very clear.
Mr O'Shaughnessy said that construction would only begin on new sites if they could be financed.
"We just sit on the sites until such time as they become viable," he said.
"You can't build a project that you can't finance."
Asserting that up to 50% of the sales price of a house went to the State, Mr O'Shaughnessy called for "joined-up thinking with the State" to look for ways to reduce costs.