An extraordinary black-and-white photo hangs on a wall in the Ardnacrusha hydroelectric power station. In the image, a man stands with his hands on his hips inside one of the enormous turbines during their construction in 1929.
The photo illustrates both the enormity of what was constructed at Ardnacrusha and the scale of the ambition for the new power plant.
It wasn't called energy security at the time, but the reason the Free State spent a fifth of its national budget building the enormous scheme was just that – so we wouldn't have to rely on British coal.
Almost a century later, the country is very far away from energy self-sufficiency. Today, our power and heat comes from renewables, coal, oil – but also, critically, from gas – three quarters of which is imported from Britain.
We also have a second exposure. Ireland hasn't built enough generators to keep up with electricity demand, so, this winter, our risk of running short is greater than anyone would like.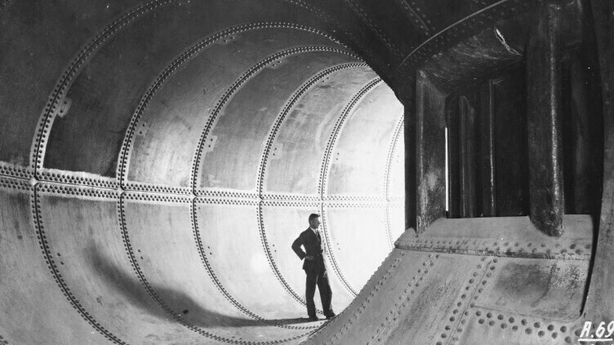 Adverse incidents, such as problems with power stations, prolonged cold weather or disruption to our gas supplies could leave our energy system exposed.
"In those situations, usually, we're okay, because we have enough of that margin. But, this winter, we may be in trouble," Dr Muireann Lynch, a senior research officer with the ESRI, told Prime Time.
Describing the likelihood of power shortages as "the highest it's been for a while", Dr Lynch said the failure to build enough gas-powered electricity generators is reputationally damaging.
"Nobody ever expected us to be relying on wind and solar to keep the lights on. That was never the plan."
A big element of what has to go right this winter relates to gas, which generates almost half of our electricity.
At the moment, only a quarter of our gas comes from an indigenous source – Corrib, the natural gas deposit some 80km off the coast of Mayo.
The vast majority is imported in underground pipes from Moffat in Scotland. A handful of seaside locations on the east coast are the unlikely nexus of our energy security.
But Ireland is at the end of an even longer pipe network. A third of Britain's gas comes from Norway. If the Norwegians reduce their gas supplies or if Britain struggles to import liquid gas (LNG) this winter, it could have a knock-on effect here.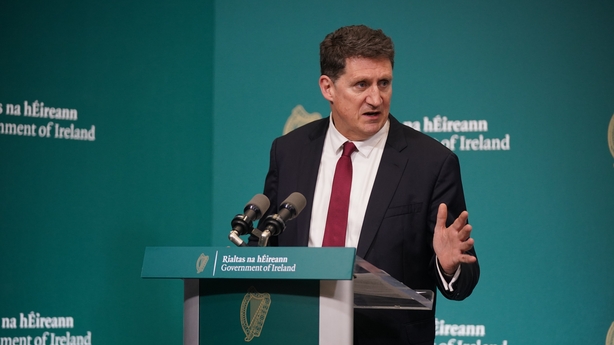 "The likelihood of a unilateral reduction of Irish gas supply is pretty low," Dr Lynch said.
"If Britain wanted to cut off supply, they would have to cut off the whole island of Ireland and Northern Ireland."
However, if there are problems in Britain, Ireland will not be immune to knock-on shortages.
A complete cessation in gas imports is considered unlikely, simply because Gas Networks Ireland owns most of the pipes from Britain. It would effectively have to cut itself off.
Minister for the Environment Eamon Ryan has insisted that gas supplies from Britain are both physically and politically secure, while the Taoiseach has vowed that the Government will do "whatever it takes" to protect the energy security situation.
Meanwhile, Britain's Department of Business, Energy and Industrial Strategy told Prime Time that, "since 2011, the GB and Ireland system operators have had arrangements in place to provide Ireland with assistance in the event of a gas supply emergency".
The statement added: "The UK and Ireland already have a mature vehicle for co-operation to ensure that the gas emergency operational plans of the jurisdictions work together."
It's key that cooperation continues, because we are so reliant on British gas to turn the turbines in our electricity power stations.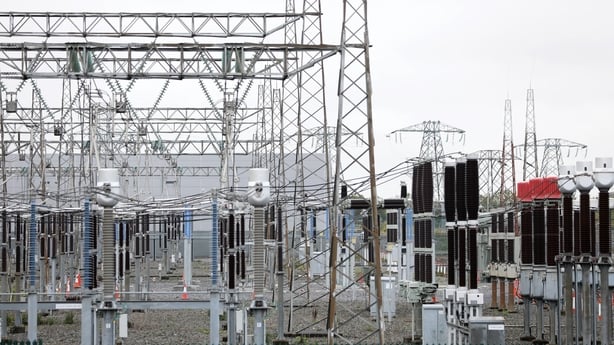 Some businesses are already taking contingencies into their own hands.
Monaghan-based forklift manufacturer Combilift has installed, not one, but two backup diesel generators costing more than €100,000 each.
"It's not a good investment," CEO Martin McVicar told Prime Time.
"We're manufacturing electric vehicles to be sustainable. Installing fossil-fuel diesel generators is not the right approach, but we see it as our only option as a backup."
Mr McVicar is in the process of ordering a third generator for the factory, which employs more than 700 people. But, even with those significant contingencies, the plant will not be fully covered and will still rely on power from the grid.
"If we don't have electricity here for one hour, we can survive. But if we don't have it for one day or one week, everything stops," he explained.
"The knock-on effect – not just for our customers, but for our employees and their families – as a result is a major effect on the rural area."
While Mr McVicar makes his own plans for this winter, he wants the Government to take a fresh approach.
"In Ireland, we know our peak demand is in the winter months, so we need to be planning ahead. How do we get a more consistent supply of energy when we need it?"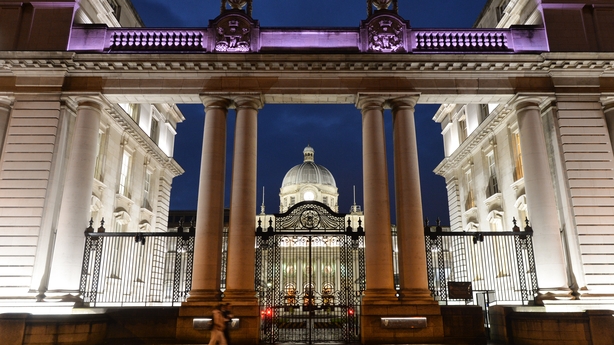 While the hope is we won't see prolonged outages, plans are being made for every eventuality.
An emergency exercise will be held later this week to war-game Ireland's response to a potential shortage of gas or electricity.
Prime Time has learned that the two-day exercise, entitled "Project Dara", will involve hypothetical scenarios that stress-test the country's preparedness for an emergency shortage.
Gas Networks Ireland, Eirgrid, ESB Networks and the Department of Environment, Climate and Communications will undertake the first part of the exercise on Friday.
Later in September, it will extend the testing scenario to model how a complex gas or electricity shortage would be managed by certain other areas including the fuel industry.
These exercises are carried out annually, but Project Dara is the first time the gas and electricity strands will be tested at the same time.
It is also understood that this exercise will be more complex than previous undertakings – and aims to push the boundaries to uncover any issues with response plans.
Longstanding contingency plans around rationing, which pre-date the current crises, outline how a worst-case scenario would play out.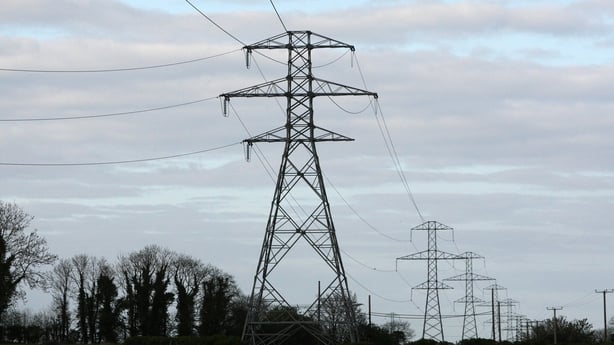 For electricity, if supply starts to tighten, around 2,000 large electricity users will be asked to stop using at peak times. The regulator also wants them to be charged more if they continue to run in times of tight electricity supply. Industry is effectively the first line of defence.
The expectation is that, even if there are shortages, those interventions will be enough to protect households and smaller businesses from blackouts.
However, if it comes to it, the plan consists of rolling electricity rationing across the board. Strategic users such as ports, airports, hospitals, water installations and prisons will be protected as far as possible.
Though it is much more complicated to turn gas supplies on and off, gas rationing would follow a similar pattern.
The plans involve large industry – already affected, like everyone else, by rising costs – being charged more if they don't curtail their electricity use.
However, business group Ibec told Prime Time that imposing higher tariffs on industry for peak use would be unfair – and would result in the 22 largest energy users facing an additional bill of €75m.
"In trying to solve the security challenge, they're adding to the affordability crisis," Conor Minogue, a senior executive at Ibec, said.
"Yes, there are some companies that can reduce use, and they should be incentivised to do so. What we don't want to see is companies that can't reduce use being penalised and adding to their costs."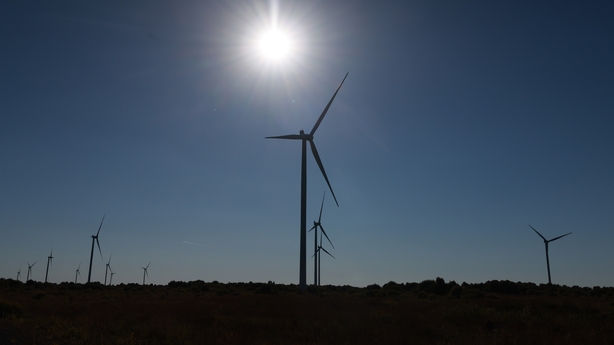 But Dr Paul Deane, a senior research fellow at University College Cork, said the industries which have grown the most should do the most.
He suggested that data centres that are undertaking less critical tasks should change some of their processes to other times of the day, or move those processes to other regions or countries where it is sunny or windy.
But Dr Lynch pointed to an additional risk.
The Government is planning to use the money it raises from penalising firms for their energy use to buy emergency generators for next winter.
If the energy-rationing plan works perfectly, and the country avoids blackouts, that means the State will probably not have raised enough money from the tariffs – and thus may not have the money needed to pay for the generators, she said.

The Government is working on a renewed campaign to encourage energy saving at home. Households will be asked to reduce their use of appliances and to turn down the heating.
But Dr Deane said that there's a limit to what homes can do.
"There's an expectation that householders can move significant amounts of their electricity demand from peak times to non-peak demands. I don't agree with that," he said.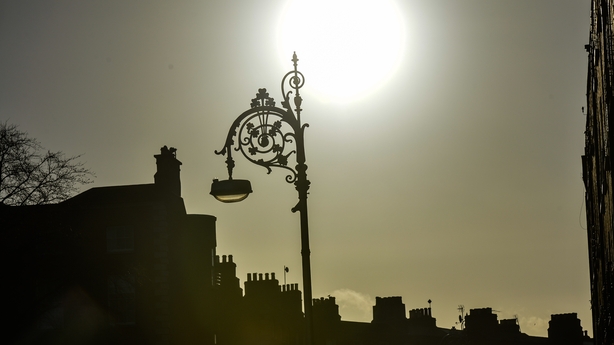 "We come home from work at 4pm or 5pm, put on the oven, lights and appliances. There's very little that we can move to other times of the day."
Where households can make a difference, he explained, is focusing on five main appliances.
"Your shower, your dishwasher, your tumble dryer, your fridge, and your washing machine. Think about those."
Cautioning against being "alarmist", Dr Deane said households should focus on overall energy use, rather than buying items like generators.
"Think about how you can reduce your overall energy use, rather than doing something like buying a diesel generator. You're never going to use it."
Those with good memories will recall when there wasn't a consistent, reliable flow of energy.
Electricity has driven so much of Ireland's development, and we rely on it now in ways far beyond the vision of those who built the Ardnacrusha power station.
Almost 100 years on, our energy sector faces its biggest challenge yet.