The mother of 11-year-old twins with autism who have been denied appropriate schooling has said she is "devastated by the news" that the boys will once again not have a school to go to this September.
Gillian Milne explained that, while her identical twin boys Ryan and Kyle have been offered a school place, the school building is not ready.
"Ryan and Kyle have been 11 years at home. We really thought this September is going to be our September," she told RTÉ's Prime Time.
"Why can't they be like every other child getting ready to go back to school? If Ryan and Kyle didn't have special needs, they would be going to the local school around the corner. There wouldn't be a problem."
The Department of Education has confirmed in a statement that work on the school building at Drinan in Swords, where the boys have been offered a place, is scheduled to be completed by the end of October.
Ryan and Kyle were born in 2011. Diagnosed with autism when they were two-and-a-half, the boys are non-verbal and have a range of other special needs - including ADHD and a severe learning disability.
Their parents, Gillian and Darren Milne, appeared on Prime Time in May to plead for the State to intervene and provide places for the boys in a special school.
Taoiseach Micheál Martin subsequently apologised in the Dáil to the Milne family, saying the State had failed to provide them with an education that is appropriate to their needs.
On Friday, 20 May, Minister of State for Special Education and Inclusion Josepha Madigan met the Milnes and confirmed that the boys would be given places in a special school.
But Ms Milne told Prime Time on Thursday that, in that meeting, the minister said she "staked her reputation that she would have a place for Ryan and Kyle in a special school in their area for September 1.
"Obviously we were absolutely thrilled by this, as the boys are now 11. It's been a long road. They are getting ready to start primary school when they should realistically be finishing. So, we were absolutely delighted," she said.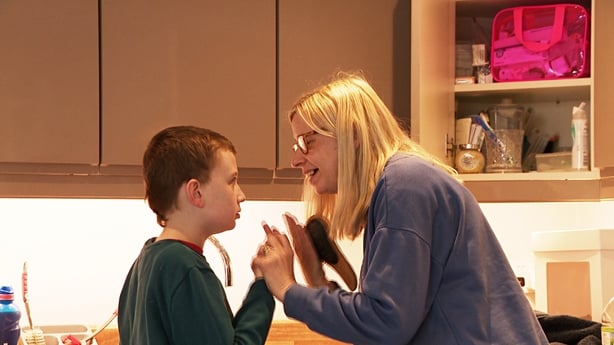 "We've had several chats back and forth with the minister's adviser and the Department of Education. But yesterday was when we really found out for definite that we were offered a school place, but there is no actual school ready - and it won't be for 1 September."
She said that, as parents they were "devastated by the news".
"Yes, there is a letter from the department with an actual offer, but it's a letter with an offer. There is no school," Ms Milne said.
The Department of Education said St Michael House Foxfield school is to expand by 24 additional places. The 24 new places will be located on a second site in Drinan, Swords.
When the Milnes heard the twins would be attending the new facility in Drinan, they drove out to have a look at it.
"We were completely shocked when we realised it was a building site," Ms Milne said.
"So, yes they can come and say we have offered you a school place - but there is no actual school yet."
She said it was only on Thursday evening that she found out that it will be at least October before the school is complete.
Throughout the summer, the Milnes have been contacted by other parents of children with special needs.
"Several parents have contacted us, and they are saying they don't have school placements for their children for September," Ms Milne said.
In its statement, the Department of Education said: "The recent announcement of 383 additional special classes for the 2022/23 school year, across the primary and post primary school system represents the largest number of special class places ever available for children with special educational needs."