Taoiseach Micheál Martin has apologised in the Dáil to the Milne family, who featured in last night's Prime Time, saying the State has failed to provide them with the education that is appropriate to their needs.
The programme featured Gillian and Darren Milne, and their twin sons, Ryan and Kyle.
Here is their story.
---
Every morning is the same for Gillian and Darren Milne. They take their twin sons, Ryan and Kyle, to a local McDonald's drive-through restaurant for breakfast.
"Hash browns or cheese toasties - that's all they'll eat," Darren told Prime Time.
Like other parents of severely autistic children, the couple have come to realise that routine is everything - so much so that, on Christmas Eve, staff at their local McDonald's give them food to cook at home on Christmas Day.
"We have to pretend, so we go through the drive-through. And then we sit here with the boys, and we take the stuff out of the bags. They eat their McDonald's, and they are happy with that."
Identical twins Ryan and Kyle were born in 2011. Diagnosed with autism when they were two-and-a-half years old, the boys, now 11, are non-verbal and have a range of other special needs - including ADHD and a severe learning disability.
Gillian and Darren are now pleading for the State to intervene and provide places for the twins in a special school.
Darren has had to give up his job to help look after the twins. The family have become tenants in their own home. And Gillian and Darren's mental health has suffered immensely.
The boys are unlike most children their age.
"They're 11 in their body, but their mental age would probably be three to four tops. You see Ryan and Kyle watch Peppa Pig. It's heart-wrenching," Gillian said.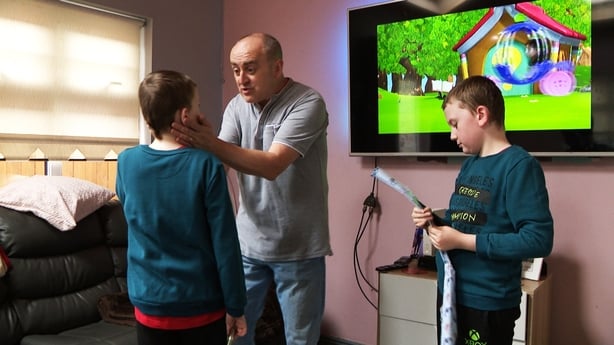 Kyle often wakes up as early as 3am, and Darren takes him for a drive for 45 minutes. He could be up until the following night, and he needs constant attention.
Ryan, meanwhile, rips pieces of paper all day long.
"He has to have paper in his hand," Gillian said.
Kyle developed obsessive compulsive disorder (OCD) during the Covid-19 lockdowns.
For Gillian, it is devastating to watch Kyle have meltdowns.
"He has a smile. And you can see behind the little eyes that he just wants help," she said.
"He wants you to fix it for him. And we can't."
In September 2019, the Milnes told Prime Time reporter Eithne O'Brien about their despair. Their eight-year-olds did not yet have a place in a special school.
The day after the broadcast, then-opposition leader Micheál Martin raised the matter with then-Taoiseach Leo Varadkar in the Dáil, and said that Darren and Gillian's plight had been "harrowingly revealed".
"The story showed where the government, through its agencies has clearly failed these children and parents," Mr Martin said.
Mr Varadkar replied that the Minister for Education had committed to examine their case "to see if there is anything more that can be done more quickly".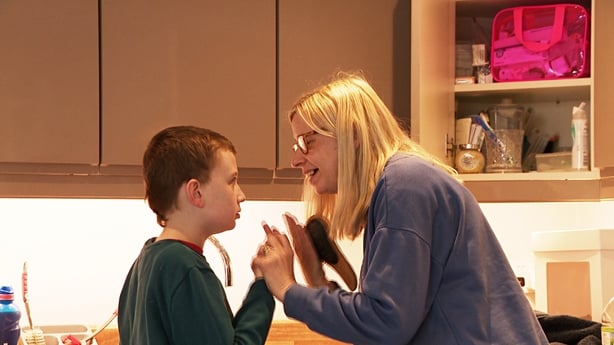 Two years before that Dáil exchange, in 2017, Gillian and Darren had sent their sons to school in an autism unit in a mainstream primary school. But they decided to take them out, feeling that it was unsuitable for their sons' complex needs.
Consequently, they were no longer entitled to a home tutor paid for by the State. After much wrangling, the Department of Education granted the Milnes home tuition for a tutor to come into the home.
But the tutor is not provided by the Department, and it is thus up to the parents to find one. This can be difficult, since home tutors must be qualified teachers.
Ryan and Kyle have been granted 30 hours tuition per week, but their tutor is only available to give them 18 of those hours. Darren and Gillian cannot find anyone to fill their 30 hours.
Gillian said she is "not looking for miracles" from home tuition.
Instead, the boys' tutor tries to help them to complete everyday tasks like brushing their teeth and washing their faces.
Unlike conventional teaching, it is more about "promoting independence - hoping that when they do get older, hopefully they will be able to look after themselves a little bit", Gillian said.
While the home tuition does help, the Milnes' long-running quest to find a special school place for their boys continues.
Gillian and Darren keep applying for places and, much to their anguish, they keep getting refusal letters stating that the special schools are oversubscribed.
Last year, the Milnes paid €1,800 to get private psychology assessments of Ryan and Kyle. Both reports recommended that the boys enroll in a special school specifically designated for children with autism, with nursing services attached.
"Straight away, they knew that a unit in a school wasn't appropriate for the boys. So, our gut feeling was right. Our new psychology report finally said that the boys needed a special school," Gillian said.
Three years after their plight was raised at the highest level in the Dáil, the Milnes are distraught that they are still fighting for a place.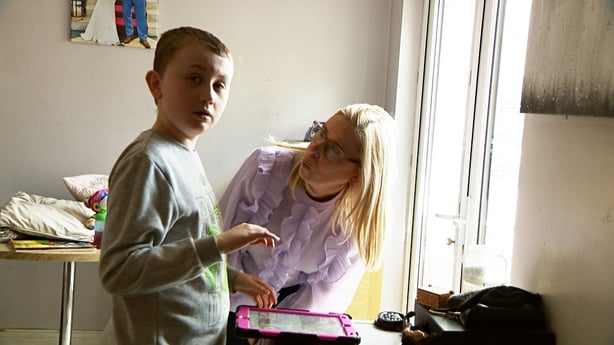 Conor O'Mahony, a law professor at UCC, said a delay in meeting the educational needs of children like Ryan and Kyle was likely to compound the nature of their challenges.
It also could have constitutional implications, Prof O'Mahony said.
"Every child has a constitutional right to an education that is suitable to their needs. And if you have a child who reaches the age of eleven without having had appropriate education provision made, then I think it's quite clear the State will have failed in its constitutional obligations towards that child."
When Darren and Gillian first spoke to Prime Time in 2019, they were living in fear of losing the family home.
Darren was missing a lot of days as a Dublin Bus driver, since he was needed at home to help care for the boys. The couple were €50,000 in mortgage arrears and their bank was threatening to repossess their home.
Following the report, iCare, a housing charity, contacted the Milnes and set in train the process of buying their house to prevent it from being repossessed.
That sale is now being finalised and with it comes the stark reality that Darren and Gillian will soon be tenants in their own house.
This, Darren said, is hard to take. But he and his wife are thankful that their house will not be repossessed.
It is one positive turn on what has been a road full of bumps.
One day in January, Gillian felt like she could not go on anymore.
"I took an overdose and ended up in the hospital," she said. "I just wanted the pain to go away just for one day."
Gillian didn't want to leave her three children or her husband. Instead, she "just wanted to stop the heartache that is inside of me".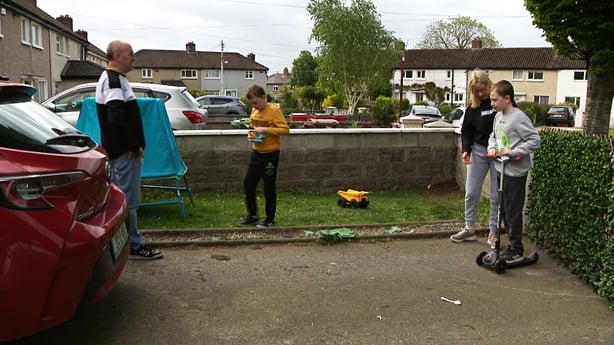 Thankfully, she recovered. "I was lucky to come out of it and it's a place I'd never want to go back to," she emotionally told Prime Time.
Now that the boys are 11 years old, Darren and Gillian are haunted by a feeling that their sons have missed out on opportunities to develop.
"Early intervention is key for children with autism. We have no chance of getting those years back," Gillian said.
"We can only imagine how far on they would be if they had speech therapy from the age of five."
Gillian and Darren have paid for some private occupational and speech therapy for the boys but, at around €100 each for a 40-minute session, it is simply unaffordable.
"We've gotten ourselves into debt and we've borrowed money to get speech therapy for the lads," Gillian said.
"There's been days in the house when the fridge is completely empty."
Darren had to give up his job in Dublin Bus to care for his sons. As such, the Milnes live on social welfare payments - a Carer's Allowance of €376 a week, and an Illness Benefit of €200.
"It's heart-breaking to live on what we're living on," Gillian said.
Coupled with the immense financial pressure they are under, Gillian and Darren's mental health has also been impacted.
Some days, Darren said he struggles to find the strength to go on. Then he looks at his twin sons and decides he has to keep going.
"You have no choice. You just have to," he told Prime Time.
The Milnes were initially thrilled when they were recently granted a home care package, which meant that the HSE would pay a private company to come in and help with the twins' care in the family home.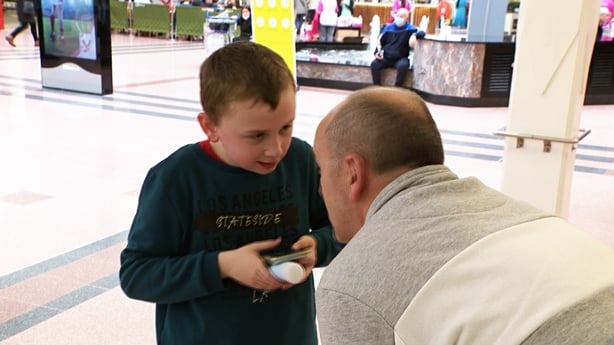 But the HSE has yet to provide an appropriate carer to provide the home care hours. Instead, the HSE has offered the boys an alternative respite service outside the home. But the Milnes say it's unsuitable, because the HSE was not aware of the boys' psychological reports when it made the offer.
None of the home care companies in Dublin would agree to provide Ryan and Kyle with the 18 remaining hours of care.
Gillian and Darren's eldest son, 21-year-old George, is "like the third parent" and helps out a lot with the twins. But the couple are always exhausted. Gillian said it has been 11 years since they have had a good night's sleep.
Gillian is angry that, three years after Micheál Martin brought her family's plight up in the Dáil, they still have no special school place for the boys.
Their situation is made all the worse by the fact that legislation passed in 2004 could have helped parents like Gillian and Darren.
The Education for Persons with Special Educational Needs Act, Prof O'Mahony said, provided for an appeals board to deal with disputes about child places. But it is not yet in operation.
"Its commencement was delayed following the financial crash in 2008 and it was never put back into train. We've seen this piece of legislation languishing now for 18 years," Prof O'Mahony said.
A Department of Education spokesperson told Prime Time that it "cannot comment on individual cases but it is very anxious to ensure every child who seeks a special education placement can secure one as quickly as possible".
Annual Government investment in special education has increased to over €2 billion, according to the Department.
The spokesperson acknowledged that, despite this spend, "There are some parts of the country, including Dublin, where increases in population and other issues have led to concerns regarding a shortage of special class and special school places".
As their long wait continues, Gillian and Darren are again pleading to be heard.
"Please for Ryan and Kyle's sake, please let them get a school place that they need and deserve. They're beautiful children," Gillian said.
"But, apart from that, please don't let this happen to any other family. I would not wish this on my worst enemy – and for anyone to have to go through, for 11 years, what Darren and I have gone through."
If you have been affected by any of the issues raised in this article, visit rte.ie/helplines.
Watch reporter Conor McMorrow and producer Lydia Murphy's Prime Time report on Ryan and Kyle Milne on RTÉ Player.