Each time West Cork fisherman Daniel Healy sets out to sea, he wonders whether it's worth his time. Soaring diesel prices, he said, are putting his livelihood at risk.
"Per trip, with five days out, at 1,000 litres a day - that's over €5,000. It's a big bill for me," Mr Healy told RTÉ's Prime Time.
He has been fishing from Castletownbere for the last 29 years. For the first time, he has to worry whether he can pay the wages of his crew.
"The diesel is probably taking about nearly half of our gross earnings, every trip," he said.
"The crew were wondering where all the money was going, until I showed them the receipts and how much the fuel is."
Other local fishermen who fish further out at sea are even worse off, he said.
But, due to stricter post-Brexit quotas that were introduced last year, fishermen cannot increase their catch to compensate for their losses.
Another local fisherman, Damien Turner, said his target species of white fish - mainly haddock, hake, whiting and monkfish - have all had their quotas cut as part of the EU-UK trade deal that came into effect in May 2021.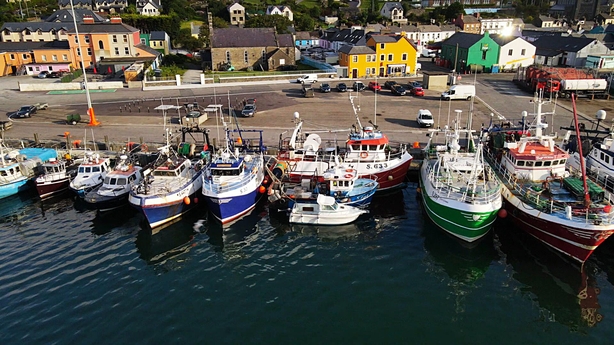 "We can't actually increase our productivity to counteract [fuel prices]. That's because of quotas. So we're working in a tight scheme."
This month, Mr Turner is availing of the Brexit Temporary Fleet Tie-up Scheme, a Government scheme that pays him to moor, or "tie-up", his boat and not fish for a month at a time.
The scheme, set up in September last year to compensate fishermen for the post-Brexit quota reduction, pays between €4,600 and almost €89,000 for the month - depending on the size of the boat. A third of the payment is allocated to the crew.
Mr Turner said that the grant he received this month was welcome, and has helped him to repay his mortgage and with boat maintenance costs.
But, as soon he goes back fishing next week, he will be fishing alongside French and Spanish boats off our coast. They can avail of a direct diesel subsidy from their governments.
"What we're asking the Government for is to recognise that crisis we're in with the fuel prices," Mr Turner said.
"We're just asking for the same level playing field as our European counterparts."
The French government is offering their fishermen 35c per litre of their fuel bills, while the Spanish government is offering theirs 20c per litre.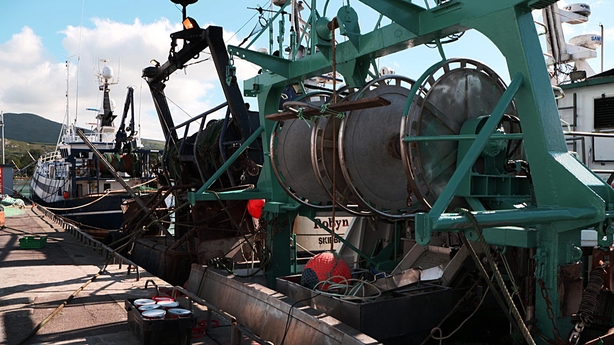 These subsidies were announced earlier this year after the European Commission made clear that member states could pay for the subsidies without breaching state aid rules.
The Department of Agriculture, Food and the Marine said it has responded to fishermen's concerns by adding a second month to the tie-up scheme.
However, when the department announced the extension of the scheme, it made no reference to it being a compensatory measure for diesel prices.
Instead, it stated that the second month's payment was coming from the Brexit Adjustment Reserve Fund.
Some fishermen are hopeful that further support could come from the Government if it were to draw down funding from another fund, known as the European Maritime and Fisheries Fund.
After last month's meeting with representative groups from the sector Minister Charlie McConalogue said that the Government will continue to "monitor the situation".
In Castletownbere, however, the high price of fuel is exacerbating local grievances about the post-Brexit quotas.
Nationally, Ireland's fishing quota will fall by 15% by 2026. In comparison, France will lose 9% and Spain just 2.5%.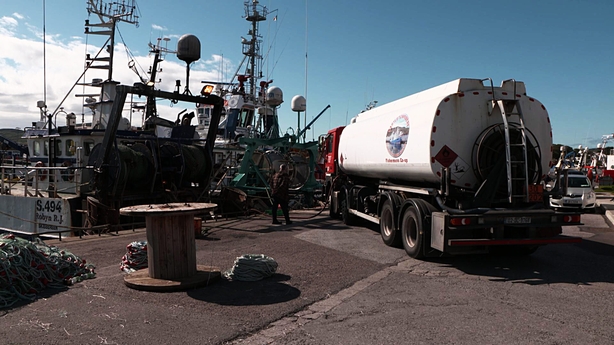 The economic fallout will, however, be spread almost evenly amongst the three countries that share UK waters – France, the Netherlands and Ireland.
Castletownbere, known as Ireland's "white fish capital", has been impacted particularly harshly.
But local ire about this is directed at the Government, rather than at their foreign counterparts, such as the Spanish fishermen who dock regularly and offload their catch at Castletownbere.
"I don't really feel aggrieved with them, because they're doing the same job as we're doing. They're out there to make a living like us," Mr Healy said.
"It's just their governments are looking after them. They're fighting for them and they're fighting for their quotas - whereas our Government or civil servants aren't fighting, simple as that."
The department said that Mr McConalogue regularly makes Ireland's case at monthly EU fisheries meetings.
But, so far, it appears, it has fallen on deaf ears.
As a result of these reduced quotas, the Irish fishing fleet must now be cut.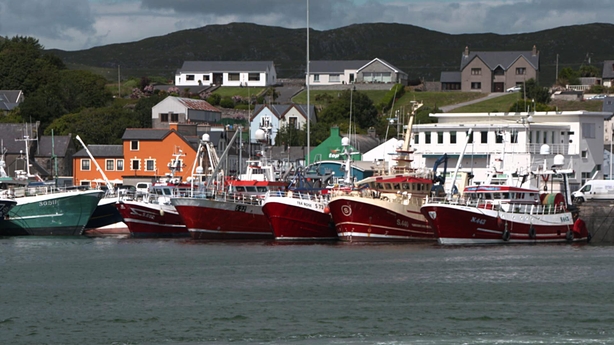 A seafood sector taskforce, set up to manage the transition to the new quotas, has recommended that, as part of a voluntary scheme, 60 boats - polyvalent or beam trawlers - must now be cut or "decommissioned" from the Irish fleet.
In recent weeks, An Bord Iascaigh Mhara, the seafood development agency, has publicised the details of this programme.
"We are being asked to have a fleet that matches the quota, rather than a quota to match the fleet," said John Nolan of Castletownbere Fisherman's Co-op, who sat on the taskforce.
"This means that, in Castletownbere after Brexit and decommissioning, we would be losing 15 to 20 boats at sea, which is about 100 jobs."
There's wider concern about how the decommissioning scheme will affect the wider area.
According to a 2019 Bord Iascaigh Mhara report, the seafood sector accounts for 40% of the local Beara peninsula economy.
Rosemary O'Donoghue, who runs O'Donoghue's garage and restaurant in the town, said she worried about the cuts to fishing boats.
"With the garage alone, there would be fuel, repairs, car washing, even truck washing provided [to local fishermen]," she said.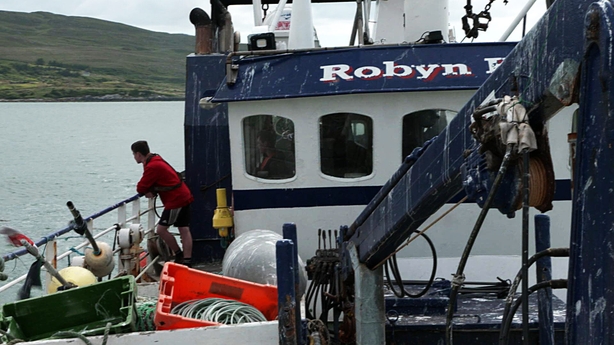 "In the bar, the workers in the fishing industry come in for lunch, they come in for drinks. It would severely impact us."
Darren Lynch of Lynch's on the Pier, a local restaurant, also has concerns.
"The tourist season is quite short here. The backbone of our business depends on the fishing. If you take away the spend from the fishing industry, we will struggle."
Mr Turner, who is considering decommissioning his boat, rejects the idea that it's a voluntary scheme, given the context in which they are being asked to make a choice.
"I don't feel it's voluntary. We've been forced into the situation. With the Brexit quota given away, we're suffering the consequences."
He said the proposal to cut boats flies in the face of EU's fisheries policy, which is supposed to support sustainable fishing and protect coastal communities like Castletownbere. He is now facing an impossible decision.
"It is your identity. I've done no other job since I left school," he said.
"We put our heart and souls into this vessel - and not just our hearts and souls, but financially. It's a huge decision to take for myself and my wife."