The mother of two 11-year-old twins with autism who have been denied appropriate schooling has said that an apology from Taoiseach Micheál Martin is "too little, too late".
Gillian Milne and her husband, Darren, have been pleading for the State to intervene and provide places for the twins, who are non-verbal and have a range of other special needs, in a special school.
The family has repeatedly received refusal letters stating that the special schools are oversubscribed.
Speaking on RTÉ's Drivetime programme, Ms Milne said that the Taoiseach's apology was simply "too late".
Following last night's Prime Time report on their situation, Mr Martin today apologised to the Milne family in the Dáil, saying the State had failed to provide their children with the education that is appropriate to their needs.
"It's too little, too late. We are gutted as a family at what has happened to the twins and us as a family," Ms Milne said.
---
Read the original story:
'Let them get a school place' - Mother of autistic boys
---
"Ryan and Kyle are 11 now. He can't give us back those six years that they should have been in school."
Mr Martin was responding to questions from Labour leader Ivana Bacik, who pointed out that it was the second time that the Milne family's difficulties had been featured on Prime Time.
Mr Martin, who had raised the matter in the Dáil in 2019 as leader of the Opposition, said today that "the State has failed the Milne family".
"It simply is not good enough. I do not stand over this," he said.
Mr Martin said he had spoken with Minister of State for Special Education and Inclusion Josepha Madigan as well as the Assistant Secretary at the Department of Education, adding all were "possessed" with the need that "this does not happen again".
Following last night's Prime Time report, Ms Madigan phoned Gillian this morning to arrange a meeting with her and Darren.
The minister said a radical solution is needed to address their situation.
Speaking on RTÉ's Morning Ireland, Ms Madigan said that the situation will be discussed with the two schools that they have applied to and that she will also speak to other local schools.
Home tuition is important in the interim but this is a short term intervention, she added.
The minister said there is an exponential growth of autism generally, not just in Ireland but internationally, and this is something that the department and National Council of Special Education needs to take into account to ensure that there are available spaces in order to prevent situations like these arising.
Ms Madigan yesterday announced that she would take "substantive action" on the lack of school places for children with special needs, and would have "no other option" but to issue Section 37a notices to schools in areas in need of additional Special Educational Needs places.
The minister said it was difficult to say how many children around the country were waiting for a place in an SEN class, adding that there were "a number of different factors" to consider.
She said, however, that she had "all the information" pertaining to how many children required a place.
Asked how many schools would be directed to provide additional SEN places under section 37a, Ms Madigan said there was now a new forecasting model in place to anticipate where there is demand for, and capacity for, such places.
When pressed on an exact figure, Ms Madigan said she had "a fair idea", adding that "Cork and Dublin would be real pinch points".
"I am not ruling out issuing those letters to any particular schools in any particular county, but I must say that the majority of special classes are open through collaboration through the national council for special education," she said.
She added: "I don't like having to use this, it's a blunt instrument, I don't want to have to compel or force schools to open special classes.
"But in circumstances where I am faced with a dearth or a lack of these classes, then I have no option but to do so, because it is really important to me that children's rights under the Constitution are vindicated."
Ms Madigan said such orders are only used "in extreme circumstances", adding that she was in the process of reviewing the Section 37a mechanism, given it "takes a number of steps before a school actually opens the classes".
Housing charity acquiring family home
Identical twins Ryan and Kyle were born in 2011 and were diagnosed with autism when they were two-and-a-half years old.
In addition to autism, they also have ADHD and a severe learning disability.
Mr Milne has given up his job to help look after the twins. Faced with the threat of repossession, the family are also due to become tenants in their own home when a housing charity acquires the house.
The parents are angry that the twins are almost at the age when most children go to secondary school – and they have still not secured a place in a special school.
"They didn't get to make their communion with any of their friends or anything. And I am not holding out any hope of them making their confirmation with one either," Ms Milne said on Drivetime.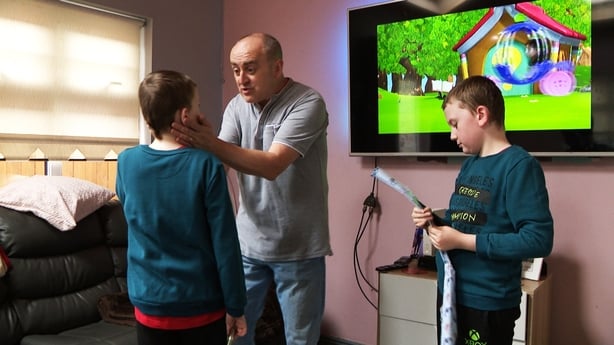 "They just want to go somewhere and be like every other child and have what every other child has. And I don't see that just because they have autism, that should be taken away from you."
Ms Milne said that, instead of today's Government apology, she would have preferred if someone had called this morning and said they were going to make sure the boys have a special school place for September.
Ms Milne said that State apologies could not make up for what her family had lost.
"We have lost our home. Can you give us that back Taoiseach? Darren had to give up work. We'll never be financially stable," she said.
Conor O'Mahony, a law professor at UCC, suggested that a delay in meeting the educational needs of children like Ryan and Kyle had constitutional implications.
He told Prime Time that every child had a constitutional right to an education that is suitable to their needs.
"If you have a child who reaches the age of 11 without having had appropriate education provision made, then I think it's quite clear the state will have failed in its constitutional obligations towards that child."
Some days, Mr Milne told Prime Time that he struggles to find the strength to go on. Then he looks at his twin sons and decides he must keep going.
"You have no choice. You just have to," he told Prime Time.