One of the country's leading property developers has criticised plans to house Ukrainian refugees in temporary modular homes on State land.
Michael O'Flynn, CEO of the O'Flynn Group, told Prime Time that the State should instead be considering more permanent housing solutions.
"Temporary modular buildings will be taken down in a number of years. That is not a solution," Mr O'Flynn said.
It is hoped that construction will begin on the initial phase of 500 modular buildings as soon as possible, according to Housing Minister Darragh O'Brien.
"I cannot believe we're going down that road," Mr O'Flynn said.
Minister O'Brien said that the modular homes would last up to 40 years in some cases, and could be repurposed when they are no longer needed.
He told RTÉ's Drivetime programme that the quality of homes was "very good" and said that sites would need to be serviced for water, electricity and sewage.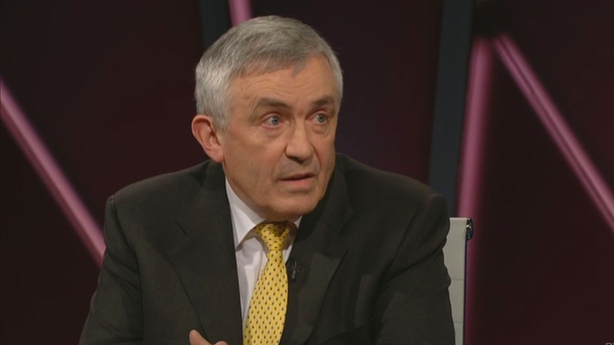 "This is not the overall solution – it's part of the response," he explained.
Mr O'Flynn also said the industry is "in the dark" about the broader plans to house tens of thousands of Ukrainian refugees.
He told Prime Time that he had offered to work pro bono to project manage the refurbishment of older buildings such as hospitals and schools.
However, despite Tuesday's announcement of the repurposing of almost 90 large buildings as refugee accommodation, Mr O'Flynn said he had yet to be tasked with assisting.
"The industry is pretty much in the dark in terms of what's happening. It seems to be government-led and department-led," he said.
"We would be open and prepared to offer our services to manage and help bring buildings into life very quickly."
Mr O'Flynn said he was surprised that there has not been more private-sector involvement.
"We do not see this as an opportunity. We see this as a call to duty," he said.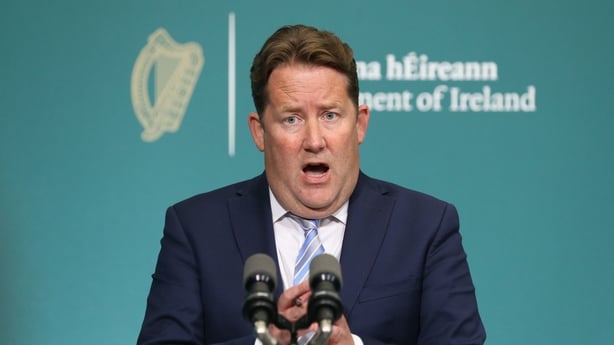 On Tuesday, the Cabinet was updated on a number of measures being worked on by Housing Minister Darragh O'Brien to provide refugee accommodation.
The plans include the establishment of an Emergency Vacant Housing Delivery Unit, which would, according to the Department, draw on expertise from local government and the private sector to convert larger, vacant buildings like former hospitals and schools.
The properties identified so far would be able to house more than 5,000 people in a short time period, Minister O'Brien said on Tuesday.
But Mr O'Flynn is sceptical.
"It's not realistic – because I'm well aware of some of the buildings being offered and I'd be very concerned as to how long it will take."
Westmeath company Skyclad, which manufactures modular homes, told Prime Time that it could supply 200 units over the next year.
"When we started doing modular housing there was a perception that it would be cold, it would be damp – and that's not it at all," Shauna Coyne, the company's chief operations officer, told Prime Time.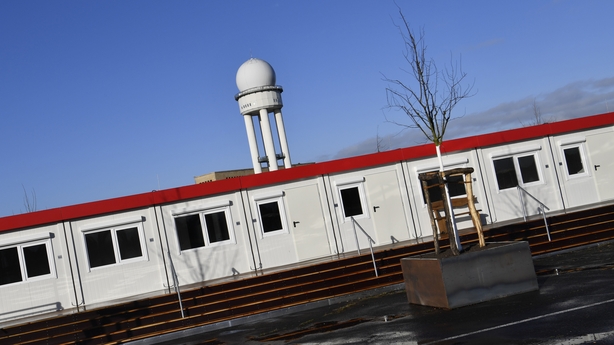 Units of around 40 sq m can be almost entirely built – inside and out – at the company's manufacturing facility before being transported by truck to a site. They can be constructed as standalone homes or added together to make adjoining units.
"It's pretty much a plug-and-play system," Ms Coyne explained.
High-quality modular homes aren't necessarily much cheaper, but their construction can be significantly quicker.
"Our houses can be built within 25 days," Ms Coyne said
While Skyclad said its units will last for up to 60 years, other modular options have a shorter lifespan.
Sinn Féin housing spokesperson Eoin Ó Broin cautioned that cheaper modular builds should not form part of the refugee response.
"If we're going to spend very large volumes of taxpayers' money, let's build high-quality permanent homes for all of those who need them."
Mr Ó Broin warned that lower-quality solutions would be "glorified Mosneys", referring to the Co Meath town where a direct provision centre is located.
"We shouldn't be putting people in low-grade modular units at a very high price for months, if not years," he added.
"That's not good for the refugees, and it's also not good for the taxpayer."