Under the Government's Climate Action Plan, roughly one-third of all cars on Irish roads should be electric by 2030.
But, for Niall Scollan, the sales manager of Scollan Cars in Drumshanbo, Co Leitrim, this electric dream is more of a pipe dream.
"We have very few inquiries for electric cars or plug-in hybrids around here," Mr Scollan told Prime Time.
"Diesel cars still offer the best value for money, and fuel economy, for people who commute long distances to work and hospital appointments."
Like the firm Mr Scollan works for, many car dealerships in rural Ireland cater for drivers who commute long distances but cannot afford the upfront cost of an electric car. Just 16 new electric cars were sold in Leitrim in 2021.
The electric vehicle target is a key part of the Government's plans to cut the transport sector's carbon emission in half in less than eight years.
Electric cars sales are currently growing fast, but not fast enough.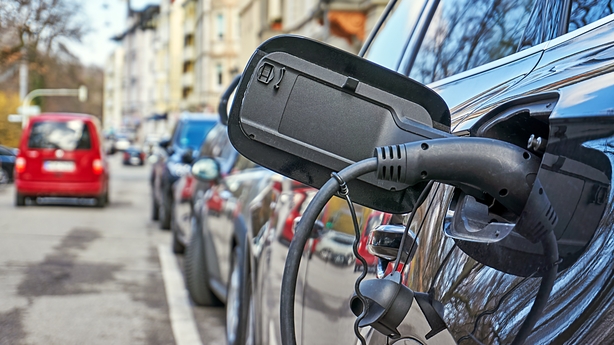 The number of battery electric cars and plug-in hybrid electric cars or "PHEVs" sold in the first three months of this year almost equals the number sold in all of last year, 10,295 compared to 11,140.
This brings the total number of electric vehicles on our roads to 55,730.
Motoring journalist Geraldine Herbert told Prime Time that the target is a "challenge" that was set "pre-Covid and pre-Brexit", and clearly before the war in Ukraine.
These events have resulted in the delayed delivery of new cars and a 35% fall-off in second-hand imports.
A recent study commissioned by the Society of Irish Motor Industry (SIMI) concluded that, under current sales trends, we are likely to have less than 560,000 electric cars on our roads by 2030, well short of the 845,000 target.
But it also found that, with significant market interventions – such as a new scrappage scheme and further subsidies beyond the €5,000 purchase price grant – Ireland could even exceed the target.
But Prof Brian Caulfield, who researches transport emissions at Trinity College Dublin, said there was no evidence that reaching the 2030 target was possible.
"We sell just over 100,000 cars in this country per year," he said.
"If we wanted to meet the target today, we need to stop selling anything that doesn't have a plug attached to it. That's the bottom line."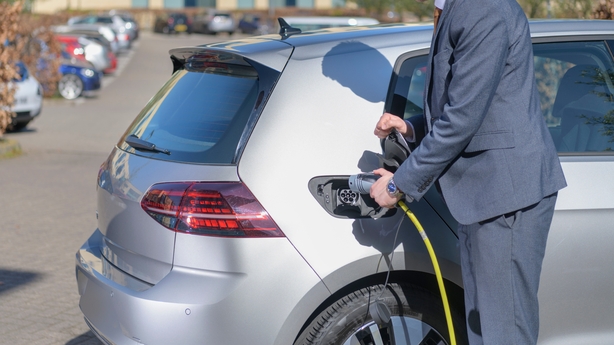 Is the target a good one?
More fundamentally, Prof Caulfield said that the way Ireland is pursuing this target, using a universal purchasers grant, will impact negatively on the country's wider carbon-reduction plans.
Prof Caulfield's research shows that people who've bought electric vehicles are "living in the leafy suburbs of the major urban centers".
"They're the ones that are driving the shorter distances, who have access to the alternative transport. They are also likely to be people with second cars," he said.
In other words, they are precisely the people who are being encouraged elsewhere in the Climate Action Plan to walk, cycle or take the bus.
If these electric vehicle sales trends continue, according to Prof Caulfield, we'll simply end up with more cars on our roads, when we need fewer.
"That has knock on impacts across the whole transport network. Buses will be slower," he said.
The same research indicates that electric vehicle sales are also low in rural Ireland, where electrification is most needed.
This doesn't surprise Pat Marsh, the sales manager of Nissan Tullamore in Co Offaly, which sells the Leaf electric car.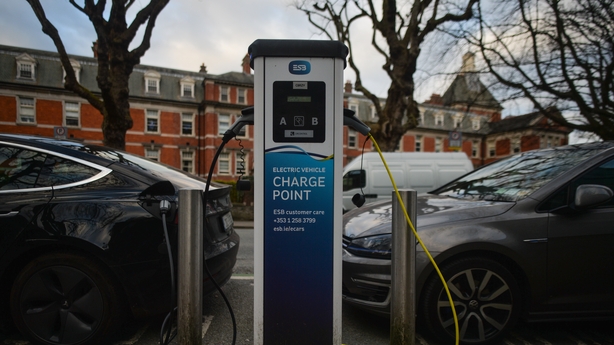 Many potential buyers, he said, are put off by "range anxiety" – the fear of running out of power on a journey and having nowhere to recharge.
"They all ask where the charging points are. There could be a lot more done. There needs to be more done – that's obvious," he said.
Mr March told Prime Time that, while sales are up significantly this year, a lot more electric vehicles could be sold if there was a better charging infrastructure.
Ireland currently has 2,400 public charging points, on average 1 for every 15 electric cars, far short of the EU average, which is of 1 for every 10 electric cars.
SIMI said the country needs roughly 100,000 by the end of the decade, with the government pledging an investment of €100 million over the next three years.
The ESB, one of the main charging point providers, is aiming to more than double its number of points to 3,000 by next year.
John Byrne from the ESB told Prime Time that it is specifically targeting the installation of hubs with multiple charging points and superfast chargers – which give a driving distance of 100km in six minutes – designed to boost confidence in long-distance driving.
"The current focus of our programme is on those intercity routes and primary arterial routes. So, we've built a number of hubs already – 14 in the last year, with 52 to build in total. That will dramatically shorten the distance between the hubs," Mr Byrne said.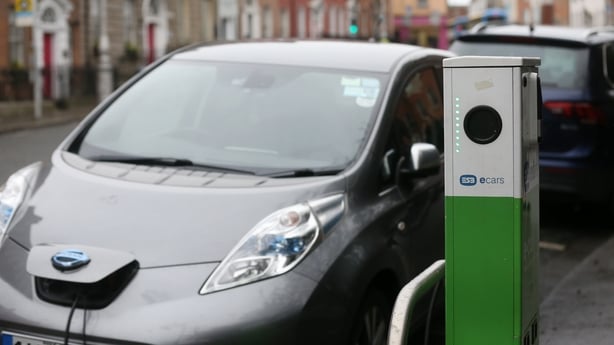 But Jorinde Rolsma, who lives in Dublin 8 and drives an electric car, said there aren't enough charging points near her home in the capital, either.
"It's a big problem. And we would like to see chargers all over the place, in every petrol station," she said.
Tired of the lack of access to oversubscribed public charging points and of paying Dublin City Council parking fees while charging, Ms Rolsma and her husband, Conor, had to go to extreme lengths to install a home charger.
She said it is not safe to run a charging cable along the footpath, so now a charging cable runs from a pole at the end of her garden, via a nearby tree, to her car.
Can the target reduce emissions as planned?
Many observers believe the target for electric vehicles will not deliver the necessary carbon emissions reductions in isolation.
The SIMI study advocates an equally vigorous plan to remove the "worst polluters" from out national fleet, which "remains dominated by aged diesel and petrol cars".
They advocate "escalating carbon taxes" on polluting cars, a new scrappage scheme and trade-up incentives.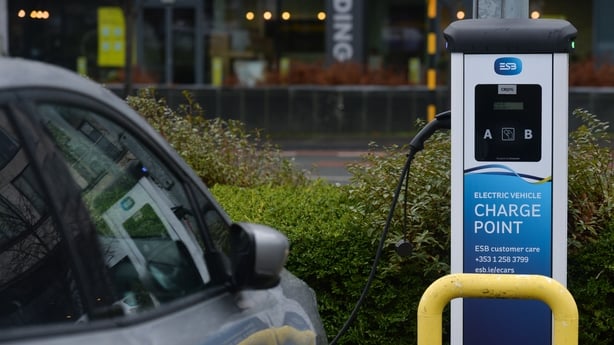 Ms Herbert said we also should cut the numbers of high-polluting new cars.
"Over half of the cars we bought last year were SUVs. They emit more CO2 emissions. So, while we're doing our bit for the environment by buying electric cars, if we're also buying SUVs, we're balancing it out. We're actually getting little impact from our environmental efforts."
Climate Minister Eamon Ryan recently indicated that he intends to increase Vehicle Registration Tax in order to curb the popularity of SUVs.
Julia Poliscanova, from Transport & Environment, a Brussels-based clean transport campaign group, said that, if Ireland is focused on the reduction of vehicle emissions, plug-in hybrids should not be part of the climate action target.
While many plug-in hybrids are advertised as having about 25% of the emissions of petrol or diesel cars, Ms Poliscanova said a study her organisation commissioned showed that, in real-world conditions, emissions from these cars were actually three or four times higher than official test results showed.
"In some driving modes, they were up to eight times higher," she said.
But, for Prof Caulfield, the target doesn't make sense, since it involves putting more cars on our roads.
"We need to really think," he said, "where buying cars and driving our way out of this problem is the thing to do."
Watch Prime Time's special programme on climate change tonight at 9:35pm on RTÉ One and RTÉ Player.