Just two weeks ago, the Arklow Sports and Leisure Centre was a location for taekwondo, racquetball and baton twirling classes. Now, there are 50 refugees sleeping on temporary beds in the sports hall.
For Yulia Didenko, who recently arrived from Ukraine, the repurposed facility has one key attribute – it's safe.
Yulia fled the western Ukrainian city of Vinnytsya just a few days ago. The revelations of the massacre of citizens in Bucha were a final motivation to flee.
After travelling through Poland, Yulia, her two teenage daughters and six other members of the extended family flew to Dublin from Munich.
From the airport, they boarded a bus and arrived at Arklow's emergency accommodation.
"It is far away from the bombs," Yulia told Prime Time.
Her daughters, Sofia and Yeva, wiped away their mother's tears as she described leaving their father behind along with much-loved pets.
"We were hiding in the basement. We saw what happened in Bucha and Hostomel and we were so scared," she said.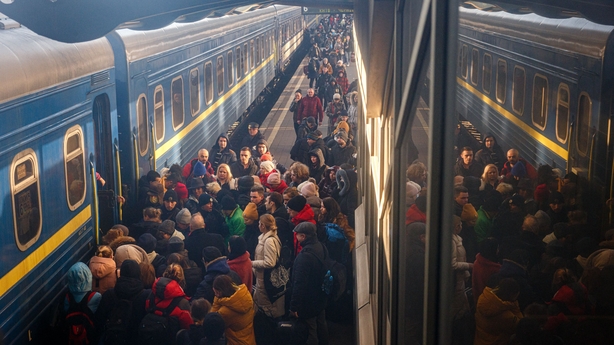 The family is exhausted and their English is broken, but it is very clear what Yulia means when she exhaled loudly and said, "I breathe..."
Wicklow County Council took over the hall at the Arklow Leisure Centre almost two weeks ago and, within days, it was equipped with temporary beds and tents. External catering and cleaning services have been sourced to service the facility. The first refugees arrived early last week and it is now at capacity with 50 people staying overnight.
The Didenko family has spent the past two nights sleeping inside the leisure centre and described it as "very comfortable".
"We are safe – that's the most important thing," Yulia said.
The local clubs and businesses that had been using the facility were given just a few days to remove their equipment and find other premises. The council said it was regrettable that a small number had been impacted.
Some of the businesses that spoke to Prime Time expressed disappointment at how the decision had been handled, but most have found alternative temporary accommodation for their sports.
While most refugees have been accommodated in hotels, B&Bs and with host families, increasingly, community halls are being used as short-term "rest centres".
Refugees have been sleeping on temporary beds in several community halls including St Mary's GAA club in Rosslare, Co Wexford, and Moycarkey-Borris community centre in Co Tipperary. The local authority in Tipperary has also taken over a second sports hall at Clonmel Town FC.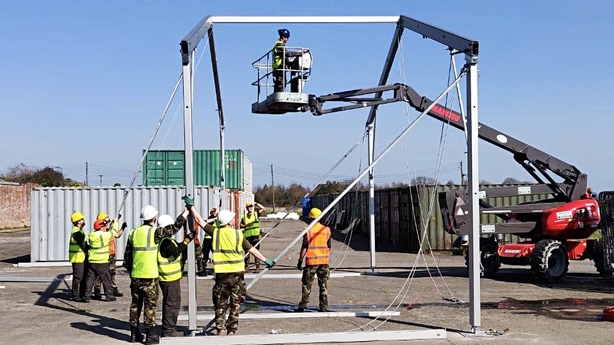 Dylan Meaghar, who runs a Muay Thai club from the facility, posted on social media last week that he and others were given just days to vacate the premises. Dylan has found alternative accommodation but remains unconvinced that the hall is suitable for refugees.
"The centre is barely suitable to train in, never mind house families," he posted on social media.
"The toilets are always in bad condition – it's cold in the morning and there's frost on the [punch] bags."
In a statement, Tipperary County Council told Prime Time: "The building has been surveyed and improvements works that include heating, roof repairs and upgrades to the toilet have been identified to be carried out."
"It is hoped that the centre will be ready for occupation within the next few weeks," it said.
The Department of Equality, which is taking the lead on the refugee response, said it was conscious of the need to ensure quality in all accommodation, and that the amount of time spent anywhere will depend on the overall availability of accommodation.
Asked by Prime Time how many sports and community halls had been repurposed as refugee accommodation, the Department said it was, "not possible to provide a breakdown on numbers, or types of accommodation, as these are constantly changing depending on the number of arrivals from Ukraine arriving into the country on a daily basis".
The Cabinet will hear details today of the scale of the contingency plans for refugee accommodation, while Justice Minister Helen McEntee has suggested that there could be 45,000 Ukrainian refugees in Ireland within seven weeks. A total figure of 100,000 refugees has not been ruled out.
Co Wicklow's share of such a number, by population, could be 3,000 refugees.
Independent Councillor Peir Leonard said the county "definitely" doesn't have housing to accommodate that many refugees.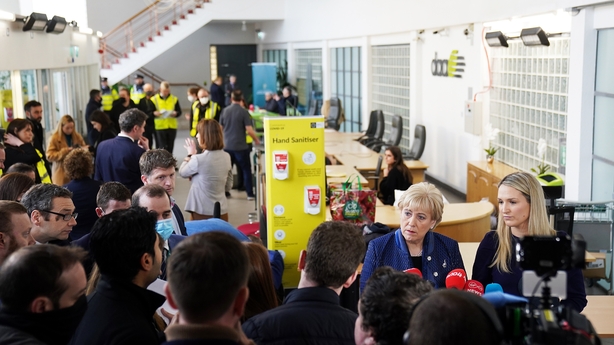 "The only answer I can see is just to get construction mobilised and to start renovating buildings in tandem with all the services as well."
Cllr Leonard told Prime Time that the Arklow Leisure Centre had been turned around with a huge effort by the local authority and volunteers – and that it is only intended to be used for short periods. But, going forward, she's worried about meeting the future needs of refugees.
"What's our capacity? We need to look at not only accommodation, but at services, doctors, health services," he said.
Olga Sakiv is another of Arklow's newly arrived Ukrainians.
She fled her hometown two weeks ago and is staying with a host family, and volunteering at a hub for refugees in the Bridgewater shopping centre.
Olga told Prime Time that a recent direction from Ukrainian authorities to evacuate large areas of the east of the country means there will be "millions" more people displaced from their homes.
"There are around 600 people coming to Ireland every day but I think it will be more," she said.
A business owner in Ukraine, Olga isn't worried about getting a job in Ireland. But she is concerned about finding somewhere to live, long-term.
"It's not possible to rent anything," she told Prime Time.
"I am like Scarlett O'Hara. I will think about it tomorrow because what plans can I make today?"