Lesya lives with her daughter and her family in the Ukrainian industrial port city of Mykolaiv, around 110km east of Odessa, on the Black Sea. She desperately wants to leave the city and come to Ireland, where she has a cousin, but feels utterly trapped.
Russian troops have advanced on the city, which has a population of around 500,000 people, in recent days.
"It is probably impossible to get out now, because the city is surrounded. We would have left in our car, but it's very scary on the roads," Lesya told RTÉ's Prime Time.
Lesya is not her real name. For safety reasons, the grandmother asked Prime Time to use a pseudonym to protect her safety.
"There is shooting on the roads, and all the road signs have been removed. Even if we leave the city, we will not know where we're going. The roads are all destroyed. The bridges are blown up all around," she said.
Without a secure humanitarian corridor, Lesya and her family of three generations - including her 18-month-old grandchild - fear that it is too dangerous for them to move. Others who have tried have not made it.
"There are a lot of cars on the roads that have been shot up with dead bodies and people's belongings lying all around them. It's horrible," she said.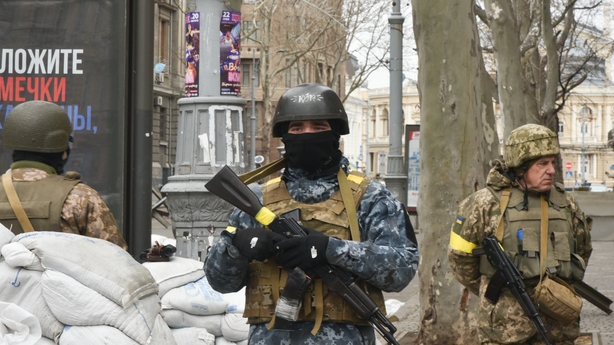 They have also heard stories of people trying to leave and being turned back by the Ukrainian army. But staying where they are is also frightening.
Lesya's son-in-law said that there was overnight bombardment nearby.
"I woke up in the morning from the loud sounds. Boom, boom, boom, boom. My wife was very scared and everyone is very nervous. Tanks are very close, but it's still quiet in the city centre," he said.
Five apartment buildings like theirs were shelled yesterday. They feel very vulnerable as they have nowhere to take shelter.
"We have no basement, we have no shelter, we have nothing. We are sitting in a five-storey building on the fourth floor. All windows are blocked with carton boxes. We try to hide between the walls, in the hallway or bathroom," Lesya said.
"We keep the baby in the stroller in the hallway, between the doorways. We are just sitting and waiting to hear when there is an air siren, and waiting to see whether the bomb will hit us or not."
At night, there is a curfew at 7pm. So, like the few other residents left in the building, they stay in the dark after that time.
"Generally speaking, it's advisable to stay in the dark. The TV is on and we can see by the light of the TV."
Lesya says they have supplies for a few weeks but not more than that.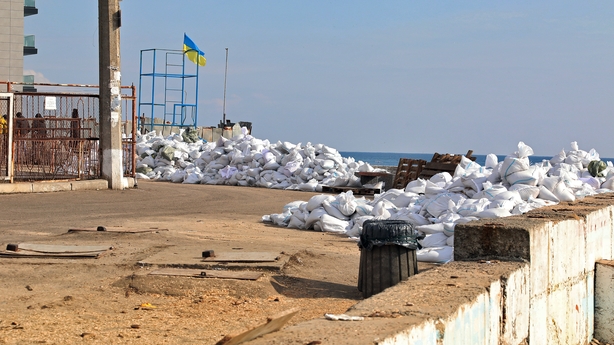 "I filled the bathtub full of water, I filled up a few plastic bottles too, so that we'd have drinking water. We have two loaves of bread, I bought them three days ago and we keep them in the fridge, to make sure they will last longer," she said.
"We were also able to buy some grains, flour, some canned foods. I believe we can hold out for two to three weeks."
They're worried what will happen, however, if the utilities are cut off as happened in Mariupol, another strategic coastal city around 320km to the east.
"We are just afraid if our water is turned off - gas, heating - and I don't know what we will do. The child simply will not make it in such conditions. It will be a nightmare. It's also very cold at nights, −6C to −8C."
Lesya is very worried about the toll their situation is already having on them all, especially on her daughter, who worries about her young baby.
"Yesterday, she had a breakdown - I was calming her down all day long. She was very worried. I calm myself down and take heart medicines all the time because I was also on the verge of a breakdown as soon as this bombardment began. It's indescribable how hard it is."
With a cousin in Ireland, Lesya says said they would like to come here tomorrow - if only they could.
Lesya's daughter, who broke her pained silence, said she would like her baby to have a house.
"I would like to see my baby smiling," she said.