If you invested in Bitcoin during its early days, chances are you're a millionaire by now.
In a little over a decade, the poster-boy for digital currency has enjoyed a spectacular success story, rising in value from just over a few cents per coin to a high of almost €70,000.
Since the beginning of the pandemic, its value has increased ten-fold. Cryptocurrency has broken through being a niche interest to having a much broader appeal. Celebrities are endorsing it, Premier League clubs are getting in on the act and it's being advertised on the sides of Dublin Buses and railway bridges around the country.
Potential investors have tens of thousands of cryptocurrency to choose from, with myriad different uses but how many of them can really represent sound investment?
Financial planner and host of How To Be Good With Money, Eoin McGee, is dubious. Everybody wants to get rich quickly, he told Prime Time. "The way I think about investing money - it's long, it's boring, it's slow. And it works."
Eoin believes that any successes people may have had so far are largely down to luck. In order for cryptocurrencies to have longevity, they need to become not just more widely accepted but accepted by essentially everybody on the planet.
He said: "The reality is when it comes to cryptocurrencies, having a small number of people in the world, accepting that this is true value and it's right will never create a situation where it will last forever.
"Because it's not about a small number of people accepting it. It's about everyone accepting that this is something that we can share amongst each other.
"Until they get that mass market, it'll never actually take off as something that would be mainstream."
Mainstream may not be a million miles away. Half a million Irish people already own cryptocurrency. Perhaps, unsurprisingly, the most likely age group to have bought it is 25-34. It's a statistic that Eoin is hearing for the first time.
He said: "My immediate gut reaction is you think about 25 to 34-year-olds right now, they've been dealt a really hard deal."
Eoin believes that, financially, they've been hit hard from many directions and that crypto might represent a chance to them of getting a deposit for a house and that perhaps they're being driven by a fear of missing out.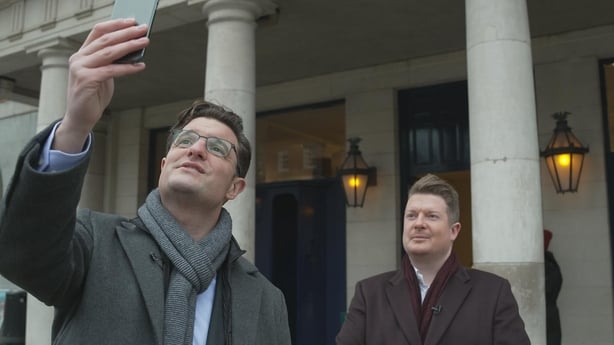 Eoin is very active on Instagram and says that nothing generates the kind of comments that discussing cryptocurrency does. He makes a short video and, true to form, the comments flow in.
There is an active online community of crypto enthusiasts who truly believe that cryptocurrencies and the underpinning blockchain technology will change our lives, freeing us from what they see as the tyranny of central banks and inflation. It's a key pillar of Web 3.0 where, it's said, everything will be decentralised, including our money.
We spoke to a number of Eoin's Instagram followers, eventually meeting with Michael Moran in Co Kildare. Michael's background is in tech, but he has been investing in crypto for several years, usually selling up too early he admits. "I'm an emotional investor," he jokes.
Earlier this year, he sold his classic BMW and put the money straight into crypto. This will be a long-term investment that he's determined to sit on for several years. He's also planning a much more significant long-term investment.
"I'm thinking of reducing my pension and starting to take some of that money out and put it into cryptocurrency and maybe a small spread across a couple of the major coins," he said.
"The prospect of huge returns make crypto investment a tantalising proposition"
Michael said he has always made good decisions in life, with money and property, and although this will be as much as 30% of his pension, he is confident it is a risk he can take.
He said: "It is a risk at the end of the day, but you know, rewards come at risk. So sometimes you have to take that chance."
Michael is not alone. More and more people are seeing cryptocurrency as a rising asset class, a potential long-term store of wealth.
Early adopter James Nagle set up crypto brokerage firm Bitcove with his brother Peter in 2014. They now have a chain of Bitcoin ATMs in convenience stores across Ireland. James has seen an influx of investors since the beginning of the pandemic, which he ascribes to people being fed up of negative interest rates for the bank savings. Crypto is something they see as giving a better return.
But not all cryptocurrencies are created equal. While Bitcoin, Ethereum and Litecoin are performing well, there are tens of thousands of others. Some have uses in video games, some started as a joke and then took off. Others exist purely as a vehicle to make money for their creators.
A common scheme is "pump and dump", where founders hold the majority of the coins that have been mined. A social media campaign then artificially inflates the price of the remaining coins before a planned and sudden crash. Innocent investors are burned, while the creators walk away with the proceeds. For those investing, it's about sorting the good from the bad.
"We vet every single currency that we have on our platform," James told Prime Time. "We make sure that the founders check out, that they don't hold a mass supply of tokens. Crypto is new, it's exciting, but you have to do your due diligence."
The prospect of huge returns make crypto investment a tantalising proposition, but it has also provided a new frontier for scammers to ensnare people out to make a quick buck. It's currently boom time for investment scams in Ireland - €8 million was stole in the first seven months of 2021, double the same period last year, which was double the year before.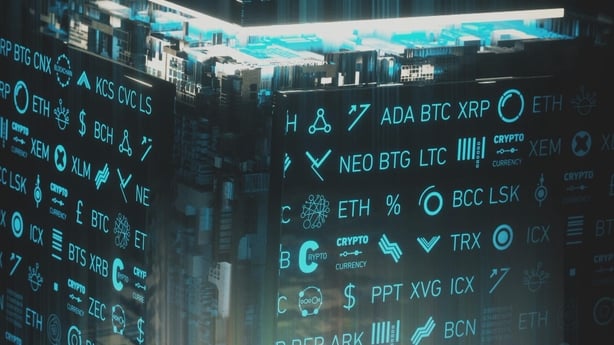 In the National Cyber Crime Bureau on Dublin's Harcourt Square, Detective Superintendent Michael Cryan tells Prime Time that 99% of these scams involve crypto.
Would-be investors are being lured in through pop-ups that lead to cloned websites. Some are taking financial advice from people they match with on dating apps. Ultimately, it leads to them purchasing what they believe to be cryptocurrency but, in reality, their money is being stolen.
Some scammers even play the long game, sending regular charts and graphs to update people on their non-existent investment, encouraging them to put more money into it.
Even with legitimate investments, there is risk involved. Crypto is no different. In the weeks we spent looking at on this, Bitcoin dipped from around €58,000 per coin to €40,000 per coin.
The hardcore crypto investors will say that this is the time to buy, whereas the Bank of England last week warned that Bitcoin speculators could still lose every penny.
For Eoin McGee, this volatility is concerning. Crypto is supposed to be a currency but conventional current currencies don't rise and fall as dramatically.
Eoin said: "Nobody can actually tell what's going to happen with cryptocurrencies. And because of that, it is an exciting time to be around it.
"But because nobody knows what's going to happen, make sure any exposure you have to is no different than the exposure you would have if you went to the races or the dogs."