In English, "gan an chéad ghlúin eile ní féidir leat maireachtaint" translates as "without the next generation, you cannot survive".
They are the words of Leanne Ní Mhurchú, who is five months pregnant and expecting her first child with her husband, Adam.
Like thousands of young people across the country, the Waterford couple are struggling to find a home of their own.
Leanne, a fluent Irish speaker, works at the Coláiste na Rinne school in the Waterford Gaeltacht where she grew up. Gaeltacht na nDéise is a tiny Gaeltacht, where less than 500 of the population of 1,700 are daily Irish speakers.
---
Léigh an t-alt as Gaeilge (Read article in Irish) »
---
Leanne has always dreamed of raising her own Irish-speaking family in An Rinn.
But the housing crisis is affecting the Gaeltacht, too.
"We have looked at six or seven sites in the last two years, gone for pre-planning on them and been shot down every single time," Leanne told Prime Time.
It is a familiar story for young people across rural Ireland. Planning regulations, which are strict for good reason, mean it is difficult to get permission to build one-off houses.
Alternatively, Leanne would happily buy a house in An Rinn if house prices in the scenic coastal area were not as high.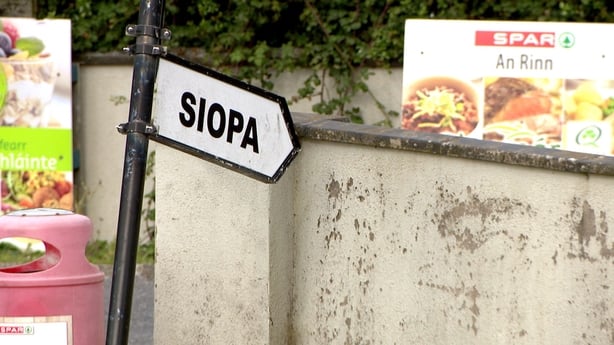 "There have been houses available to buy, but all well beyond what I would class as a kind of normal mortgage amount," she said.
Young people from the Gaeltacht, just outside Dungarvan, are also faced with another difficulty. Many houses that come on the market are bought up by people leaving major cities or buying holiday homes.
Gaeltacht na nDéise is one of the areas where the number of daily Irish speakers increased slightly in the 2016 census. But Leanne and other native Irish-speakers are worried about how fragile their Gaeltacht is as many of her generation may have to leave to find housing.
The question has become more urgent – is the current housing crisis having a detrimental effect on Irish as an everyday language in the Gaeltacht?
The Gaeltacht covers areas in seven counties with a total population of 96,090. But the proportion of daily Irish speakers in the Gaeltacht is falling, with a significant 11% drop between the 2011 and 2016 censuses.
"We're down now to about two thirds of the population that has a competence in Irish, that claims ability in Irish," said Dr John Walsh, a linguistics expert and senior lecturer in Irish at NUI Galway.
"But the number of daily speakers of Irish outside education – and that's thought to be a key statistic – is at about 21% of the Gaeltacht population."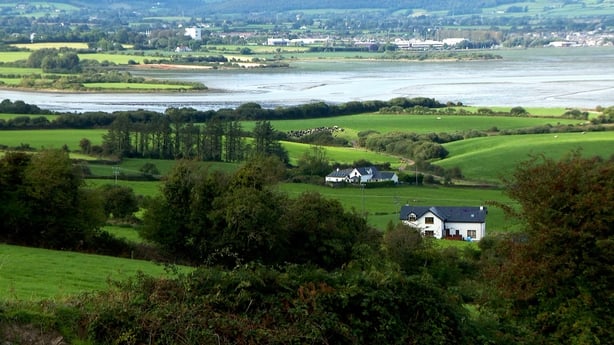 A report prepared for the Department of the Gaeltacht, titled "The Comprehensive Linguistic Study of the use of Irish in the Gaeltacht", found that, if the proportion of active Irish speakers in a Gaeltacht population falls below 67%, the use of Irish as a community and family language becomes increasingly unsustainable.
On that basis, if the numbers of daily Irish speakers keep falling, some Gaeltacht regions are, to varying degrees, in an existential crisis.
The in-migration of non-Irish speakers is also contributing to the fall in the proportion of Irish speakers living in the Gaeltacht. Just like An Rinn, this is an issue in Conamara (Connemara), the largest and most populous Gaeltacht.
"There is certainly a problem with estates being built in Gaeltacht areas which attract in young families and a lot of children who are not Irish speakers going to the local schools," said Donncha Ó hÉallaithe, a Gaeltacht community activist from Conamara.
"All in one bang, you could change the language of the community quite dramatically. And that's something that has to be guarded against."
Several Irish language activists told Prime Time they believe the influx of English speakers can tip the balance in Gaeltacht areas where the language is fragile.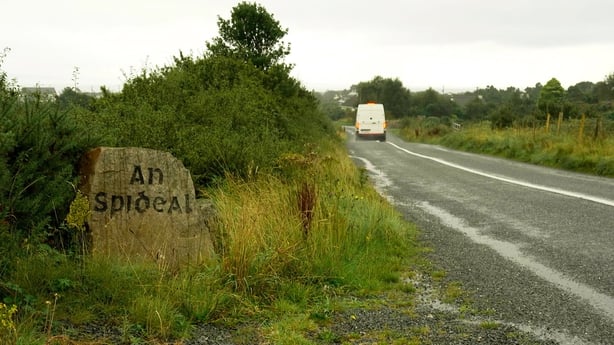 "When a non-Irish speaker comes into a conversation," said Criostóir Ó Faoláin, the development manager with Comhlucht Forbartha na nDéise, "the whole conversation and the whole group switches to speaking English out of politeness – and to facilitate that non-Irish speaker".
If this keeps happening, it can have a detrimental effect on the day-to-day use of Irish in the community.
Local authorities are obliged to protect and promote Irish as an everyday language in Gaeltacht regions.
Councils can attach language conditions to planning permission, obliging a developer to reserve a certain percentage of homes in a new development for buyers who demonstrate fluency in Irish.
Dr Walsh said, however, that there is a lot of variation in how councils apply this – and that it can be as low as 30% in some Gaeltacht areas or as high as 80% in others.
Home buyers are also asked to do a test to prove their proficiency in speaking Irish. But this usually only consists of the head of the household doing an interview to assess their competence.
The test is also "very unevenly implemented" by different councils, according to Dr Walsh, who said the system needs reform.  
Last year, an investigation by the Irish language Commissioner, Rónán Ó Domhnaill, found that Kerry County Council had breached planning law by failing to meet a language condition.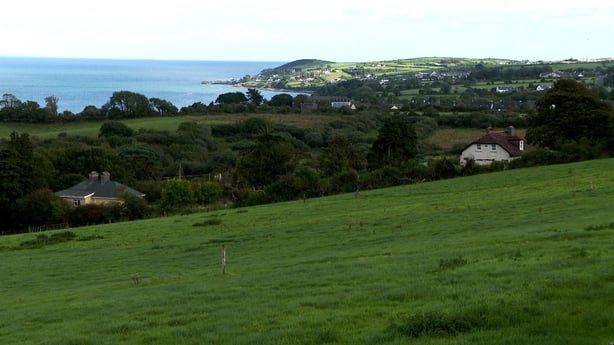 The condition had required that 75% of the houses in a development in Baile an Fheirtéaraigh be provided to people who could demonstrate fluency in Irish.
In Waterford, demand for houses in An Gaeltacht na nDéise area is high. Denise Radley, an auctioneer in nearby Dungarvan, said there are currently only about four properties for sale in An Rinn.
She would like to see more housing stock available.
"We need new homes, but the right balance is needed with affordability and protecting the language," she said.
Last year, property development company Shinebright Ltd applied for planning permission to build a 46-home development in An Rinn. In line with council policy, the developer pledged to ring-fence 60% – or 27 of the 46 homes – for buyers who could demonstrate a reasonable fluency in Irish. 
However, Waterford City and County Council refused the application in August. One of the reasons for the decision was that the scale of the development would be "in excess of what is required to meet the needs of the indigenous Irish speaking population" and it would likely have an adverse effect on "this linguistically vulnerable Gaeltacht area."
Shinebright has now lodged an appeal with An Bord Pleanála and a decision is due in January.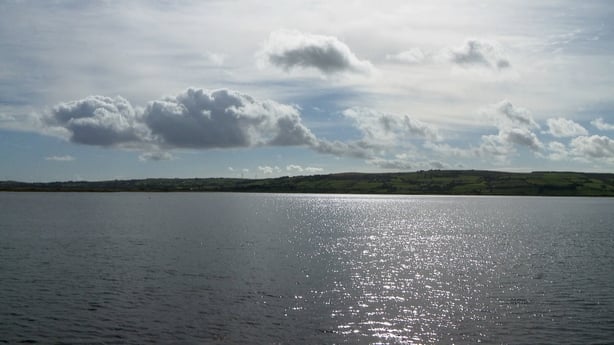 In Gaeltacht areas like An Rinn, there is a clear pinch point between the demand for housing during an unprecedented national crisis and the desire to protect the Irish language.
Criostóir Ó Faoláin, of Comhlucht Forbartha na nDéise, concedes that "the Gaeltacht is dying as things are" and his organisation is working on developing a local community housing co-op.
"We are hoping to develop up to 14 houses on Údarás na Gaeltachta land," he said.
"We're in discussions currently with Údarás to come up with a suitable mechanism for purchasing that land. And our hope is to provide affordable housing for Irish speakers in the Gaeltacht."
There have been recent calls from bodies like Irish language advocacy group Conradh na Gaeilge for a national policy to protect the Gaeltacht, and make it easier for Irish speakers to find housing there. But in the middle of this housing crisis, is that fair? 
"Most Irish people value the fact that the Gaeltacht exists and although the housing crisis is very severe, it's necessary to recognise the problems faced by the Gaeltacht as well as a very delicate and vulnerable linguistic area. So I do think that the balance needs to be struck," said Dr Walsh.
For Leanne Ní Mhurchú, her lifelong dream of raising a family through Irish in An Rinn lives on. Can the Gaeltacht weather the severe housing pressure? And without the next generation of Irish speakers housed there, can it live on?
Watch reporter Conor McMorrow and producer John Cunningham's report on how the housing crisis threatens the Gaeltacht tonight on Prime Time at 9.35pm on RTÉ One and RTÉ Player.