It wasn't supposed to be this way. Indoor dining was meant to have fully reopened; hospitalisations were to be on a gradual downward trend.
If the trends the country saw prior to the emergence of the Delta variant had continued, we would be seeing around 200 cases a day now. Some 1,378 new cases were reported on Wednesday.
The number of people in hospital with Covid-19 has been slowly increasing. On 9 July, there were 42 people with the virus in hospitals. Now, it's around 100.
Once again, the pandemic has been tearing up plans made by families, businesses, advisors, and the Government.
The rise in cases means the HSE is back talking about delaying certain types of services to create capacity to handle an expected surge in Covid-19 patients. Their most recent briefing had echoes of November 2020.
Yet we're entering a new phase of the pandemic, with remarkable vaccines. We all know this wave will be different. But the question is: How different will it be?
A new phase
In mid-2020, statisticians and modelers felt they could confidently estimate forthcoming hospitalisations using current case numbers. That was in part because the vast majority of infections were being identified by the test-and-trace system.
The age profile of people being infected was key. Generally speaking, for every 1,000 cases confirmed, about 50 people would end up in hospital. In other words, there was a 5% case-to-hospitalisation rate.
Since then, the vaccine roll-out has reached the vast majority of older people and those clinically most vulnerable. It has pushed down the age profile of people being infected, and with that the proportion of people ending up in hospital.
At the same time, the Delta variant has become dominant.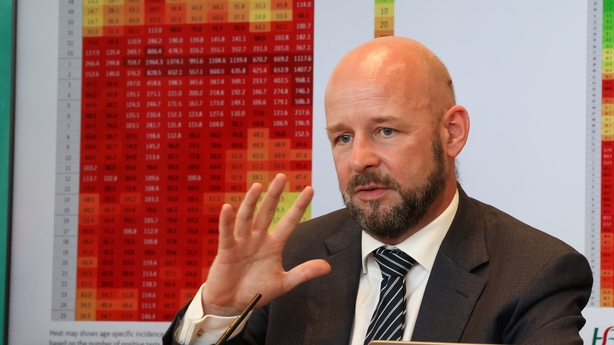 Delta is considered more transmissible than the Alpha variant, but how much more transmissible is difficult to specify. It is also thought to partially weaken the protection gained by one-dose vaccination, and it also seems to cause slightly different symptoms.
The combination of Delta and the continuing vaccination roll-out means the number of likely hospitalisations is now a key uncertainty.
"It's not yet clear how an increase in case counts will translate into hospitalisations and admissions to intensive care," said Professor Philip Nolan, the Chair of the NPHET Epidemiological Modelling Advisory Group, at a briefing last week. "But unfortunately, we are seeing the beginnings of an increase."
"Hospital admissions per day had been very stable at 6, but are now at 8 to 9 per day, and trending upwards," he said.
At the same briefing, Prof Nolan provided updated modelling looking at the potential impact of the Delta variant over the next few months.
While the case-hospitalisation rate is unclear, since then, case numbers have exceeded those presented by Prof Nolan in even the most pessimistic scenario.
We need your consent to load this Datawrapper contentWe use Datawrapper to manage extra content that can set cookies on your device and collect data about your activity. Please review their details and accept them to load the content.Manage Preferences
Currently cases are occurring predominantly in people under the age of 40, most of whom remain unvaccinated.
As it stands, one million younger adults have not yet been reached by the vaccine roll-out, and one million children are not eligible for vaccination. At least 60,000 people over 50 are not vaccinated.
All in all, 45% of the population is unvaccinated.
Some 87% of cases are occurring in the under-45 age groups. More than a quarter of cases are now in people 18 years or younger. But the highest incidence rate per 100,000 people is among 19-24-year-olds, who alone account for 26% of all cases.
We need your consent to load this Datawrapper contentWe use Datawrapper to manage extra content that can set cookies on your device and collect data about your activity. Please review their details and accept them to load the content.Manage Preferences
In one way, that's a positive thing: Younger people are less likely to have a severe outcome from a Covid-19 infection.
In another way, it's likely to make it more difficult to get case numbers under control.
During previous waves, as case numbers climbed, people who felt they might be infected tended to try to limit their exposure to the disease.
"The history of this pandemic shows people change their behaviour when they see these kinds of threats coming," said Prof Nolan, "so, the optimist in me anticipates they will do so."
Yet, on an individual level, there's less incentive for younger people to do so now than there was for the majority of people during previous waves.
Of the approximately 5,000 people who have died with Covid-19 in Ireland since the pandemic began, 20 were under the age of 35.
While young people do face some level of risk of Long Covid – in the UK 10% of people with self-reported Long Covid said the virus was still having a day-to-day impact on their lives 12 weeks after infection – their chance of ending up in hospital or ICU in the short term is comparably small.
And, by now, many of their older relatives are vaccinated, and less likely to die due to Covid-19 if they do get infected.
Therefore, unlike in December, the level of social mixing may not change as cases increase. Young adults, who are driving the growth in case numbers, may not take similar precautions.
NPHET's modelling suggests that, if the growth continues on the current trajectory, through sheer scale of case numbers, significant numbers of hospitalisations are likely to occur.
Cases would reach a level that cause even vaccinated people to be infected, known as "breakthrough infections". The combination of high cases in young people and breakthrough infections would put more pressure on the health system.
---
Read more:
What is 'vaccine breakthrough' and 'vaccine escape'?
---
In April, scientists at the ESRI published research analysing age data on confirmed Covid-19 cases in Ireland. That research is being used to inform the health system and NPHET's modelling team.
They found people under the age of 40 who test positive for Covid-19 have between 1% and 3% chance of being hospitalised.
Before Delta, 2% of 20-29-year-olds and 1.1% of 10-19-year-olds who tested positive were being hospitalised.
In other words, younger people are at low risk, but not no risk. If enough of them get Covid, there will be a lot of hospitalisations.
In children under 10 with confirmed infection, the probability of hospitalisation was 1.2%.
However, according to people familiar with the data, these numbers relating to younger children are uncertain, and the actual risk of hospitalisation may be lower.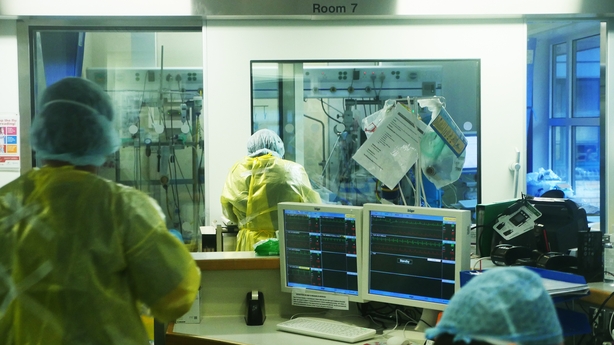 It's likely that an increased proportion of cases in children are missed, because they are less likely to be tested and more likely to experience asymptomatic infections than other age groups.
Furthermore, hospital medical teams are more likely to admit young children with symptoms, even if those symptoms would not prompt admission in an adult. CSO statistics show there were 25,000 cases and fewer than five deaths in the 0-14 years old age group between March 2020 and April 2021.
Children are not understood to have played a significant role in previous waves, so the extent of their role in a forthcoming wave is another uncertainty.
If, as some initial studies indicate, they are less susceptible, or transmit the disease less than adults do, the level of breakthrough infections and the extent and duration of the surge would be mitigated.
We need your consent to load this Datawrapper contentWe use Datawrapper to manage extra content that can set cookies on your device and collect data about your activity. Please review their details and accept them to load the content.Manage Preferences
"Overall, the disease is much less severe in children," Professor Cathal Walsh, a member of the modelling group, told Prime Time.
"The concern I have is transmissions – that infections would go from those younger age groups into older age groups. With cases high, an unvaccinated child is at less risk than a vaccinated 40-year-old."
The pessimistic scenario presented by NPHET estimated that about half of hospitalisations would be in people over the age of 50. Yet the scale and impact of breakthrough infections is also uncertain.
Some 566,000 cases would occur between July and the end of September, with 10,730 hospital admissions. Three other scenarios are also presented, with cumulative cases range from 105,000 to 379,000.
All show a case-hospitalisation rate of approximately 1.8% – 18 hospitalisations per 1,000 cases, down from 50 in previous waves.
Their estimated mortality rate of around 3 per 1,000 cases means deaths associated with the surge in cases in the scenarios published range from 335 to 1,760.
During previous waves, the mortality rate associated with the virus was almost ten times that. In earlier updates, the modelling team said they expect 99.9% of such deaths would occur in people over the age of 40.
In all, it appears this wave will grow gradually. It's impact will come down to case numbers, how they translate into hospitalisations in younger and unvaccinated people, how the health system copes with the demand for care, and the rate of breakthrough infections in vaccinated older people.
Within those are many uncertainties.
In scenarios where higher case numbers occur, the eventual case-hospitalisation rate could be the difference between a difficult situation for the HSE, and a level of hospitalisations exceeding previous waves.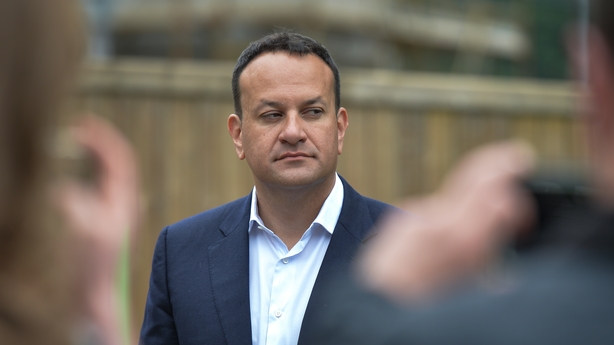 Calculations based off NPHET's pessimistic scenario indicate a 1% hopsitalisation rate would mean 25 new admissions a day in August, 2% would mean 50. Come late September, the difference is between 100 or 200 people being admitted each day.
On 12 January, 200 people were admitted to hospital with Covid-19. That was the most on a single day, and marked the peak of a surge slowed by a nationwide lockdown.
Today, Tánaiste Leo Varadkar said we are "facing into a situation where we will see several thousand cases a day".
As those case numbers grow, the situation across the Irish Sea could provide some insight on their impact.
In England, nearly all restrictions linked to the pandemic have been lifted, despite soaring case numbers.
With the school year still ongoing, hundreds of thousands of children are being notified they are considered close contacts of confirmed cases.
---
---
Some of these will later test positive. With a lag time of up to three weeks between infection and hospitalisation, the age profile of people hospitalised in England in the near future will be closely monitored.
On the other hand, officials will be hoping our near-term case data will follow Scotland's. There, cases trebled between 17 June and 30 June, from 1,000 to 4,000, but have since dropped back down.
Some 2,000 cases were reported on Tuesday, half the peak.
The rise in cases prompted an associated increase in hospital admissions. Two weeks since the case peak, hospitalisations now appear to be levelling off. The Deputy Chief Medical Officer, Dr Ronan Glynn, said a few days ago that the Scottish case-hospitalisation rate was then around 1.5%.
For this reason and many others, NPHET and the Government will also be closely watching what occurs there, and in England, over the next few days and weeks.
*An earlier version of this article incorrectly reported CSO data on the number of 0-14 year olds who've died with Covid-19 as 8.