There have been 1,378 new cases of Covid-19 notified to the Department of Health.
The number of people in hospital who have tested positive for coronavirus is 96 - this is seven more than yesterday. Of these, 22 are in ICU, a rise of one over the past 24 hours.
The latest estimate of growth rate of new Covid-19 cases is approximately 6% to 7% per day, according to Deputy Chief Medical Officer Dr Ronan Glynn.
"Incidence is highest and increasing rapidly in those aged 19-24 and 16-18 years old. Incidence is also increasing in most other age groups," he said.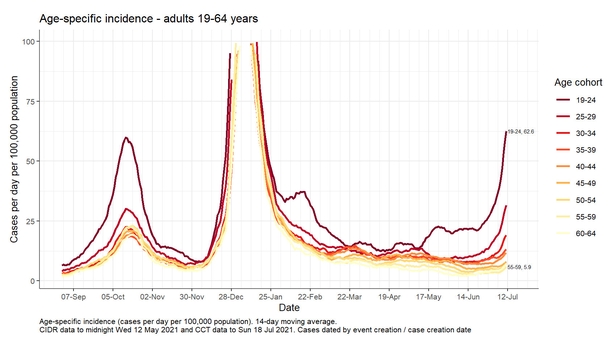 Posting on Twitter, he revealed that all counties have had more cases in the last seven days than in the previous seven days.
The infection rate per 100,000 is highest in Donegal (725), followed by Louth (474), Dublin (307), Limerick (258) and Galway (257).
The national 14-day incidence rate has increased from 93 per 100,000 in week of 24 June to 246 per 100,000 today, according to Dr Glynn. This is a 164% rise across the past month.
The five-day moving average of cases has increased from 300 to 1,182 cases per day over the same period.
Dr Glynn said that changes in the number of people admitted to hospital and ICU lag behind changes in the disease profile in the community.
"We will see a significant increase in both over the coming weeks if incidence continues to rise."
The Deputy CMO added: "We now have over 65% of our adult population fully vaccinated and 75% of adults have received a first dose of Covid-19 vaccine.
"Anyone aged 18 and over can now register for a vaccine."
---
Read more
Latest coronavirus stories
What is 'vaccine breakthrough' and 'vaccine escape'?
---
Dr Glynn said Covid vaccines are "extraordinarily effective at reducing each person's individual risk of hospitalisation or severe disease".
While the Delta variant does not change this, he warned it is "much more transmissible than what we have been dealing with previously.
"As such, the challenge remains to protect as many people through vaccination as quickly as possible, across all age groups.
"Vaccines along with the core public health advice remain our pathway out of this pandemic – please avail of the opportunity to get protected through vaccination when it is offered to you."
Earlier today, a specialist in public health medicine at HSE Mid-West warned that Ireland is "at a very precarious spot" in the fight against Covid-19.
Dr Anne Dee urged people to remain vigilant in the coming weeks as relaxations are eased.
Speaking on RTÉ's Morning Ireland, she said that transmission of the Delta strain remains high among young people and some children have been hospitalised with symptoms of Covid-19.
It comes as the Cabinet agreed that indoor service in bars and restaurants can resume on Monday 26 July for those who are fully vaccinated or have recovered from Covid-19.
An app will be developed by the Government to allow business owners to check customers' Covid certificates at the door of a pub or restaurant.
Meanwhile, in Northern Ireland, a further 1,973 cases of Covid-19 were reported today.
Two further deaths of patients who had previously tested positive for the virus were also notified to Stormont's Department of Health.