The Irish Pharmacy Union has said pharmacies could begin to administer the Johnson & Johnson vaccine to people under 40 "tomorrow".
It follows reports the National Immunisation Advisory Committee (NIAC) will recommend to Government that the AstraZeneca and J&J vaccines can be administered to 18- to 40-year-olds.
Pharmacies have access to 60,000 J&J vaccines to administer but are currently only able to give them to people over 50 years of age. 6,000 vaccines have been administered in pharmacies so far, the HSE confirmed today.
Earlier the IPU warned that doses were going to waste because it was difficult to replace no-shows at short notice unless vaccines could be given to younger people.
CEO Darragh O'Loughlin said as soon as the HSE issues a revised protocol it will be implemented "that day".
"Pharmacies have the capacity to vaccinate large numbers of people in their own communities," he added.
"Pharmacists want to play their part to re-open society. We hope that the HSE will empower us to do so."
Around 800 pharmacists are currently giving the J&J vaccine to those over 50. However, if there are spare vaccines, pharmacists are currently prevented from finding alternative recipients in younger age categories.
The Irish Pharmacy Union (IPU) told Prime Time that some doses have already been wasted and hundreds more could be binned in the weeks ahead if the current restrictions remain in place.
The J&J vaccine is distributed in vials with five doses. Once a vial is opened, the doses must be used within three hours. Because the majority of over-50s have already received vaccines, it is difficult to source alternative recipients at short notice, according to the IPU.
"Some of these people are vaccine hesitant. They have already not taken up the first opportunity to get a vaccine and they are more inclined to be no-shows," Mr O'Loughlin told Prime Time earlier today.
"Where people don't turn up for an appointment, it can be hard for pharmacies to use those doses."
Mr O'Loughlin said "a few" vaccines had been wasted so far, "not hundreds", but warned that, as more of those over 50 are vaccinated, there will be even fewer recipients for unused doses, so further wastage can be expected.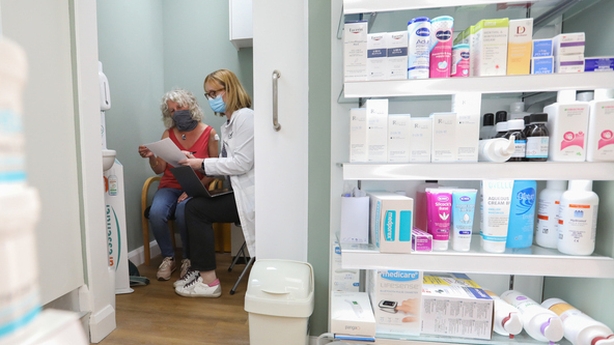 "As we come into the summer it's harder to get people at very short notice to come in, so the number of unused vaccine doses, unfortunately, is likely to increase," Mr O'Loughlin said.
If each pharmacy had just one or two wasted doses, there could be up to 1,600 unused doses, he added.
"It's a tiny number in each pharmacy but when you aggregate it up across all the pharmacies, it's a huge number."
The HSE said since the beginning of the programme on 14 June, 600 pharmacies have begun administering the J&J vaccine.
"The initial commitment involved the distribution of up to 60,000 vaccines and these are distributed in boxes of 50 doses for each of the pharmacies who registered interest in providing a Covid-19 vaccination service."
The HSE said around 6,000 vaccines have been administered through the programme so far with a number of pharmacies seeking further supplies.
"While some pharmacies did not proceed with the delivery of the Janssen vaccine due to their concern that most people in their locality were already vaccinated and cited potential wastage; others proceeded and are currently vaccinating over 50s with the Janssen vaccine," the HSE statement said.
It added the programme was in its early stages and, "all issues of concern are kept under review and will be addressed at the weekly working group meeting with the stakeholders including the Irish Pharmacy Union and the Pharmaceutical Society of Ireland."
Ireland is expecting delivery of a further 80,000 J&J vaccines in July.
"If the age cohorts are not expanded, who knows how many J&J vaccine doses will ultimately end up going to waste," Mr O'Loughlin cautioned.
Pharmacists are advised by the HSE to hold a frequently updated contingency list of people over 50 who are on standby to travel to the pharmacy within a one-hour timeframe.
Guidance issued to pharmacists says it is "vital that contingency lists are well managed to allow for cancelled appointments to avoid the non-use of prepared vaccines."
The J&J vials can be stored in pharmacy fridges for up to three months.
While the European Medicines Agency has licensed the J&J vaccine for those over the age of 18, following clotting concerns, the NIAC recommendation in Ireland is that it is preferable for those under 50 to receive an MRNA vaccine, such as Pfizer or Moderna.
However, NIAC has said that people over 40 can choose to receive the J&J vaccine with some conditions attached, including detailed consent. The HSE position remains that the operable advice is still to limit the vaccine to those over 50.
---
---
Mr O'Loughlin accepted that it was "possible" that unused doses were being administered to younger cohorts in some pharmacies, but added: "I don't want to create confusion by giving the impression to people aged below 50 that they can go to a pharmacy and get a vaccine, when that's not officially the case."
The IPU is urging those who are due to get their vaccine in a pharmacy to keep the appointment.
"What nobody wants to see at this stage in the vaccination programme is perfectly good vaccine doses going to waste because people haven't turned up and because the cohort that we can use them on is currently so restricted."
NIAC is meeting today to consider fresh advice in respect of the use of both J&J and AstraZeneca vaccines.
Some 163,000 doses of the J&J vaccine have been delivered to Ireland since April.
Around 72,000 have been administered, according to data from the European Centre for Disease Control, and many of the remaining doses have been provided to pharmacists.
"Pharmacists have been working very hard to vaccinate people in groups of five, but the further we get through the unvaccinated over-50 cohort, the more likely that wastage will happen," Mr O'Loughlin warned.