David Barry was hiding in plain sight, survivors say. A former unit leader of Togher Scout troop in Cork City in the 1980s, Barry was a serial abuser of boys.
On Thursday, he was jailed for five years for a series of sexual assaults on boys that occurred on dates over 20 years, from 1986 to 2008.
Frank Butler, a former member of the Catholic Boy Scouts of Ireland National Executive Board, said there had been complaints about Barry going back many years.
Yet, he still managed to remain active in Scouting Ireland at a national level, and attended jamboree and national events as recently as 2018.
Survivors of Barry's abuse say there are others who are yet to come forward.
"There's a generational effect on my own family. Let's say I'm not the only person in my own family that has been affected by him," one survivor told Prime Time on Thursday.
"But I know I'm the only person in my own family that has come forward."
He still remembers how Barry preyed upon him as a young teen.
"There was alcohol involved. I remember on a few different occasions that there would be flagons of cider bought and stuff like that," he said.
"He had pornography videos and things like that in his own room, and also downstairs he had a TV then as well. He had a bar in the house. I don't know whether it turned him on or, you know, he was trying to, you know, stimulate the boys. So, yeah, that's what he did."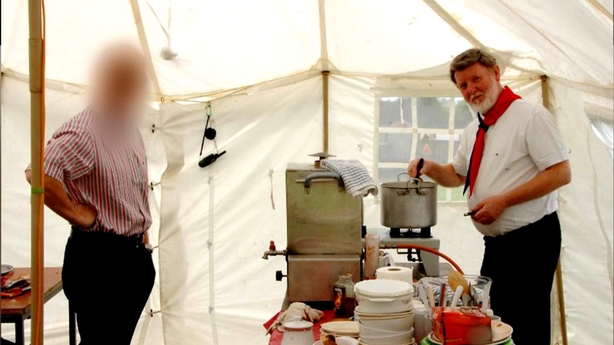 Barry was a well-known Cork businessman. He made his house in to a common "stop off" for the local scout troop.
Another survivor previously told Prime Time that he was invited back to Barry's house at least twice a month while training for scouting competitions was ongoing.
"There would have been inappropriate touching, fondling, showering with kids," he said.
"He was fully naked going into the shower with three teenage kids. That was something that he did on a regular basis."
Frank Butler recalls what was known at the time.
"He turned his house, which was quite a large house – I think, five or six bedrooms – into a form of dormitory."
"I'm just assuming here there was a sleepover – and that wouldn't have meant anything to the kids because they would have been doing that anyway. And therein lies, if you like, the trap in which he would have set."
Mr Butler recalled to Prime Time how it would have been very difficult for anyone to make an abuse allegation against Barry, because he was so well known and regarded both inside the Catholic Boy Scouts and around Cork.
"Everybody knew who he was. So he would have been still highly regarded. And, in that regard, people would have been somewhat afraid to either come forward or to admit that something was afoot."
Yet as early as 1987, a complaint from a boy's mother of an assault or "hazing" incident that took place in Barry's home was made to Togher Scouts. Yet nothing effective was done.
He was reprimanded by the Catholic Boy Scouts of Ireland (CBSI) at the time, but remained on as unit leader right throughout the 1990s.
The same mother who complained in 1987 also complained in 1996 to the national leadership of CBSI that nothing had been done to stop Barry taking boys to his home.
Mr Butler is appalled that so little action had been taken.
Prime Time can reveal that yet another complaint was made to the Scouts in 1999, one that requested that Barry not be permitted to take a group of scouts on a summer camping trip to the US in 2000.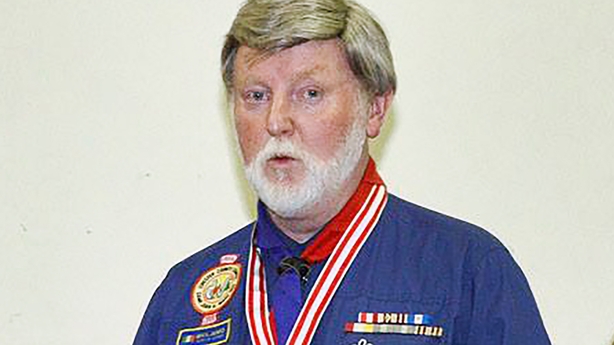 The complaint was investigated by a senior CBSI officer, but Barry was allowed to travel.
Still with his reputation intact, Barry ran for the Progressive Democrats party in the 2004 local elections.
Prime Time can reveal that, in the course of the campaign, the head office of the Progressive Democrats received a complaint about Barry that alleged abuse.
This allegation was brought to Barry's attention. Within days, Barry withdrew his candidacy on "health grounds".
Barry continued to have a leading role in the Scouts up until 2018 and was only first arrested in late 2018.
On Thursday, Detective Garda Gary Duggan disclosed that Scouting Ireland had been attempting to assist Barry with counseling while he remained on in the organisation.
---
Watch on RTÉ Player:
RTÉ Investigates: Scouts Dishonour
---
"During his time in scouting, David Barry received special counselling from Scouting Ireland on four occasions — twice in March 2010 and again in March 2017 and April 2019," Det Garda Duggan said.
Mr Barry's conviction and sentencing raises difficult questions for Scouting Ireland, since they have always maintained that historic abuse cases, which had been made from its predecessor organisations, did not relate to any serving members of Scouting Ireland.
Right up to 2019, when Scouting Ireland was under scrutiny for how it handles child protection, senior officers of Scouting Ireland insisted that all historic abuse cases were just that: historic and confined to the former scouting organisations.
In a statement, Scouting Ireland told Prime Time that it welcomed the successful prosecution and conviction of Barry, noting that its thoughts were with the survivors whose bravery led to the conviction.
"We deeply regret the abuse of any child while engaged in scouting," it said.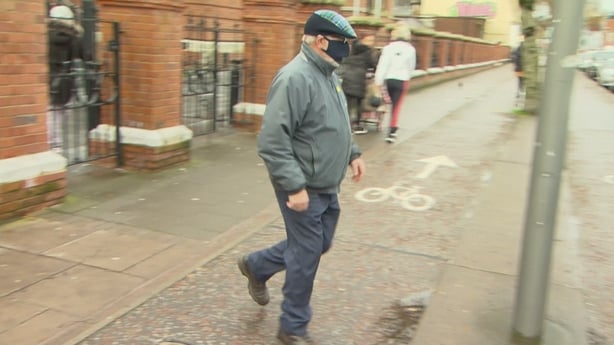 It noted that disclosures made to Scouting Ireland are reported to An Garda Síochána and Tusla, the child and family agency, and encouraged victims to come forward to authorities.
It also noted that adults cannot take part in scouting activities until they have been garda-vetted and complete child protection training.
"We can assure our members, parents, and the wider public, that Scouting Ireland has a policy of full disclosure of any and all information in its possession relating to any child protection case, and we work closely with these agencies.
"We are committed to making Scouting Ireland as safe as it can be and to ensure there is no hiding place for those who do wrong."
For Barry's survivors, they are convinced that many more will come forward following today's sentencing.
"Many abusers [like Barry] remained unnamed, untouched for generations," the survivor who spoke to Prime Time on Thursday said.
"And some of them got away with it for for their whole lives."
But he said that the subject of sexual abuse was becoming less of a taboo subject.
"I hope that people have the courage to call them and they know that their complaint will be dealt with," he said.