As strange sights of the pandemic go, the image of 100 socially distanced Bohemians football fans leaping up and down and waving their arms in delight as striker Georgie Kelly sealed Monday night's win over Shamrock Rovers has to be one of the more stark.
The camera recording the match panned along the stand in Dalymount Park showing fans clapping and beaming at each other from a distance. Mostly standing alone, their instinct must have been to jump on top of each other to celebrate the win over their arch rivals.
While the Bohs supporters were experiencing their own version of splendid isolation, 25,000 Danish fans in the Parken Stadium were reveling in a collective moment of pure delight. When Mikkel Damsgaard curled his shot beyond the Russian goalkeeper, there was an explosion of emotion that had built up from two games earlier when star Christian Eriksen collapsed on the pitch.
The fans roared, hugged, clapped, and high-fived. Covid seemed like a distant memory.
The supporters had been admitted to the stadium with proof of vaccination or recent negative Covid test. They arrived in 30-minute blocks to avoid overcrowding. But once they were inside masks were not required.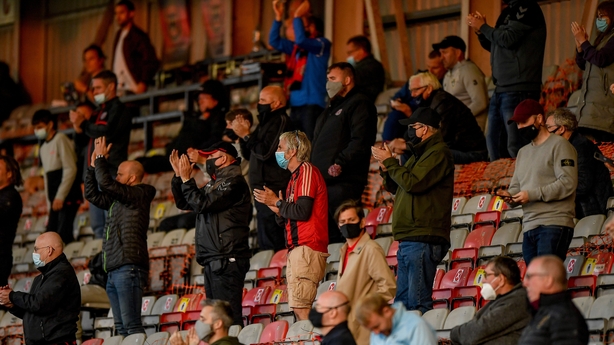 Dublin was to host four Euro 2020 games, but it was stripped of hosting rights after refusing to provide guarantees of 25% crowds at the games.
Danish stadiums are holding volumes of fans that we can only dream of. But, how?
The size of the Danish population is close to ours (5.8 million compared to 4.9 million here) and while the two countries have had similar levels of Covid-19, Ireland has experienced a much higher number of deaths. The speed of the Danish vaccination programme has not outpaced ours but Denmark is much further along its road to reopening.
"The bars have reopened, as have the restaurants, cinemas and sports events. There is no ban on outdoor gatherings and 100 people can gather inside," journalist Mie Olsen explained to Prime Time.
The reopening is progressing with speed, and masks are no longer required apart from on rush-hour public transport.
The difference between Denmark and Ireland's reopening strategy is mass free testing.
The Danes, with a population of 5.8 million, have a daily testing capacity of 500,000 antigen tests and 200,000 PCR tests. Danes go for regular tests and use negative results to access bars, restaurants and, yes, football stadiums.
---
---
"Everyone gets tested all the time," Mie Olsen said.
The testing centres are local, and they are free.
"It takes a maximum of 30 minutes. In the beginning, there were long queues, especially on Friday because everyone wanted to go out. But now it's less because more people have been vaccinated."
Mie cycles for 10 minutes to a local sports hall every three days to renew her Covid certificate.
The reopening and vaccination programme is proving so successful that the documents, which certifies that the bearer has either tested negative for the virus or is immune, will be phased out entirely by 1 October.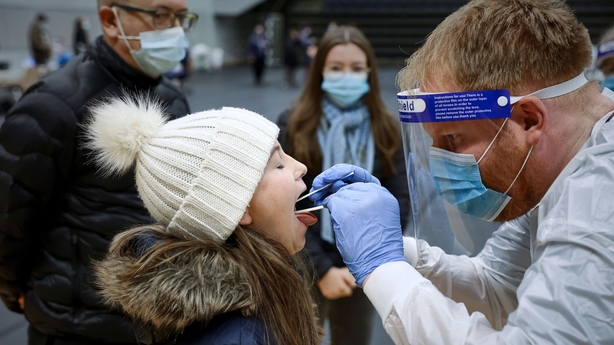 While public health experts here have cautioned over the Delta variant, in Denmark the testing regime is providing reassurance.
There are 235 cases of the Delta variant in Denmark, and it is heading towards becoming the dominant strain. But alarm bells are not ringing.
"The Director for the Agency for Patient Safety held a press conference today and said there is no reason to worry because we have an effective testing system and we are on a roll with the vaccination programme," Mie explained.
Despite the Delta concerns, the Irish Government says our reopening timeline is also still on track. Indoor dining will return in two weeks and overseas travel in four weeks. But the sports stadiums won't be full any time soon.
We may be looking to Denmark with envy for some time yet.