It's been a rough few days for those at the helm of Ireland's vaccine roll-out.
On Monday, the National Immunisation Advisory Committee (NIAC), citing very rare blood clots and an abundance of caution, said that the AstraZeneca vaccine should only be administered to those over the age of 60.
And, on Tuesday, Johnson & Johnson said it would delay the roll-out of its vaccine in Europe after authorities in the US raised similar concerns about a blood-clotting disorder that affected six people who received it.
Where does that leave Ireland's vaccine roll-out?
NIAC's AstraZeneca advice
Weighing the tiny risks associated with taking the AstraZeneca vaccine against the risks associated with people under the age of 60 delaying until they could get a different vaccine, NIAC concluded that a delay would be better.
In doing so, they went further than the European Medicines Agency, which said that the unusual blood clots should instead be listed as "very rare side effects".
As a result of the NIAC decision, the HSE and roll-out team will need to significantly rework their dose plan.
They need to ensure that people under 60 who were due to get the AstraZeneca vaccine in the coming weeks will instead get another type of vaccine. That will, undeniably, cause logistical complications.
Before the NIAC decision, June was going to be a tricky month for Ireland's vaccine roll-out if the Taoiseach's aims were to be met.
He has said he wants to see at least 55% of adults fully vaccinated by the end of June – and some 82% having received received their first jab.
While the AstraZeneca move may impact how quickly certain age cohorts can be vaccinated, it would appear that it will not result in a major setback to the roll-out.
Around 3.5 million doses need to be administered in April, May and June to hit the targets.
Department of Health projections suggest that, in the same period, Ireland will take delivery of some 3.9 million doses, leaving wriggle room of something like 400,000 doses.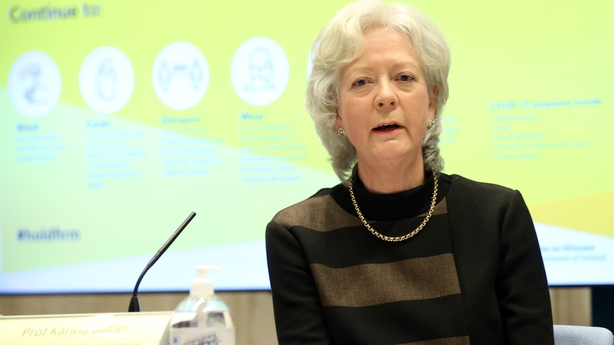 That 400,000 could fall away or get delayed, and it would still be possible – if increasingly difficult – to meet the targets.
The Government might also consider delaying the second dose for those who have already received the first dose of the Pfizer vaccine, making more doses of the Pfizer vaccine available in the short term.
AstraZeneca is due to provide 800,000 doses over the three-month period. Those doses can now only be used as second doses, or first doses for people between the ages of 60 and 69. (The vaccinations of people aged over 70 have largely been completed.)
---
Read more:
Cabinet to discuss adjustments to vaccination plan
Time between first and second vaccine Pfizer doses could be extended
---
There are about 400,000 people in the 60-69 age cohort. If Ireland uses the AstraZeneca supply available between now and the end of May, with second doses left to do on top, it could reach almost everyone over 60 with a first dose by the end of May.
Then you'd hold the remaining AstraZeneca vaccines due to be delivered in June as second doses, which are due to be administered over the two months leading up to September.
In other words, the AstraZeneca vaccine would only be administered to those in the group that can receive it.
Alternatively, they could decide to give those in this age group any of the available vaccines – but the fear is that this could result in a waste of AstraZeneca doses, because those under 60 can't receive them.
Between the 400,000 wiggle room and potential delays to second Pfizer doses, it would appear that any delay will likely be in the realm of weeks, and not months.
The Government is expected to have more definitive answers in the coming days after the Cabinet discusses adjusting the vaccination plan.
What about Johnson & Johnson?
In the US, the Food and Drug Administration, alongside the Centers for Disease Control and Prevention, paused the roll-out of the Johnson & Johnson vaccine on Tuesday afternoon.
They cited a "safety signal" related to six cases of unusual clotting in young women, which may have been related to the use of the vaccine.
That's six cases among 6.8 million people who've received the vaccine. The problem was described as "extremely rare", but they said it requires further investigation.
US officials said that an update was likely "in a matter of days". That update will be closely watched across the world.
Because it's the one-shot vaccine, the Johnson & Johnson doses are crucial to achieving the aims of Ireland's roll-out.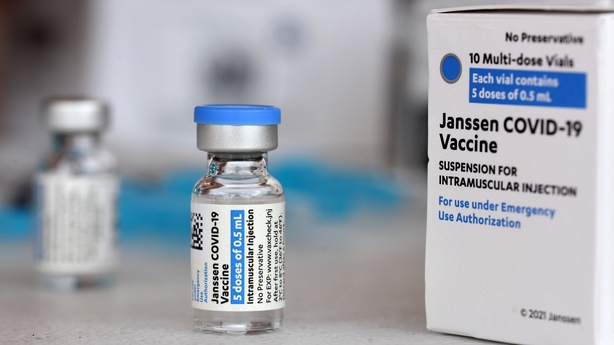 There's no interval between doses, so once people start to receive the Johnson & Johnson vaccine, the numbers fully vaccinated would begin to skyrocket.
As such, the June aim of 55% of adults being fully vaccinated is heavily reliant on the Johnson & Johnson doses coming on stream as planned.
Ireland had been set to receive 40,000 Johnson & Johnson doses in April. What happens next with them could influence whether our roll-out stays on track.
If, out of the same kind of caution that restricted the AstraZeneca vaccine, limitations are placed on which age cohorts can receive this vaccine, achieving the aims will become extraordinarily difficult.
That's because some 420,000 Johnson & Johnson doses are due in June alone.
That heavy back-loading could cause a distribution problem that month, but this could also be a positive: Because big deliveries are still weeks away, it may leave time to resolve the issues that arose today before it begins impacting deliveries in Ireland.
If those issues are resolved and no limitations are placed on the Johnson & Johnson vaccine, on the numbers alone, the Taoiseach's June aims still seem achievable.
But the roll-out was always going to come under strain in late May and June. The new restrictions on AstraZeneca and the logistical changes that follow will not make it any easier.