Amid all the negative headlines about our vaccine roll-out – slowness, the threat of export blockades and potential side effects – is the undeniably positive story of the joy of vaccination many elderly people are experiencing daily.
"I will be able to see my family again," said Mary Sweetman, 77, from Churchtown, who was one of approximately 3,650 people who attended the Helix vaccination centre in Dublin at the weekend.
"It's been a long haul, but now I can see them again. I'll be back in four weeks – then after that, the hall door will be open and the barbeque will be out the back," she told Prime Time.
Those aged 85 and over got their second dose of the Pfizer vaccine while the 75-79 age group got their first, with a four-week interval before the second jab.
Meath GP Mait Ó Faoláin, from the Irish Medical Organisation, coordinated the massive operation with the HSE along with 60 GPs who attended each day.
He said that, while it had been a long and exhausting couple of days, it was worth it.
"We worked Sunday morning on top of a 12-hour day yesterday, but no one was complaining. There's a natural lift and ecstasy you get from participating in such an important national programme," he said.
"The buzz and the energy was electric in this place. A lot of these patients have been cocooning for the last year. They have been petrified. There's a great sense of relief and so much happiness. The joy was very touching – just amazing to see."
Christina McNally, 77, from Lusk, Co Dublin, who got vaccinated on Sunday, is looking forward to what she can do when she is fully vaccinated.
"I will be able to associate with the grandchildren and to be able to go out and about and see those I haven't seen since last summer," she told Prime Time.
Dan Morley, originally from Kenmare, Co Kerry, was also in the group getting a first dose of the Pfizer vaccine on Sunday.
"It's the best thing that ever happened to me, to be honest. I am looking forward to meeting my friends and some travel around the county", when that's permitted, he said.
After such a long year of mainly cocooning, Dan said he is slowly coming to terms with what being fully vaccinated will mean.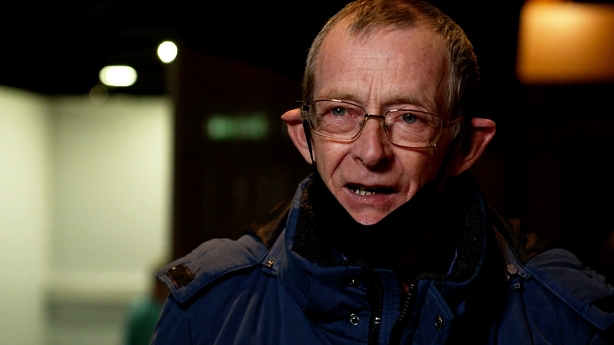 "It's a new freedom. It's unbelievable," he told Prime Time. "You couldn't dream about it, could you?"
Michael Murphy said that visiting his brother is the first thing he wants to do when he's fully vaccinated and it is safe to interact.
Despite living close to his brother in Phibsborough in Dublin, Michael hasn't seen him since last August because of Covid-19 restrictions.
Rathcoole GP Ailsa Clarke worked both Saturday and Sunday at the Helix and she said the joy was widespread.
"A couple of people were – not quite dancing, but gave a skip out the way. It's brought hope," she said.
She said that, while some people were nervous, the majority were delighted.
"Some asked [which vaccine] they were getting, which is understandable. We were able to tell them; we want them to be informed."
Edward McLaughlin, 76, from Kilcock, Co Kildare, was another happy man post-vaccination.
"Today is a fantastic day. I have been long looking forward to this," he said.
"To me, it's like winning the lotto, but better – because winning the lotto can't keep you alive."
He lives alone and it's been nine months since he has seen most of his grandchildren.
His main contact with the outside world in the last year has been chatting to his family and friends on the phone.
Maria Fowler, 76, from Blanchardstown, said she is simply looking forward to hugging her family members once she is fully vaccinated.
While it will be another four weeks before they can embrace, Maria told Prime Time that she would hug her granddaughter Kayleigh, who was waiting outside the vaccination centre for her, first.
"She can't wait," Maria said. "She's dying to hug me."