Dr Maaz Seerat has been working in Ireland since 2015. Like many doctors, he has spent the past year on the Covid-19 frontline.
Despite his years of service as a geriatrician, he has now concluded that his career path has been blocked – and that a coveted consultant post will never be in the offing. 
It is not for want of trying. As a senior registrar, Dr Seerat technically holds a rank just below that of consultant.
But to qualify for the training scheme that would make him eligible for consultant status, he has been told he must complete what's known as basic structural training.
Given his experience, that would be akin to taking a "good few steps back," he told Prime Time. Dr Seerat is now thinking of leaving Ireland.
His situation is far from unique: Between 2015 and 2020, almost half of the 5,000 doctors who left the country were from outside the EU, with little prospect of them returning.
As the number of people with Covid-19 in our hospitals drops steadily, attention has turned to the plan to resume hospital care for all patients.
Given historically long waiting lists and the fact that there are now over 600 vacant and temporarily filled hospital consultant posts across the country, the task is a daunting one.
While doctors from outside the EU could help plug the gaps, a doctor's immigration status is considered as part of their application for the specialist training schemes. 
Like Dr Seerat, many non-EU doctors driven to leave the country cited "limited career progression opportunities", according to the Medical Council's voluntary withdrawal survey.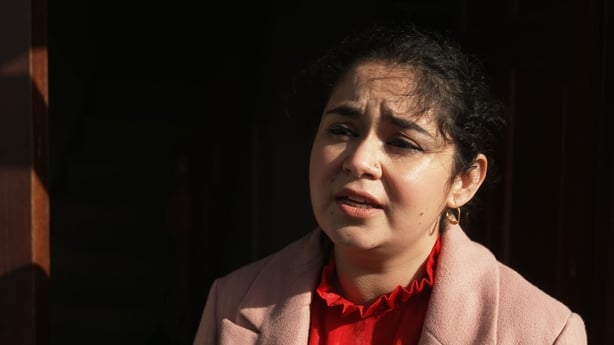 The Department of Health told Prime Time that it operates a policy of "EU community preference" with regard to doctor training schemes. 
But Dr Rita Doyle, the President of the Irish Medical Council, said that the policy, which many believe is intended to promote the retention of Irish medical graduates, is "discriminatory".
She believes that non-EU doctors deserve to be treated the way Irish doctors are treated.
"These doctors are the backbone of our health service. Without them the health service would absolutely fall apart," she told Prime Time.
"These are our friends and our colleagues. Some of them have grown up in this country. Some are Irish citizens."
European law does not prevent the government from giving equal access to training places to non-EU doctors, according to Prof Gavin Barrett, an EU law specialist at UCD.
"I want to be here. That is what I came for," Dr Seerat told Prime Time.
Dr Olu Ayodeji, a hospital doctor, left Ireland in 2019 after six years in the country. 
Britain's National Health Service compared much more favourably than the HSE. 
"All that matters was that you had the right skills, met the criteria. They were happy to give you the job," Dr Ayodeji told Prime Time.
Originally from Nigeria, Dr Ayodeji had worked and done basic training in Ireland in Obstetrics and Gynaecology, before applying for Higher Specialist training – the final step to becoming eligible to become a consultant – in March 2019. 
But he was refused based on his immigration status, despite being weeks away from getting citizenship.
"It really hurt me really bad because I told people that I expected to get the post." 
When he was finally granted citizenship in April 2019, he was already preparing to leave.  
"I was just really down at that point," he said.
Now almost halfway through his training, he is happy in Scotland, having been granted the career progression that was denied to him in Ireland.
Figures given by the Medical Council to Prime Time illustrate the extent to which the odds are stacked against people like Dr Ayodeji.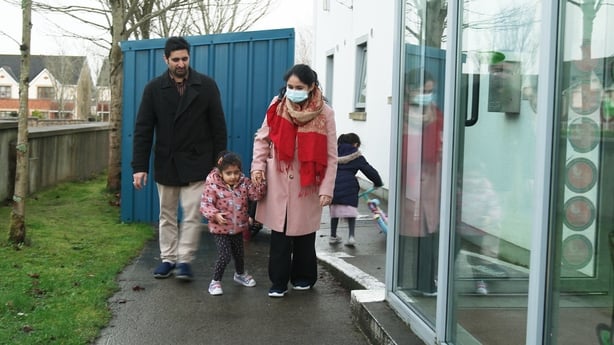 While non-EU doctors make up just under half of all doctors on the general medical register (44%), only 4.6% of all those getting specialist training are non-EU doctors. 
That means over 95% of all places on the training schemes to become fully fledged hospital consultants or GPs go to Irish and EU doctors. 
To make matters more complex, not all holders of Stamp 4 visas, which allow immigrants to stay in Ireland for a specified period, are treated equally. 
Non-EU doctors who are married to Irish or EU citizens hold what are called "Stamp 4 FAM" (Family) visas, and are given a higher rank to doctors whose spouse is also from outside the EU.
Dr Syeda Amna Azim, who advocates on behalf of non-EU doctors, said that assessing applications for training based on the doctors' qualifications and experience would eliminate all unfair differentiations based on immigration status.
Yet, many non-EU doctors do stay and try each year to get training. 
While they are waiting, they work contracts of six months to two years in duration, constantly moving between different hospitals.
That takes its toll.
"There is a sense of hopelessness and a sense they don't belong to Ireland and they are not accepted," said Dr Amna Azim, who has been spear heading a campaign to highlight the plight of non-EU doctors. 
"Regardless of how hard they work, they have to keep proving themselves and looking for a place to be accepted in the healthcare system." 
Two such doctors are Amna and Muhammad Ghaznain, a husband and wife, who have walked this long hard road to acceptance. They have been working here since 2013, having previously worked in Oman. 
They love Ireland, but they often question their decision to stay.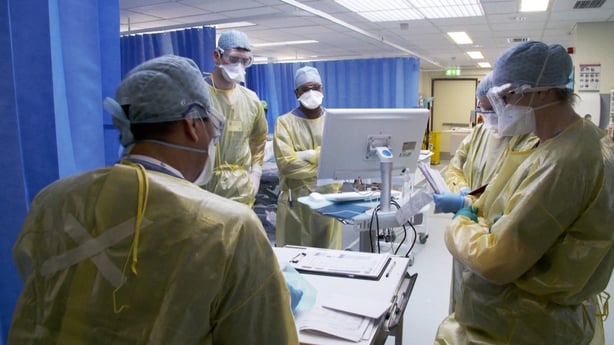 Without the permanency of a consultant post, their short-term contracts mean they have moved four times in seven years, uprooting their children, who were born in Ireland.
By the age of 10, their eldest daughter, Noor, had been in three different schools. 
Dr Amna Ghaznain is now training in General Medicine in Sligo General Hospital, on her third attempt.  
Despite six years of experience in Ireland and two postgraduate degrees, she is training alongside other doctors with only intern experience. 
Yet she and her husband are committed to the Irish health system. 
Dr Amna Ghaznain contracted Covid-19 while working in the Covid assessment unit in Sligo General hospital. 
Her husband, Dr Muhammad Ghaznain, was also working nights in the Emergency Department. 
He was terrified he would also get sick – and worried about what would happen to his kids if that came to pass. 
Professor Michael Gill, the head of Trinity College Dublin's medical school, said there were no upsides to the current way of doing things, which sees untrained doctors putting in long hours to prop up the health system. 
"Nobody really benefits. The foreign doctors that come in to fill these non-training positions – they don't benefit. Irish patients don't benefit," he said. 
"It is just about proper workforce planning, proper recognition – that we want the best doctors in our system."
He told Prime Time that many problems would be solved by increasing the number of training places available and giving wider access.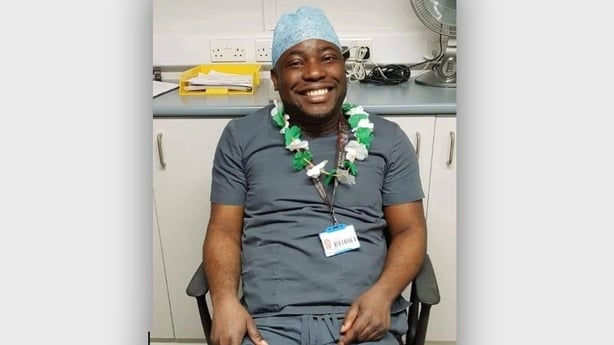 That would help put an end to the persistently high number of unfilled vacant consultant posts. 
The number of training places rose marginally in 2020. There were 554 for basic specialist training and 541 for higher level training, as well as 217 GP training posts.
This is in a context where there are 6,070 on the general register who are working across the health system without specialist training. 
There has been no major review of how many doctors the country needs since 2006, when the Fottrell report made recommendations about medical school intake, Prof Gill noted.
In a statement published in the wake of this Prime Time report, The Royal College of Physicians of Ireland said it "believes that equity of access to postgraduate education for all doctors is a fundamental principle, and would welcome fairer allocation of places on training schemes." 
The RCPI said it has been engaging with doctors who advocate for changes on behalf of non-EEA qualified doctors. 
The statement continued "We are also seeking to expand educational and training programmes for these doctors. This includes a new Framework of Structured Supports for Non-Training Scheme Doctors in Ireland. This is being led by the NDTP and we very supportive of it."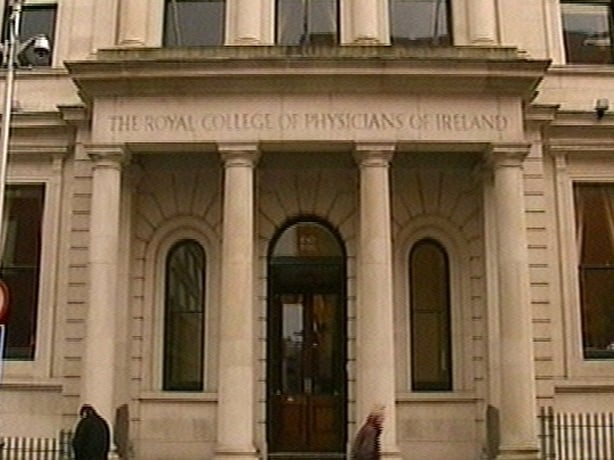 In a statement to Prime Time, the Department of Health said that officials and the HSE were "finalising options to increase the number of medical intern places for 2021, including proposals to increase the number of subsequent postgraduate training places."
 
"The Minister is of the view the medical workforce needs to increase," it said. "However, this should be done in a planned and targeted manner and he awaits a final proposal for approval."
Dr Doyle of the Medical Council said there was no benefit in the current status quo. She has told the Department of Health as much, she said.
"We take their work and we don't give them anything back, bar paying them," she said.
"I don't blame those who do leave."