Denise O'Connor can see the strain on people's faces when she brings their loved ones into her ambulance. This may be the very last time that they see each other.
Because of Covid-19 visiting restrictions, being admitted to hospital has taken on a new dimension – one that leaves patients without those closest to them in their hour of need.
"I feel for those people," said Ms O'Connor, a paramedic with Cork city's ambulance service. "They just don't know whether they're going to see them again or not. We can't tell them 'yes, you will definitely see them again'."
On a recent busy shift, Ms O'Connor reassured a man whose elderly mother has had a fall and temporarily lost consciousness. He was in shock – and distraught about the prospect of her being taken to hospital.
"When you go in an ambulance with their loved one, it's a very real thought that this might be the last time they will get to see them," Ms O'Connor told Prime Time.
"They're not sure what's happening after that."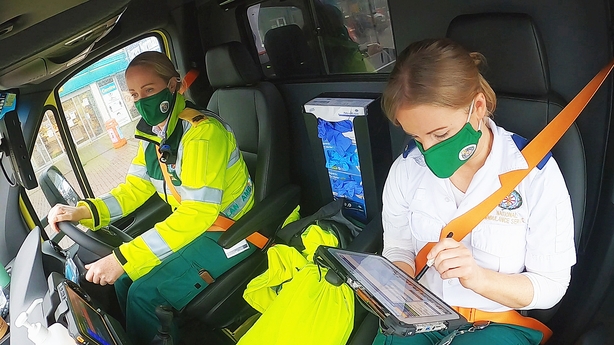 That night, Denise Forde, an advanced paramedic, was also working the busy 12-hour shift. The last four weeks – during the peak of the third wave of Covid – have been the most difficult of her career, she told Prime Time.
"I never foresaw anything like this. I'm 17 years in the service and I never imagined things would be as intense as they are. We expected a surge but I don't think anyone anticipated it would be as bad as it has been," she said.
"It's just been a constant barrage: Covid patient, after Covid patient, after Covid patient."
While there has been a huge focus on the pressure that Covid-19 has placed on staff in hospitals, it has also had a huge impact on the frontline workers who actually bring them there.
Fewer people relied on the ambulance service during the first and second waves, given that members of the public were encouraged to stay away from hospitals.
But this third wave is different, and the Kinsale road ambulance base in Cork city is busier than ever.
Denise O'Connor believes new strains of Covid are responsible.
"You can get sick very quickly. You can go from being quite sick to a sudden drop," she said.
A call came in: an elderly patient in a nursing home is feared to have contracted sepsis and must be quickly transferred to Cork University Hospital.
The crew of both Denises, known as the "Double D", responded to the call.
On arrival at the nursing home, they engaged in a quick-fire donning of personal protective equipment (PPE) – a routine they have now perfected.
But Ms Forde said that working in PPE can be exhausting. While they always must wear a mask, a gown, goggles and gloves, sometimes hair and shoe coverings and pull-up trousers, known as salopettes, can also be required.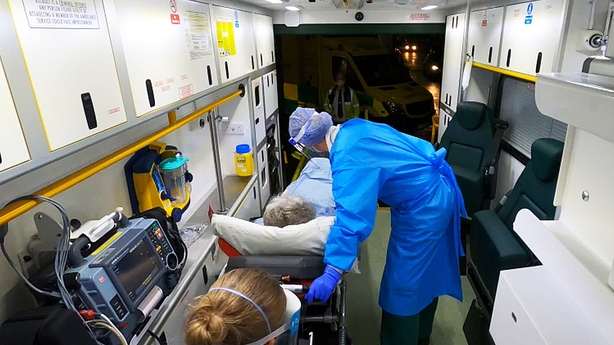 "Initially we were treating a small percentage as 'query Covid'. But now patients with no Covid symptoms are also testing positive," she said.
"You have to assume that every single patient you meet is Covid positive."
That requires a deep cleaning of the ambulance after every patient is brought to hospital.
"Every surface you see in the back of an ambulance has to be cleaned, wiped. Every surface," she said.
Both Denises have had the first jab of their double-dose vaccine. Ms Forde said that, while there's still a chance she could get Covid, her bigger concern is inadvertently transmitting the virus to someone else.
"It's always in the back of your mind," she said.
Another 999 call came in. This time, a young man needs to be taken to hospital suffering from severe anxiety. Denise O'Connor said that patients like him have become more common.
"We've seen a marked rise in people feeling down among the public – and we try to alleviate those fears," she said.
Denise Forde said that she too has encountered a lot of what she calls "worried well" people. Even if the call out does not lead to a hospital admission, they provide assistance.
"People need a bit of reassurance and we're very happy to do that for them."
But it has also been difficult to convince those who do need hospital care to avail of it – because many fear they will contract Covid and fare worse once they get there.
Dr Conor Deasy, a consultant in emergency medicine at Cork University Hospital, said that this "fear factor" was contributing to the seriousness of the cases he is seeing.
Because patients are arriving at a later stage in their illness, they are often much sicker. The emergency department's resuscitation rooms are far busier as a result.
So far this year, Covid has been impacting people more seriously.
"We are finding that patients are coming in are in a lot more respiratory distress than they would have been coming in before," Dr Deasy told Prime Time.
"They're needing a lot more breathing support systems, non-invasive ventilation – and we've put a lot more patients on life support machines than we did in previous months."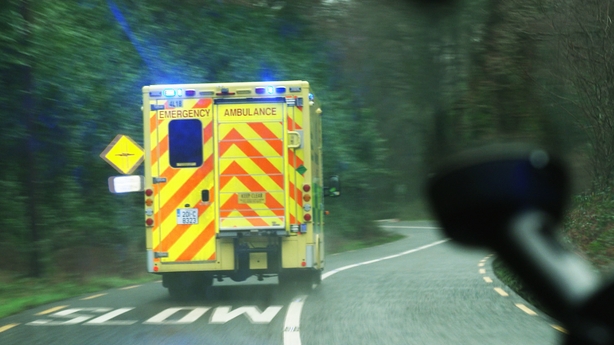 Originally from Bweeng, just outside Mallow, Denise O'Connor said that Covid-19 has forced her to stay away from her parents and the rest of her family.
Because she has worked a lot of overtime since Christmas, the idea of having a work-life balance thus seems like a far-off notion.
"I've pretty much been working most days. It feels relentless at the moment with what's going on," she said. "I haven't been home since just before the New Year."
Denise Forde has adopted the same level of caution, deciding that work should be her priority.
"If a base such as ours were to go down [because of Covid], we wouldn't be able to run the service for the city," she said.
As punishing as January has been, both paramedics said that the third wave of Covid had only "almost" brought them to breaking point.
"We're getting there day by day. We're one big team and we look after each other," said Denise Forde.
Both women said it can be difficult to hear that people are endangering themselves and others unnecessarily – especially those who are jetting off to get suntans on foreign holidays.
They are not prepared to judge.
"I think people who are breaking the rules just don't understand. I think until such time as it comes to their own doors, they probably won't. It can go to anyone's door when you least expect it," Ms Forde said. "It's everywhere."