"I'm looking out across Donegal Bay and Malin Beg. Can you see it? It's covered in cloud. You might not be able to."
Paddy Clancy is pointing his camera out of the window of his bedroom to show his view over a FaceTime call. It's a grainy, blue and green vista that, despite the cloud and internet connection, is very beautiful – which is lucky, because Paddy is seeing a lot of it.
The 77-year-old is self-isolating in a bedroom in his Co Donegal home. Describing how he contracted Covid-19 in Sligo Hospital, the emotion suddenly becomes very raw.
"It kills people like me. It can kill people like me. And I'm not ready to go," he said, with tears in his eyes.
But he quickly returned to the view from his bedroom window.
"I'm well used to that view for the last 20 years and I just love it," he said.
Paddy, understandably, did not want to dwell on the emotional turmoil he is going through.
Like 188,000 other people in Ireland, he was diagnosed with Covid-19. But he is also part of a growing cohort of patients who caught Covid while in hospital.
The semi-retired journalist has a chronic kidney condition that required hospitalisation on 23 December.
"I felt safe going into Sligo Hospital. I really did. I had already been swabbed before we went in and I returned negative."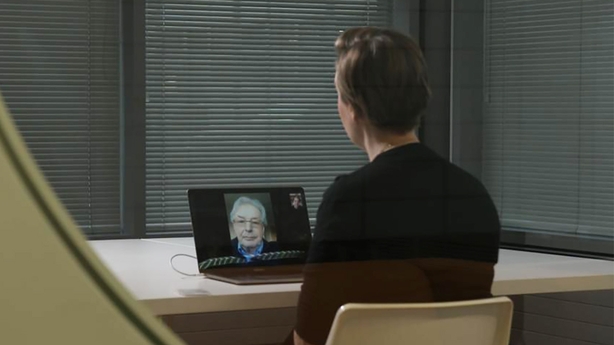 Paddy was in a six-bed general medical ward where five of the beds were occupied with patients. Two weeks into his stay in hospital, a man in a bed across the ward became ill and was diagnosed with Covid-19.
"They were behind the closed curtain, so we obviously heard what was going on," Paddy told Prime Time.
The man was moved to a Covid ward in the hospital, while the remaining patients were deemed close contacts. Infection control measures were increased on the ward, fewer staff came into the room, and patients were asked not to go out onto the corridor.
"We were desperately looking after each other. Trying not to touch each other. The doctor suggested if we wanted to put on our face masks we should do so and sleep with them on, which I did."
But the dye had been cast. Within a number of days, all of the remaining patients tested positive for Covid-19, including Paddy.
"I was told on Friday evening of [15 January] that I had Covid, and you don't really want to hear the language I used addressing the doctor," Paddy said.
"We were all staying two meters away. The beds were two metres apart. I'm only guessing it's the UK version. We were told it would spread faster than the regular version. And it did."
Paddy is not a good candidate for Covid. His age and condition put him in the danger zone. And, unfortunately, after a period of self-isolation at home, he is now back in hospital for treatment for Covid-19.
"I understand that the health service has been in a major crisis. I understand that. I can't get really angry with [the staff]. I'm angry with the system."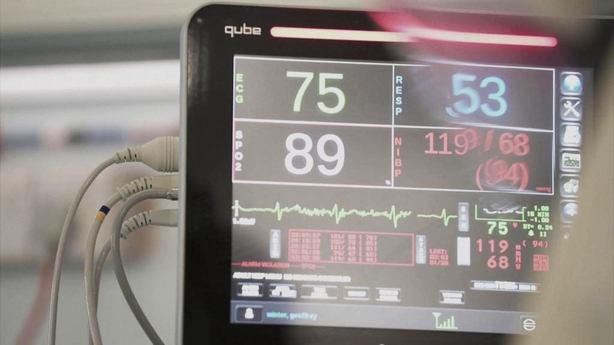 In a statement, the HSE said that, up to the end of last year, 967 people had caught Covid in hospital. However, that figure has increased dramatically in the past three weeks: since 27 December, 846 patients have also caught Covid in hospital.
The HSE says when community transmission rates are at the level they are, it is "inevitable and unavoidable that there will be outbreaks in hospitals."
It said there was "extensive testing of people on admission to hospital and while in hospital," so that infection control measures could be stepped up to reduce the risk of transmission to others.
Speaking to Prime Time, Prof Martin Cormican, the HSE's clinical lead on infection and antimicrobial resistance, said that seeing the number of people who had contracted Covid in hospital made it "amongst the most disappointing days of [his] professional life."
The virus, Prof Cormican said, "exploits the tiniest lapse in concentration."
"I know colleagues who have avoided infection for months, took extreme care, and then caught infection."
Samantha Cruise, 29, who has cystic fibrosis, is suffering the effects of long Covid following her infection in Beaumont Hospital last March.
---
---
"The doctor or the CF nurse came into my room and said, 'look, we have some bad news.' And I was like, 'What is it?' And they said 'we're afraid you have Covid.' I just burst into tears. I was terrified."
Samantha had been in hospital receiving treatment for cystic fibrosis for almost two weeks when she tested positive.
"I was shocked because of the amount of precautions they were taking. I thought if I was going to catch Covid I would catch it outside.
"I really thought I was safe in the hospital."
She's also been deeply affected by the trauma of contracting the virus.
"I was really worried about catching Covid because I am so vulnerable with lungs and everything else. I did fear for my life at some stages. There were times when I couldn't breathe properly."
Samantha says infection control measures have become more stringent. But she is still suffering with the effects of Covid and continues to have regular admissions for cystic fibrosis.
"I'm anxious even stepping into the hospital," Samantha said.
"I don't feel that I won't catch it again anymore because I've got it in there. Why couldn't I catch it again?
Beaumont Hospital told Prime Time that there are "robust Infection Prevention and Control (IPC) policies in place to prevent and control community and hospital acquired infection."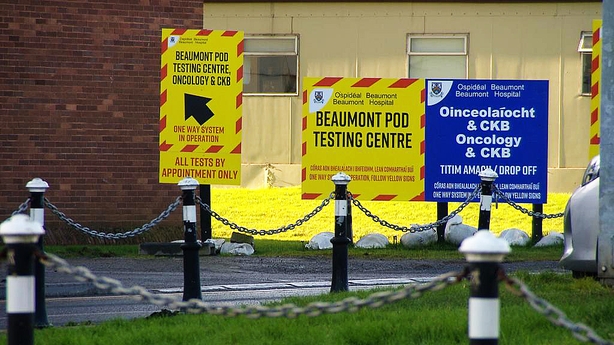 It added that nine new isolation beds have just opened in the hospital's new Respiratory Assessment Unit.
Earlier this year, researchers at University College Dublin used genome sequencing to track how Covid was spreading in a Dublin hospital. In one instance, six patients across two wards were infected with Covid along with a number of staff members who worked in the two units.
The lead author of the study, Prof Kirsten Schaffer, told Prime Time that the study was done before mask wearing became more stringent among hospital staff treating non-Covid patients. So if infection control measures have improved, how do we account for the huge number of hospital-acquired Covid infections?
"I think what we weren't really aware of is the human factor. All the measures we implement are only as good as we have human compliance. And it is very difficult as a healthcare worker to wear a mask throughout the shift all the time," she said.
"Healthcare workers have to have lunch. They have to have coffee breaks. Nobody wants to go for lunch by themselves."
Prof Schaffer said that non-Covid patients should be encouraged to wear masks as much as possible.
"We advise patients to wear a mask whenever they're in public areas of the hospital or outside the rooms, but we don't necessarily advise them to wear the mask all the time when they're lying in bed by themselves in their room," she said.
"I definitely think we should encourage patients more than what was done."
Prof Cormican said that, while masks are provided to patients if they wish to wear one while in their beds, many patients find it "impossible and uncomfortable to wear a mask all of the time that they are in hospital."
"We can't make wearing a mask a condition of accessing healthcare," he said, "because people have a right to access healthcare and some people simply can't wear a mask."
Prof Cormican said that hospitals were doing everything they could to prevent patients from catching Covid-19.
"But I can't guarantee somebody that if they go into hospital that they won't get Covid. I'm afraid that's not how it works," he said.
"We're up against an extremely difficult infectious organism."