For large parts of the year, the field of maize to the front of Geraldine and Gerry Shanahan's home outside Cashel, Co Tipperary, is full of nine-foot-tall crops. But this summer, underneath the soil, a problem was developing.
"On June 26, our phone lines went down completely," Geraldine told Prime Time.
The couple are among hundreds of Eir customers who have experienced serious issues around connectivity and billing this year. The watchdog that oversees the communications sector, ComReg, has condemned the issues as "completely unacceptable".
ComReg reports that official complaints about Eir jumped from 383 in the first quarter of 2020 to more than 1,000 complaints between July and September.
The Shanahans spent seven weeks without phone or broadband – and the timing couldn't have been worse.
The couple run a number of businesses from their home office, including the Coachman's pub in Clonmel. All the administration is done from two desks opposite each other in the 150-year-old property.
"June is the end of our financial year, and that was the exact period that we were without our lines. I couldn't pay our VAT because I had no internet connection," Geraldine said.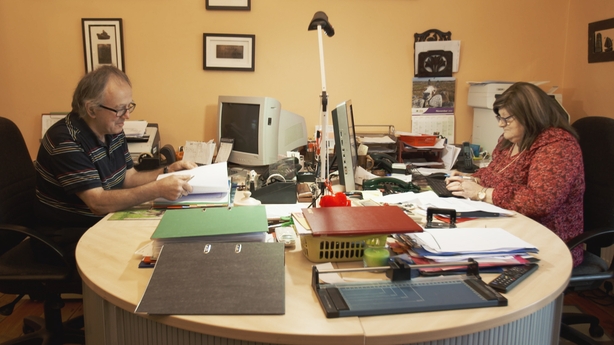 In addition to running their businesses, Geraldine was also undergoing treatment for cancer.
Thick stone walls mean that mobile phone signal is weak, while the fault in the landline meant the couple's monitored house alarm was also knocked out.
"It was just a nightmare. I had no access to Cork University Hospital. I felt so nervous not being able to contact the hospital if I needed to."
Like many customers across the country, the couple say they endured hours on hold to Eir's customer care lines.
"You would want to have nothing to do only ring them," notes Geraldine.
---
Read more: Eir CEO apologises for 'below-par' customer service
---
It took seven weeks and the intervention of local TD Jackie Cahill before Eir agreed not to dig up the valuable crop and to instead install a temporary, overland phone line to reconnect the couple.
Visibly strained by the experience, Gerry describes the seven weeks without coverage as "total heedlessness" on behalf of Eir.
"It was like a verbal lockdown and with Covid and everything in place. We were completely locked in with no lines of communication and with all of our businesses under threat – because you couldn't communicate."
In comparison to other providers, Eir's issues appear far more deep-rooted. While Eir customers made a total of 1,062 complaints to ComReg between July and September, Vodafone customers made 183. Some 88 Virgin customers complained to the regulator, while just 44 Sky customers lodged complaints with the regulator.
Even adjusting for marketshare – the company is by far the country's largest phone and internet provider – Eir had far more complaints lodged than other providers.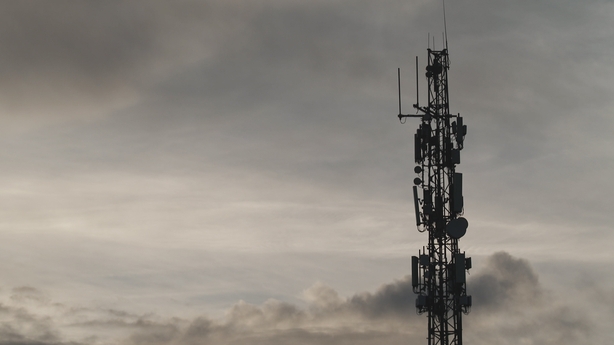 "The problems with Eir were so deep and so problematic that customers were really left out in the cold, and that is very unacceptable," Roubert Mourik, ComReg's Commissioner, told Prime Time.
"All companies that run customer care centres have had to deal with the problems caused by Covid. But all of the other operators kept the show on the road."
In a statement, Eir apologised for the delays that customers had experienced, adding that "resolving care wait times" is its "number one priority".
And though the company said that the average wait time in the last week was under 10 minutes, when Prime Time called the 1901 number on Monday, it took 41 minutes for the call to be answered.
Speaking on Prime Time on Tuesday night, CEO Carolan Lennon apologised for what she called "below-par service".
Though she said she was not making excuses for the long delays experienced by customers, she explained that there had been difficulties retaining customer service staff during the Covid-19 pandemic.
Eir said that some 400 staff have transitioned to working from home and a further 119 recruits have been hired.
"Training does take time but these changes have already led to reductions in call wait times," it added.
The issues at Eir reached the floor of Leinster House this month.
During a debate in the Dáil, Ceann Comhairle Seán Ó Fearghaíl said that Eir's "appalling" customer service raised "profound questions about whether ComReg is doing its job."
Tánaiste Leo Varadkar and Minister for Communications Eamon Ryan met Eir and Vodafone last week and said they expect that service will improve.
The Programme for Government, meanwhile, commits to giving ComReg greater powers of enforcement. Currently, fines can only be applied through the courts.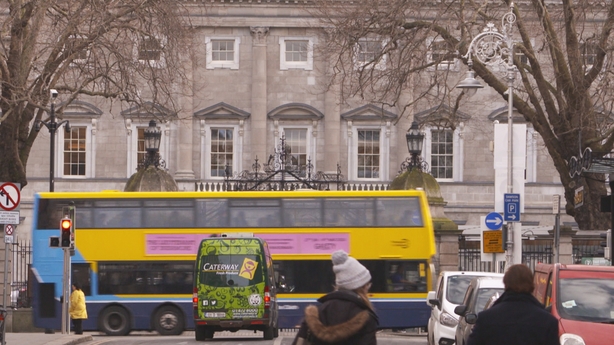 "The additional powers, which we are discussing with the Government, would allow us to tackle a lot of problems at core level so that customers would have fewer reasons to ring customer care in the first place," Mr Mourik explained.
Asked if issues with Eir would have been resolved sooner had greater enforcement been available, Mr Mourik said: "It is only Eir that can hire and train staff. There is no magic wand from a regulator that could sort this. We did our best to help customers as much as we can."
And he offered this advice to customers continuing to experience difficulties: "If a customer has a complaint, don't ring the general customer care line of the operator, but instead ring the complaints line. The queues are a lot shorter there because that is regulated."
The advice may be useful to Charlotte Mattu, who is working from home in her mother's house in Co Kerry. While Charlotte would much rather be living in the rented apartment she is paying for in Dublin city centre, she can't move in because broadband is not connected and she has to work from home.
She has waited nine weeks for Eir to activate the connection, including two days spent waiting in vain for a scheduled visit from an engineer.
"I spend my lunch breaks every day just on the phone to Eir and I just don't seem to get a response. It's just infuriating to be on that long and there doesn't seem to be any resolution."
Charlotte is now paying for additional data to use her mobile phone as a personal hotspot. "My phone bills are going through the roof," she said.
The Chief Executive of Eir, Carolan Lennon, has apologised to customers who have had below par customer service over the past number of months.
Speaking on RTÉ's Prime Time, she said they have never had "fantastic care" in Eir and they took a decision to move their customer care in-house, but they have had a lot of problems.
She said Covid-19 has meant productivity has dropped and they have lost a number of staff.