Teresa Murray has a landmark birthday coming up.
"I'll be celebrating my 50th birthday this year, very happily. It will be a party," she smiles.
Teresa's age should only really matter to those buying her cards or candles but it's important for another reason - she and her family rent their home.
Along with her husband Gary, she is among a growing number of middle-aged renters in Ireland - almost 90,000 according to the most recent census. They are the first generation of Irish people potentially facing retirement without owning a home or having a significant pension.
"You do see it in people's faces. They look at you, you're educated and you're working so it's a presumption. People just presume you own your house," Teresa said.
The couple both work full-time but spend a significant portion of their income on rent and in previous years have spent more again on childcare for their two children.
Originally from Co Tipperary, but working in Co Dublin, moving home to save for a deposit was not an option.
"We were hit by a barrage of curveballs at a particular stage in our life. The bumps in the road that we experienced meant a deposit was off the table. We are now at the stage if we did have a deposit tomorrow we are too old to get a mortgage at the rates we could afford per month."
The family's circumstances are no longer unusual. Between 2011 and 2016, the number of renters in their 40s and 50s jumped by 25% - an extra 17,000 people in just five years.
We need your consent to load this rte-player contentWe use rte-player to manage extra content that can set cookies on your device and collect data about your activity. Please review their details and accept them to load the content.Manage Preferences
Teresa is frustrated that current rent levels make additional pension provisions more difficult for older tenants.
"How do we put more of our monthly income into a pension? How do we prepare for the future if all our income is going to rent?"
Teresa is not the only one worried about the decades ahead. It has also been occupying outgoing Finance Minister Paschal Donohoe.
"The big risk that's always on my mind is what happens if in 20 or 30 years time we have a generation of Irish citizens who neither have a pension nor own a home," he told the Currency last year.
The growth of the rental sector is in stark contrast to falling home ownership rates.
Ownership in Ireland is at its lowest level for almost 50 years. Since 1991 the number of people aged 25-34 who own their own home has plummeted from 68% to just 30%. For those aged 35-44 ownership rates have dropped from 82% to 61%.
Emeritus Professor at UCD Tony Fahey describes the shift as "one of the most important changes in social policy that's occurred in Ireland in the last 50 years."
While the State pension is €1,037 a month, the average rent of a one-bedroom apartment in Dublin is €1,388 a month. An impossible calculation for future pensioners if current trends continue.
"If you get a cohort who are moving into old age and they are paying 30% of their pre-retirement income on rent and then they retire and their incomes drop and rent goes up to 50% of their income, that is going to cause serious problems," Prof Fahey said.
"Let's say half of pensioners are renters and half are homeowners, there will be a big gap between those two segments of the elderly population that does not exist at the present time," he added.
The rise of the renter is also linked to demographic factors, including a growing number of people who are divorced or single.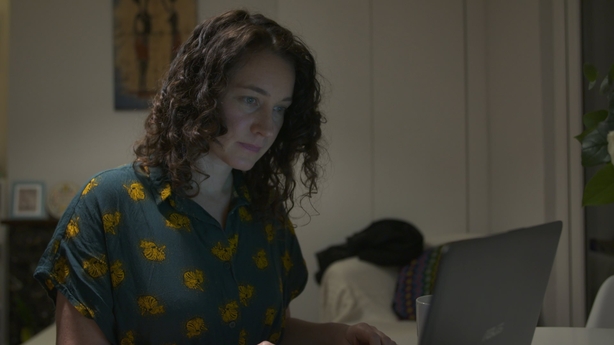 For 39-year-old Mary Coogan, retirement is still some time off. But as a long-term renter planning for the future is never far from her mind.
"In the last five years I've had to move four times and I've been evicted twice in a 15-month period. My rent now is €3,000 a year more expensive than it was two years ago."
Mary would like to buy, but she is single and affordability on one income makes the prospect a real challenge.
"Your relationship status shouldn't dictate whether or not you get to own a home.
"Even in my situation where I'm fortunate enough to be on a slightly above average income, it will be a real stretch to find a place I can afford in Dublin if I secure a mortgage," she explains.
"All the beans and toast and cups of water in the world won't get you there because the gap is so huge."
Some have suggested that Mary consider buying in areas further away from the capital.
"They're talking about Cavan or Athlone. Not necessarily the commuter belt," she said.
"But the prospect of doing that on my own and just spending my days driving to and from work and not having any community around me… those shouldn't be the choices that we are faced with.
"The whole system is built on home ownership. It's not built for renters."
Prof Fahey attributes the drop in ownership rates to the role of investors in the housing market.
Home ownership began to fall in the 1990s when credit was extended to allow individuals to buy investment properties, he says.
"You could have a household with two or three homes. One to live in, and two or three to let. And so that meant demand shot up, supply couldn't keep pace, and prices shot up."
He argues that now there is a shift from smaller landlords to international investors.
While these larger players may be able to offer longer leases and can build properties more suitable for long-term rent, the challenge, according to Prof Fahey, is coupling stability with affordability.
"Duration of tenancy is one issue but it can only be dealt with alongside a mechanism which keeps rents in line with general inflation.
"At the moment it's running way ahead of general inflation."
Back among the boxes and bags in her apartment, Teresa Murray agrees.
"I think we're the first lot of people facing into the situation of being adults with families renting and asking the question what happens when I retire and I can no longer afford private rents?"
Preparing for a big birthday is straightforward but in the current rental market trying to make provisions for retirement is another thing entirely.