The train passengers are running. Jumping off carriages, galloping down the platform and sprinting across an enormous car park. Like Olympic hopefuls, but wearing coats and carrying backpacks. On a cold, dark winter's evening at the M3 Parkway station, Co Meath, the passengers are running.
"There's always a huge traffic jam to get out of the car park," explains Kellie Dempsey, a daily user of the train to Dublin's Docklands station.
Everyone is parked in the same car park and there is only one exit. The extra delay is a commute too far for some. So they run to beat the queue.
Kellie is waiting to be collected at the station by her boyfriend Glenn Doyle. The young couple moved to Navan for more affordable rent, but they both work in Dublin where they say wages are higher. Their daily routine is a complicated form of travel jenga.
They leave home by 7am, drive together for 20 minutes to the station, where Kellie takes the train into the city. She has a further 20-minute walk to get to her office in Merrion Square. After dropping Kellie, Glenn drives to Sandyford, south Dublin. Their round trip is three hours, on a good day.
"It's too expensive to live in Dublin. It's cheaper to live outside of Dublin, so that's what we did, but it's taking a toll on our body and minds," Glenn says.
The 23 year-old from Ratoath in Co Meath likes living in Navan and appreciates the lower rent, but the grind of the commute is wearing him down. 
"My body is sore, very sore. I get shoulder pains shooting across my shoulders from holding a wheel for too long. It's very stressful. You're afraid you're not going to get to work on time or get home on time."
Kellie, who works for the ESB, is equally pessimistic about the daily travel.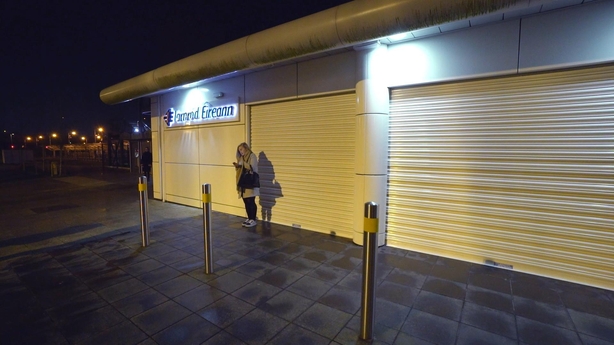 "I feel like I'm an ant in the Antz Movie. The ants get up and they start walking, they all do their job, they pick up their food and they walk back."
The 23 year-old says the couple would like to start a family one day, but said: "If we were to have a child in Navan, we wouldn't see them for 12 hours a day, plus we'd have child minding fees. If we move back to Dublin and have a child we wouldn't be able to afford it."
"If you're working in Dublin you're not getting home until 7pm. You're not getting to the doctors, you're not getting to the bank, post office, the shops, none of them. You're getting home and you're going to bed," Glenn sighs.
We need your consent to load this rte-player contentWe use rte-player to manage extra content that can set cookies on your device and collect data about your activity. Please review their details and accept them to load the content.Manage Preferences
The pair are now seriously considering emigrating.
"We've talked a lot about New Zealand or Canada. If we can go to a life where we're coming home and it's daytime it would be nice. At the moment we just live to work, there's no working to live," Kellie says.
Across the country, average commutes are not that much longer than they were in the early 2000s. The last Census in 2016 found the average commute nationally is 28.2 minutes. What is on the increase is the phenomenon of marathon commuters, like Kellie and Glenn.
There are 200,000 people spending more than two hours a day commuting, an increase of 30% in just five years, with 50,000 of those spending more than three hours travelling to and from work.
"My walk to the bus stop is six or seven minutes," says Paul Dwyer.
The 31 year-old, like many commuters, measures his journey in carefully calculated minutes. You might too if your alarm went off at 5.25am every morning.
Paul, who is from Raheny in Dublin, moved to Co Meath last year with his wife Geraldine, and their four year-old son, Caeson.
The couple saved hard, availed of the help-to-buy scheme and bought a two-bedroom house in Johnstown, on the outskirts of Navan.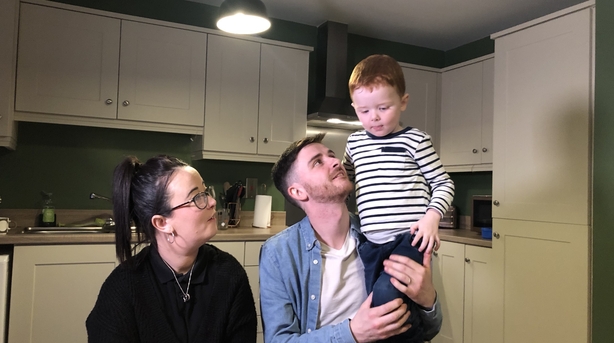 Paul takes the first bus from to Dublin at 5.50am, but is still frequently late for work.
"I work as a chef in Google. I can't physically get there any earlier. There is no earlier bus."
Paul's work day finishes at 3.30pm and he makes the return bus journey, which often takes much longer as traffic is heavier.
Arriving home at around 5.30pm means there is no family time for the Dwyers, as within minutes wife Geraldine has to leave to drive to Ballymun in Dublin, where she will work in a pub for the night. 
"Sometimes it feels like we had to give up so much more than what we actually got here and we were pushed into that choice. It was the only place we could afford," Paul explains. 
The couple say they cannot get work closer to Navan that pays as well and that facilitates the routine of Caeson, who has autism.
"I'm angry that we had to move away from home. We didn't realise at the time but it has a huge impact."
The couple are having difficulties accessing services locally. 
Caeson has a medical card, but there is no local GP willing to take him on and the family are struggling to find a school. While there is an autism unit in the local school, it isn't clear if Caeson will have a place this September.
"Surely our services should be in a local area otherwise what's the point in moving in the first place?" Paul wonders.
"I'm struggling for hope … for positivity. It just feels like we're trudging along. Trying to get by."
Paul and Geraldine say their current working routine means they are "ships in the night".
"It has a big impact on our relationship. How can you give something to somebody else when you're so wrecked yourself?" Paul says. 
"I thought when we moved we would be able to come home in the evenings and chill. I'd have lovely baths and we'd have dinner every night. It's not like that at all," says Geraldine.
The phenomenon of the marathon commute is most pronounced in the counties surrounding Dublin, such as  Meath. The housing crisis was arguably an opportunity to address urban sprawl, however, the opposite appears to have happened.
CSO figures for the first three quarters of 2019 show a huge volume of housing being built in Meath, Kildare, Louth and Wicklow. There were 3,801 homes built in the commuter belt, compared with 4,868 in all of Dublin. 
And while new homes are being constructed outside of the capital, the vast majority of jobs remain in Dublin. 
The train passengers are sprinting. Who can blame them?