The hurlers of Tipperary and rapper Post Malone may have little else in common but, both have been invoked in defence of overcrowded trains in recent months. 
On the day of the All-Ireland hurling final the train from Westport was packed to the rafters and missing a fifth carriage. "I couldn't put my hand in my pocket to get my phone it was so crowded," one passenger told RTÉ's Liveline. 
A few days later more unfortunate rail travellers stood from Mayo to Dublin. This time, Post Malone performing in the RDS was held up as mitigation by Iarnród Éireann. 
Regular users will tell you that, hurlers and rappers notwithstanding, the fleet of trains is creaking at the seams, and not just in Westport. There hasn't been a single carriage added in almost ten years. Three and four-carriage trains are routine. 
Commuter trains and DART carriages are at least built to accommodate large numbers of standing passengers. There are grip handles and room to stand. But standing for 20 minutes from Dún Laoghaire to Dublin city is one thing, standing from Ballyhaunis to the capital is another thing entirely. 
"The intercity trains are horribly overcrowded. People have to climb over each other to effectively get out of the carriage," says Mark Gleeson of the campaign group, Rail Users Ireland. 
"It is a common enough occurrence across the network that the train is shorter than expected. Because there is no spare if something breaks down a train is reduced in capacity."
Iarnród Éireann wants to order 41 new carriages but they will take two years to deliver. The earliest passengers will see an expanded service is late 2021. Iarnród Éireann CEO Jim Meade admits there is a risk that things will get worse before they improve.
But the next time you are on a train which departs from Heuston Station look out the window and you'll spot a potential solution.
Stored at Iarnród Éireann's Inchicore Depot, surrounded by grass and weeds, are train carriages known as 2700s. Some have the green and blue commuter train livery, although the exterior has begun to degrade and there are stains and graffiti on the paintwork.
Trade unions and passenger groups say despite their appearance, and with some investment, the carriages could still function with the current train stock.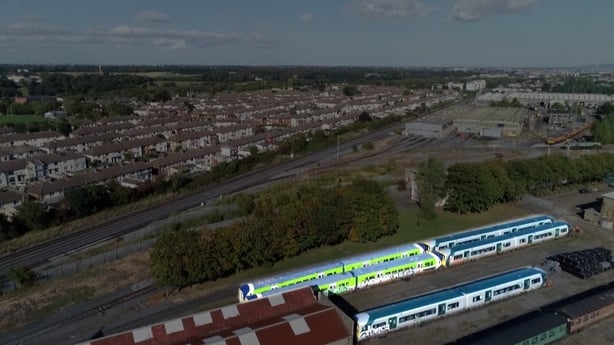 Twenty-eight of these 'ghost carriages' were withdrawn from the commuter service in 2012 when the recession hit. But they could provide an additional seven trains, which would last for a further 15 years. A huge dent in the shortfall.
"Some of them look pristine. Some look in need of help. But they are made of aluminium, they don't rust. They are 1999-era trains. It should be possible to put them back into service at a reasonable cost," Mark Gleeson insists. 
Iarnród Éireann proposed refurbishing the carriages in 2017. The tender price came back at €1.2m for each carriage. It's expensive, and higher than estimated, but it is much lower than the cost of a new carriage - roughly €2.3m.
Iarnród Éireann maintains the carriages were unreliable before they were withdrawn. 
"To put them back into service would mean a major refurbishment and to try and dial out some of those unreliability issues," adds Jim Meade. 
"The option we've gone with [buying carriages] is most efficient from a time perspective and from value for money over the life of the asset". 
Dermot O'Leary of the National Bus and Rail Union disagrees. 
"Is it about people getting from A to B or is it about the economics of the situation? In terms of people travelling safely or travelling in relative comfort, then it's a no-brainer for us to say those 2700 coaches should be refurbished".
Hundreds of new carriages are needed long-term and Iarnród Éireann has sought expressions of interest from train manufacturers for up to 600 electric/battery-electric powered carriages. But it will take ten years at least for those trains to be delivered.
In the meantime, drastic measures are on the cards. 
Iarnród Éireann is considering making regular services only available to those who have pre-booked. This approach is usually limited to special trains on busy 'event' days. If implemented it means regular trains could be sold out in advance. 
"That would put a restriction on people's ability to travel because currently they can pre-book or they can walk up and go but certainly in order to manage capacity it may be something we have to look at in the long term," Mr Meade explains.
One of Post Malone's hits is titled Better Now; but it seems things won't even be better soon for beleaguered train passengers.
You can watch Louise Byrne's Prime Time report on RTÉ One at 9:35pm tonight