Taoiseach Leo Varadkar has said his first words to Pope Francis would be ones of welcome, but there are a number of issues ranging from human rights to child sex abuse that he also wants to talk about.
Mr Varadkar also said that any information requested by State authorities carrying out investigations into child abuse should be made available whether it is held in Ireland or in the Vatican.
"We want to make sure that there is truth and justice and healing for victims and that has to be part of it," he said.
Mr Varadkar said he would try to raise as many issues as possible during his brief meeting with Pope Francis at Dublin Castle on Saturday.
"I don't want to skirt over them or just do them in a token way. I'm going to have to see how the meeting goes," he said.
Pope Francis is due to meet victims of clerical sexual abuse during his visit to Ireland, which comes during the World Meeting of Families event.
The pope will be in Ireland this weekend to attend events in Dublin and visit the Knock Shrine in Co Mayo.
At his weekly audience in the Vatican City, the pope asked people to pray for him ahead of his trip to Ireland.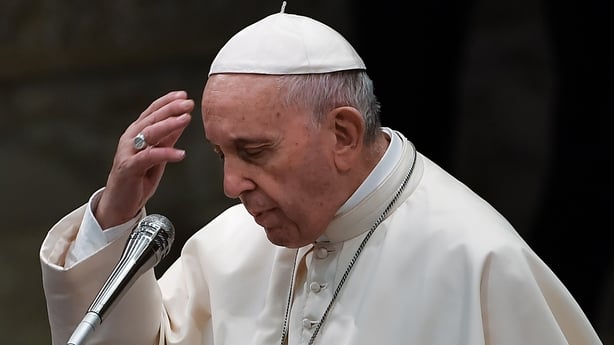 ---
Read more: Pope Francis in Ireland
---
On Monday, the pontiff wrote an unprecedented letter to all the world's Catholics, in which he promised no effort would be spared to prevent clerical sex abuse and its cover-up.
In the letter, the pope condemned abuse, addressed previous failures to deal with the issue and begged for forgiveness for his own sins in relation to the handling of abuse.
"We have realised that these wounds never disappear and that they require us forcefully to condemn these atrocities and join forces in uprooting this culture of death," he said.
The pope is to address a crowd of around 500,000 people in the Phoenix Park on Sunday as part of the World Meeting of Families.
The event has already been overshadowed by the church's handling of clerical sex abuse cases and the withdrawal of the event's keynote speaker Cardinal Donald Wuerl, who decided not to come to Ireland following a highly critical report in the US on the handling of abuse cases.
He was replaced as keynote speaker by Archbishop Eamon Martin, who said clerical sexual abuse scandals in the Catholic Church have led some to feel they can no longer trust the church's message.
Meanwhile in an interview with Vatican News this afternoon, Italian Cardinal Pietro Parolin, Secretary of State at the Vatican, has said Pope Francis will encounter a "changed community" on his Irish visit.
"Almost 40 years after the visit by John Paul II, the Pope goes to Ireland. He will encounter a changed community which in the meantime has lived through the pain of the terrible suffering of the abuses," he said.
He added: "The church in Ireland has admitted its shortcomings, its mistakes and its sins...(equipping itself) with a series of measures which will stop the repetition of these atrocities, of these horrors"
Cardinal Parolin said that Pope Francis "has always insisted" that the Church's first duty should be to stand by victims and to "help them rebuild their lives".   
He also said that the Pope's visit to Ireland will take place "under the sign of hope".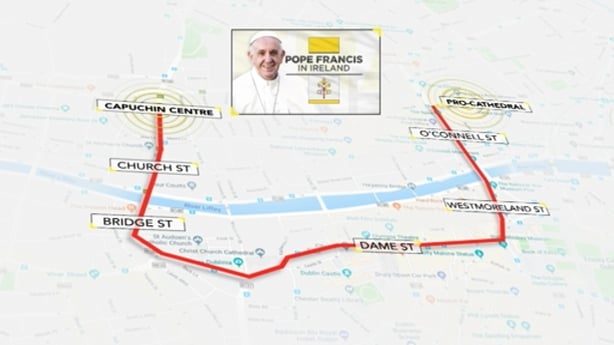 Thousands expected to line city route of 'popemobile'
Meanwhile, Pope Francis will be driven through Dublin city centre in his 'popemobile' on Saturday afternoon giving the public the first opportunity to see the pontiff, according to Assistant Garda Commissioner Pat Leahy.
Speaking on RTÉ's Today with Miriam, Commissioner Leahy said this will take place after the pope finishes at the Pro-Cathedral at around 4.15pm.
The route will go south on O'Connell Street, across O'Connell Bridge, up Westmoreland Street, and continuing up Dame Street.
The route will then pass Christchurch Cathedral, go down Bridge Street and back across the Liffey onto Church Street to the Capuchin Centre, where Pope Francis will have a private meeting with homeless families.
Gardaí expect up to 100,000 people in the city centre to view the motorcade.
Commissioner Leahy also said those who turn out to see the pope travelling through Dublin on Saturday will get "within two or three metres" of the pontiff.