The CEO of Children's Health Ireland (CHI) has described its use of unauthorised springs as implants in children as a "truly shocking" and an "unprecedented occurrence".
Eilísh Hardiman said that there had been "a shocking litany of events" at CHI that were "distressing".
She told the Oireachtas Health Committee that staff are "distraught" at the death of ten-year-old Dollceanna Carter following spinal surgery at Temple Street Children's Hospital.
"It is essential that all aspects of these events are fully investigated, that any individual or individuals responsible are identified," she said.
"But more importantly, that any institutional or systemic issues that contributed to enabling these events to happen are found and addressed immediately," she added.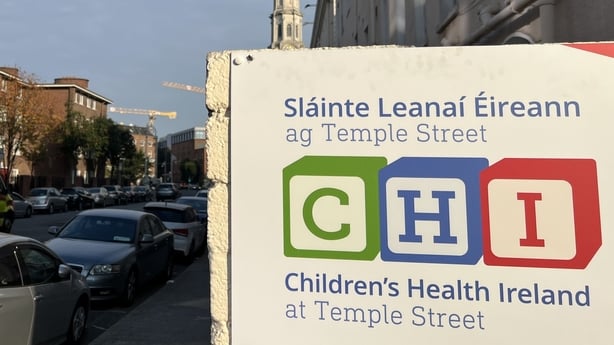 Two weeks ago, it emerged that 19 children had poor surgical outcomes following surgery at Temple Street.
Ten springs were bought and three were used. Two have been removed from children, but one has not.
The HSE has now ordered an external review, the terms of reference of which are being drawn up, a process that will include consultations with the families affected.
Fine Gael Senator Martin Conway asked whether the "non-medical grade device" that had been implanted in these children had come "from an approved supplier to your group?"
"Eh, no", Ms Hardiman replied.
"So how in the name of God did it get into your system?" he asked.
It did not come through "the procurement process. It didn't come in through that route", Ms Hardiman said.
Green Party TD Neasa Hourigan was at a loss as to how a non-medical grade device could simply be "walked into theatre".
"How does it happen?" she asked, "In a controlled situation, where you have a controlled device?"
Dr Allan Goldman, Chief Medical Officer with CHI, said that "whatever's happened with that is completely unacceptable".
"We're as perplexed as you, as to how that happened," he said.
---
Read more:
Temple Street spinal surgery reviews published by CHI
Surgical springs 'not ordered from retail outlet' - CHI
What led to poor surgical outcomes at Temple Street?
---
CHI Clinical Director Paula Kelly, a paediatric orthopaedic consultant, said that the use of the unapproved springs was "not appropriate in any situation in the surgical world".
"We cannot stand over any surgeon that implants non-approved devices," she added.
"The springs are a symptom, only, of a completely dysfunctional system that you have presided over as CEO since 2018," Independent Senator Tom Clonan declared, after recounting his son's traumatic experience of surgery at Temple Street Hospital.
'No recollection'
Social Democrats TD Róisín Shortall repeatedly asked if Ms Hardiman had ever discussed with consultants the use of these types of unapproved implants.
Ms Shortall asked "for the fifth time" whether Ms Haridman was confirming that she had never discussed the use of these devices.
"I have no recollection of any discussion in relation to this," Ms Hardiman said.
Ms Shortall referenced a meeting in February 2020, and "the letter which is a record of that meeting" which "has come from two consultants".
The two consultants say that they had met Ms Hardiman "to discuss the use of MAGEC (MAGnetic Expansion Control) rods", which they were not in favour of, and that they had suggested experimental "off-label" devices instead.
"So, what I am confirming here today is I've seen the letter. I've never received that letter. I never received it at the time," Ms Hardiman replied.
"I asked you, did you have a conversation with any consultants, about the use of experimental techniques in relation to this very small group (of patients)," Ms Shortall said.
"I have absolutely no recollection of that", Ms Hardiman repeated.
Sinn Féin TD David Cullinane asked if Ms Hardiman had any involvement, in any meeting, about "metal rods and high risk", terms that Ms Hardiman had mentioned in her opening statement.
He put the question to Ms Hardiman "for the fourth time".
Ms Hardiman confirmed only that she had attended meetings about "MAGEC rods", but would not comment on "metal rods", saying that she is fully cooperating with the investigation under way.