The Social Democrats leader Holly Cairns has told the Dáil that Fine Gael has a "miserable record" when it comes to delivering on its home ownership promises - adding younger people find the Taoiseach's assertion that home ownership is his party's "highest priority" as "literally impossible to believe".
Ms Cairns said the truth was that Fine Gael had done the opposite during its more than a decade in office, with census figures showing that homeownership fell from 70% to 66% between 2016 and 2022.
She added that the number of people who have a home and are aged between 25 and 34 has more than halved between 2004 and 2019 - falling from 60% to 27%.
The Cork South West TD said that anger among this cohort has given way to weariness and exhaustion due to Fine Gael's broken promises and ridiculous spin.
In reply, Taoiseach Leo Varadkar said he does believe in home ownership and while he acknowledged that it fell between 2016 and 2022, he hoped it would increase over the coming years.
He said it was "very significant" that there had been a "very major increase" in the number of first-time buyers over the past six months - now standing at between 400 and 500 a week, which was the highest increase since the Celtic Tiger and indicates the Government's policies are working.
Ms Cairns said rents had never been higher; house prices had never been higher; the rate of homelessness had never been higher and the number of people living at home had never been higher.
The Taoiseach noted that house prices had been falling in Dublin for the past six months, and he contended that the peak of property prices has now passed.
---
Read more: Number of notices of termination rose in first quarter of year
---
He added that the Social Democrats had opposed the Government's policies which were delivering results.
Risk of hundreds more children and families facing homelessness - McDonald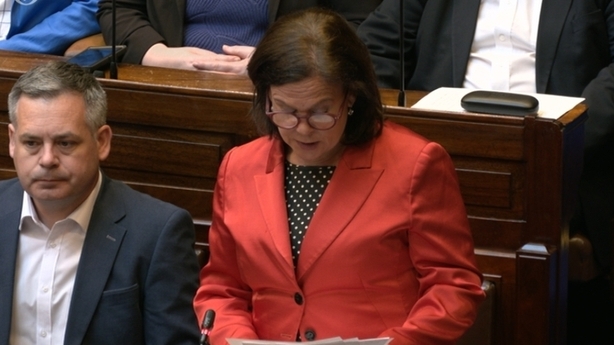 A mother who became homeless has been forced to live in her car and her children had to go to live with relatives, the Sinn Féin Leader has told the Dáil.
Homelessness is increasing and there is a real risk that hundreds more children and their families will face this reality during the summer, Mary Lou McDonald has said.
"You've designed the policies that have led to his calamity," she said.
The Taoiseach said two evictions bans were in place during his time in Government but "the problem is it doesn't work."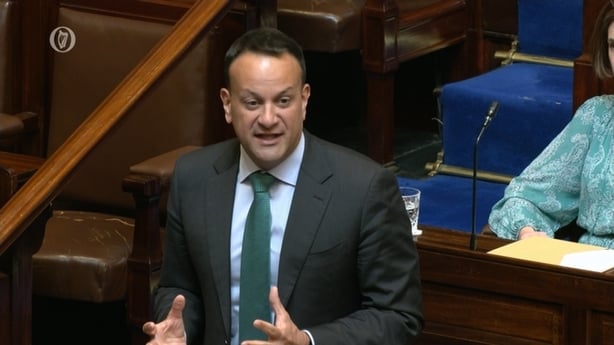 Govt to 're-power' tenant-in-situ scheme - Taoiseach
Mr Varadkar argued that it makes the problem worse in the medium to long term because it reduces the number of homes available to rent.
He said the Government was providing more emergency accommodation and the tenant-in-situ scheme would prevent thousands of people from becoming homeless.
Mr Varadkar told the Dáil that the Government is planning to "re-power" the State's tenant-in-situ scheme which allow local authorities buy homes of tenants facing eviction.
He was responding to People Before Profit TD Richard Boyd Barrett who said big landlords were failing to cooperate with local authorities on the scheme.
He added: "The big landlords are not selling out."
Mr Boyd Barrett said that warnings that dropping the ban on evictions would result in more people in homelessness have been borne out by new figures showing more than 12,000 individuals in emergency accommodation.
He said that "this is just the beginning. It means it is going to escalate".
Additional reporting Mícheál Lehane, David Murphy