Around 1,000 people have taken part in a Cost of Living Coalition protest outside Leinster House in Dublin city centre.
Organisers were demanding more action from the Government to reduce household expenses and for the re-instatement of the no-fault evictions ban which was lifted at midnight last night.
They say that the ending of the ban will result in more people becoming homeless.
The Government says measures are being put in place to protect tenants.
Speakers included representatives from Sinn Féin, People Before Profit, the Social Democrats, students' unions and tenants' rights' group.
There were also people with banners from Aontú and the Labour Party.
All of the speakers concentrated on the eviction ban and called on the Government to reinstate it.
The Cost-of-Living Coalition says the ending of the eviction ban is a new low for the Government and it is calling for it be reinstated.
The protest was also called to highlight the fact that many families are struggling because of rising rents, rising interest rates and rising prices.
Organisers were calling for further measures to address this and for the provision of affordable housing for all.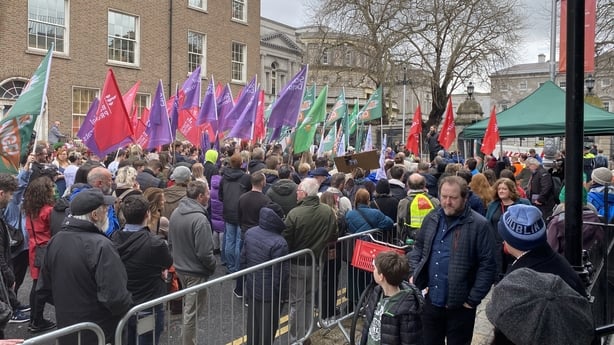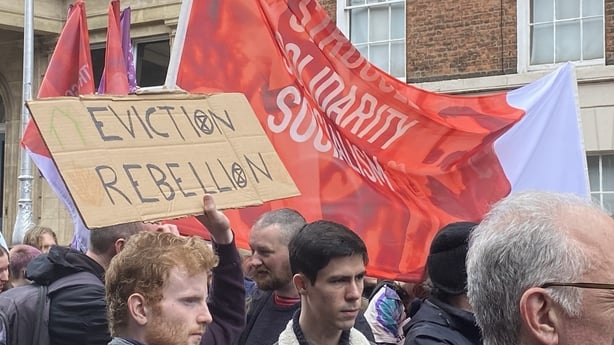 Sinn Féin employment spokesperson Louise O'Reilly said "the Government and their independent supporters this week intentionally voted to make families homeless.
"They had a choice and they chose to abandon renters."
She added: "They still cannot answer the question where will people go and we need a moratorium on evictions to give families some breathing space and allow time for the Government to act.
"We need to see delivery of social and affordable housing for ordinary people to rent and buy."
Labour TD Aodhán Ó Ríordáin said: "The ending of the eviction ban is a disaster for thousands of families nationwide."
He added: "In a time of unprecedented homelessness numbers, high rents & lack of homeless accommodation, families have been abandoned by government."
Meanwhile, Social Democrats' housing spokesperson Cian O'Callaghan said: "The homeless figures released yesterday for February show that the eviction ban was working - numbers stabilised for the first time in 13 months."
"There is now clear evidence that the no fault eviction ban should be reinstated to prevent thousands of people being evicted from their homes," he said.
People Before Profit TD Richard Boyd Barrett said: "The Government may have won a Dáil vote to lift the eviction ban, but the cruel consequences of this decision are going to be felt by thousands of people over the coming months."
He added: "We have no intention of letting this go. We need people power to force the Government to address the housing disaster which they created."
Additional reporting: Paul Cunningham