Minister for Integration Roderic O'Gorman has written to Government departments urgently seeking buildings to accommodate refugees.
The buildings can be located anywhere in the country, the minister told colleagues last night in a letter seen by RTÉ News.
Large halls where camp beds, mattresses and sleeping bags can be set out for people are being sought as the Department of Integration struggles to find accommodation for refugees arriving in Ireland.
The facilities that Mr O'Gorman is hoping to find include sport centres with showers.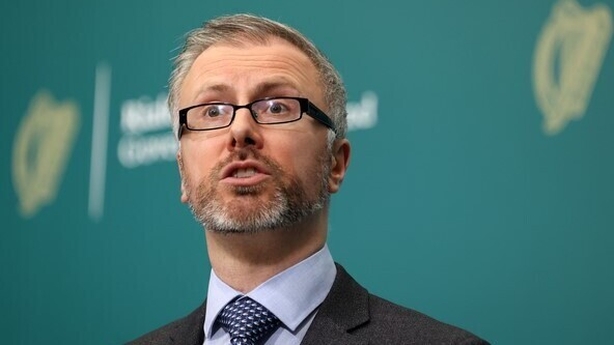 Also included on the list are conference facilities, arts and student centres.
There was a callout too for any large buildings that are deemed safe by local authorities and which comply with fire regulations.
Mr O'Gorman told his fellow ministers that his department would provide management and NGO support in the buildings.
He concluded his letter by again asking each department and its agencies for any assistance in providing these buildings for immediate use.
Chairman of the Rosslare Harbour Friends of Ukraine Sean Boyce said the situation regarding the accommodation of refugees is "ridiculous" and accused the Government of a lack of forward planning.
He warned that the appeal from Mr O'Gorman will put put further pressure on communities.
Speaking on RTÉ's Today with Claire Byrne, Mr Boyce said for those coming to Ireland seeking refuge it is impossible for them to integrate within communities if they are not in stable accommodation.
Referring to recent protests over accommodation for refugees and international protection applications, Mr Boyce said the minister's appeal could lead to more demonstrations because in in many cases, he said, communities have not been resourced and informed properly.
He said: "One key phrase in the letter says anywhere in the country. Now that stinks if it's not planned. So you could end up with somewhere that is maybe very rural, or very isolated or already very populated with new communities as we like to call them and that is going to cause unrest.
"So why don't we inform people properly and resource those communities that have had large influxes of people coming in."
Speaking on the same programme, the chairman of Irish Rural Link said it would be "dangerous to displace" the activities that take place in local community centres by turning them into refugee accommodation.
Seamus Boland said such venues are the "lifeblood" of the community, and the activities and socialisation which are facilitated by a local community centre are "essential".
"Every area whether it's a GAA community centre, just a community centre, they're extremely busy.
"You can rock up to any of these places, day or night, and you'll find they are busy. So it's dangerous to displace those things," he said.
Meanwhile, 79 newly arrived asylum seekers currently have no State-provided accommodation.
Since Tuesday 24 January, 160 adult asylum seekers who presented without children were not initially offered State provided accommodation.
Eighty-one were since offered accommodation, while 18 people were turned away without accommodation yesterday.
Additional reporting Laura Fletcher