Government Chief Whip Jack Chambers has said he "would not speculate" on any issues related to Marc MacSharry being readmitted to the Fianna Fáil party.
A motion for Deputy MacSharry to return after his resignation a year ago had been unopposed two weeks earlier.
He had been expected to be readmitted at a Fianna Fáil parliamentary party meeting last night, but it is understood TDs, MEPs and Senators were told an issue had arisen, and accordingly, Deputy Chambers was not in a position to bring the relevant motion to members.
It is believed the "issue" is some form of complaint made against Mr MacSharry in recent days.
Speaking on RTÉ's Morning Ireland, Deputy Chambers said they "weren't in a position to progress the motion at last night's parliamentary party" but it is something they hope can be revisited soon.
"And obviously it is an internal party matter and I'm not in a position to provide any further comments or information on it," he said.
Asked about reports that a complaint from outside the parliamentary party had been made against Mr MacSharry, he said: "I'm not going to speculate on that, and it wouldn't be fair to speculate or state either way what the matter involves."
He added: "This is an internal party matter, and we weren't in a position to progress the motion at last night's parliamentary party meeting."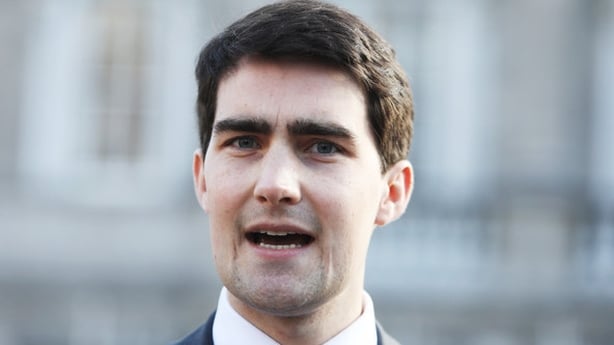 Deputy MacSharry said last night that he would not be commenting at this time.
Resigning from the parliamentary party last year, he had said Fianna Fáil's positioning and policy were being determined in a fashion consistent with an "undemocratic totalitarian regime".
While he went on to vote no confidence in Minister for Foreign Affairs and Defence Simon Coveney, Mr MacSharry often supported the coalition Government in subsequent Dáil votes.
He has long been an outspoken critic of Taoiseach Micheál Martin, arguing the party was being damaged by his leadership.
However, he never resigned his Fianna Fáil membership.
---
Read more:
MacSharry's expected return to FF parliamentary party fails to happen
Delay to readmit MacSharry 'stuns' Fianna Fáil
---