The Government has signed off on an ban on evictions to run from 1 November until the end of March.
It will mean that if a tenant is issued with an eviction notice from next month to the end of March 2023, it cannot be implemented until April.
However there will be exceptions for those who do not pay their rent or damage a property.
The Cabinet also agreed that the concrete levy announced in the Budget will be cut to 5% and will be introduced in September 2023 rather than next April.
It will not include pre-cast concrete products.
Speaking on his way into the meeting, Taoiseach Micheál Martin said the proposed eviction ban was about getting the balance right and keeping a roof over those at risk of homelessness.
"We are coming into winter and that's the context. There had to be lot of issues ironed out, not least legal underpinning of this. That had to be worked out," Mr Martin said.
The Taoiseach said the temporary eviction ban would be time-bound because of the legal context to it.
Minister for Housing Darragh O'Brien sought approval at the meeting to introduce the temporary ban.
Minister Darragh O'Brien told RTÉ's News at One that tenancy terminations that were issued to 2,273 people in the first half of this year and were due to take place in this quarter cannot take effect during the period of the moratorium.
He said that the ban will "protect quite a significant cohort of people".
Mr O'Brien said the Cabinet recognises "the exceptional times we are in at the moment" and the acute pressure on emergency accommodation across the country.
"We want to make sure that we can protect tenancies through these winter months, while also respecting the fundamental rights of property owners," he said.
"Effectively, what is in place is a temporary time bound pause on the effecting of notices of terminations.
"Notices to quit can still be issued, but they will not take effect until, it's kind of scaled, but the last date would be 18 June 2023.
"So depending on the length of the tenancy, the additional protections are then given to the tenant to ensure that there are no 'no fault' evictions over the winter months between 1 November, subject to this legislation obviously passing in the Dáil, and 1 April next year, but then it's scaled after that."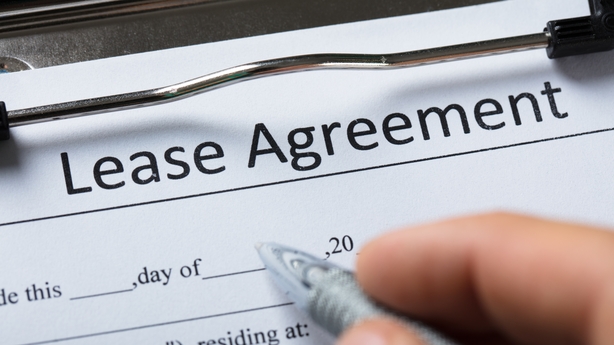 The Minister for Justice defended the Government's decision to introduce an eviction ban - three months after the Taoiseach said it could not be implemented as it would be unconstitutional.
Speaking to RTÉ's Prime Time, Helen McEntee said that the Government decided to introduce the eviction ban today as "the whole dynamic has changed".
She said: "Since the summer things have changed even more drastically. We have 52000 plus Ukrainian people coming in and those numbers are increasing. We have a significant number of people seeking international protection. But also costs are doubling, tripling.
"We want to make sure come this winter, people are not fearful that they're going to be evicted. So this is a temporary measure."
The minister stressed that if tenants "are not paying their rent or bills, or if there is anti-social behaviour, they should not be left in accommodation".
"We have to get the balance here. We do have to make sure that people who own these properties... and so often it's people who own one other property, it's an investment, they're not owning multiple homes... We have to balance their rights as well as making sure that nobody finds themselves homeless over Christmas."

Taoiseach Micheál Martin says the proposed temporary eviction ban is an important step to assist in preventing homelessness over the winter period | Read more: https://t.co/bQIjBKKJdR pic.twitter.com/j8SRvi0Rpm

— RTÉ News (@rtenews) October 18, 2022
Sinn Féin leader Mary Lou McDonald told the Dáil earlier of a homeless family living in a tent, who she says was told they "earn too much for housing support".
"When a working family ends up living in a tent, it is a sign that the system is broken beyond recognition," Ms McDonald said.
Welcoming the evictions ban, she said it must be implemented without delay.
Sinn Féin leader @MaryLouMcDonald has urged the Govt to speed up the implementation of eviction bans to help 'desperate families.'

In reply, the Taoiseach said November 1 remains the Government's realistic target for its implementation | Read more: https://t.co/Cra3TPhYjY pic.twitter.com/f933xCf1sR

— RTÉ News (@rtenews) October 18, 2022
Responding, Mr Martin said it is not acceptable that a family would have to live in a tent and that the ban can take effect from the beginning of November, if the legislation is passed by the Oireachtas.
Close to 650 homes have been purchased by local authorities after the Minister for Housing approved the buying of homes in properties where tenants are on the cusp of homelessness, Mr Martin told the Dáil.
Labour leader Ivana Bacik said she welcomes the government's "U-turn" on a temporary eviction ban, but said it has come too late for the nearly 11,000 people who are homeless - 3,200 of whom are children.
Labour leader @ivanabacik has called for the strengthening of the tenant-in-situ scheme to protect families from homelessness.

The Taoiseach said the Govt is committed to building more social houses as a long-term solution to the housing crisis | More: https://t.co/VruYZp2E7y pic.twitter.com/SybaGGqi0K

— RTÉ News (@rtenews) October 18, 2022
She said the Government should speedily place an obligation on landlords who are seeking to evict a tenant, to have to contact the local authority first regarding a possible purchase.
She argued this would put the housing stock on a more sustainable footing, if accompanied by the State building more sustainable homes and ensuring construction targets were met.
Mr Martin said the legislation enabling the eviction ban would be published very shortly, and he contended it would provide greater security of tenure for tenants.
He said a similar measure was introduced during the Covid-19 pandemic, and there is a similar context today given the "very serious" energy crisis.
Ms Bacik said her party would work with the Government to ensure the eviction ban is passed as quickly as possible, which was welcomed by the Taoiseach, adding that he would work closely with the Opposition on the question.
He added that tenants facing notices to quit will be protected by the ban the day after the legislation is enacted.
He was replying to the People Before Profit TD Richard Boyd Barrett.
Meanwhile, the Minister for Finance Pascal Donohoe has confirmed his decision to extend the rental tax credit of €500 to parents of third level students.
The parents must pay their child's rent, and the student's tenancy must be registered with the Residential Tenancies Board to qualify for the credit.
Property body considering legal challenge
Elsewhere, the chairperson of the Irish Property Owners Association said her organisation was considering a legal challenge to the proposed ban.
Speaking on RTÉ's Morning Ireland, Mary Conway said some members are suffering great financial stress and need to sell their properties, but are now being forced into a position where they cannot do this.
Landlords are leaving the market because it is over-regulated, Ms Conway added.
The Chief Executive of housing charity Threshold has described the decision to introduce some sort of time-bound ban on evictions as "the least worst option".
John-Mark McCafferty said the charity is seeing a doubling of tenancy terminations this year, with 462 being issued a month, compared to 263 in 2019.
The majority of these cases involve a landlord who wants to sell a property.
"There is low or no availability of any other alternative accommodation in the market," Mr McCafferty said.
"So if someone gets a notice to quit even, those notice periods are longer now, they have no alternatives."
Additional reporting Paul Cunningham and Karen Creed