The Cabinet has approved a plan to pay three electricity credits to every household over the next six months.
It is expected that the €200 credits will be paid in November, January and March.
Minister for Public Expenditure Michael McGrath said the Government has to ensure the energy credit payment is implemented "smoothly".
He also said a number of Government departments are working to scope out "precisely what the benefit will be to Ireland" by way of additional revenues from the decisions made at an EU level last week.
"There is still some further work to be done to bottom out exactly the quantum of revenues that Ireland and other member states are likely to get."
He said the important thing is that the commitment has been given that any additional revenues received will be used to support businesses and households in the months ahead.
The Irish Traveller Movement has called on Government to ensure that Travellers are treated equally under the €600 electricity credits scheme.
The representative group said that a significant number of Travellers did not receive the first €200 credit earlier this year.
The group pointed out that on a site where 22 families share six Meter Point Reference Numbers, each family was credited with just €22.
The Government today examined ways to ensure that Travellers who pay local authorities for electricity get the full benefit of the credit.
We need your consent to load this rte-player contentWe use rte-player to manage extra content that can set cookies on your device and collect data about your activity. Please review their details and accept them to load the content.Manage Preferences
The Taoiseach told the Dáil this afternoon that the Government is considering how to help "certain categories that fall outside the framework" of the energy credit.
Micheál Martin was responding to Fine Gael TD Fergus O'Dowd who said that some pensioners in his constituency, who live full-time on a mobile home park, cannot avail of the scheme.
Meanwhile, work is continuing in Government on guaranteeing that people on pre-pay energy plans will not be disconnected, but this item was not formally on today's Cabinet agenda.
Elsewhere, the Executive Director of Electric Ireland has said that increased profits in the power generation wing of the ESB cannot be used to offset prices by Electric Ireland, as the two sections must operate independently.
Pat Fenlon pointed to "unprecedented rises in wholesale gas prices" which "have risen over 1000% over the past 18 months".
He told the Joint Committee on Environment and Climate Action that two years ago, Electric Ireland's annual wholesale energy costs were €300m, and are now expected to hit €2bn.
Two years ago this cost stood at €300 million and the change has resulted in price increases difficult for customers to absorb, TDs and senators were told
Minister to discuss protections for pay-as-you-go energy customers
Separately, Green Party leader Eamon Ryan will meet with energy suppliers and the utilities regulator to look for protections for pay-as-you-go energy customers.
On Sunday, the Taoiseach told RTÉ's This Week, that the Government will guarantee people on pay-as-you-go energy tariffs will not be disconnected this winter.
The Department for the Environment, Climate and Communications said Mr Ryan will meet the Commission for Regulation of Utilities and energy suppliers over the coming weeks to emphasise the importance of customer protection and supports.
During these meetings he will raise the vulnerability of pay-as-you go customers and will also look for assurances and practical ways that customers can be protected.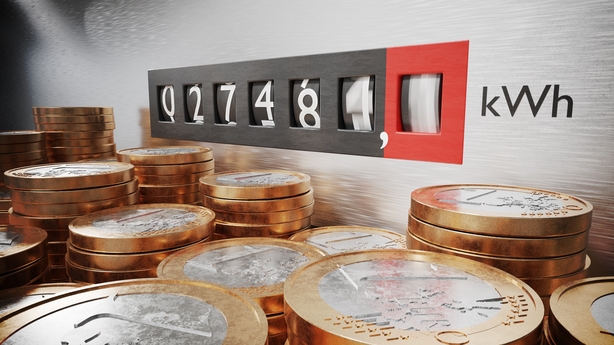 The Commission for Regulation of Utilities said it has already let the department know that making any additional credits to pay-as-you-go customers is difficult because the metering systems cannot provide the data to identify these people.
In a statement it said: "The metering systems cannot provide the granularity of data required to identify the reasons for certain meters not being topped up or the cohort of customers. The CRU has made the Department of the Environment, Climate and Communications aware of the limitations of the metering systems in this regard.
"While all electricity customers will benefit from the Government electricity credit that was recently announced during the budget, additional credits to PAYG customers would require further subvention or access to a non market-based credit mechanism.
"The CRU has announced additional customer protection measures for the coming winter to further enhance the existing protections that are in place."
These protections included an extended disconnections moratorium for all domestic customers from mid-December to mid-January.
It also increased an "emergency credit" on all pre-pay meters, for when money runs out, from €10 to €20.
The credit increased on 1 October.
More using pay-as-you-go meters than believed
The number of people using pay-as-you-go meters is much larger than previously had been known.
The Department of Energy had estimated between 8-10% of all users fell into that bracket - amounting to around 180,000 customers.
However, Mr Martin told the Dáil that the Government was "looking at about 340,000 prepaid meters."
He was replying to a question from the Solidarity TD, Mick Barry.
Additional reporting: Cian McCormack, Paul Cunningham