Taoiseach Micheál Martin has said he had an "initial warm meeting" with new British Prime Minister Liz Truss this morning where they discussed "many issues" in the context of the Irish-British relationship.
However, he said it is not the time to get into the detail of issues like the Northern Ireland Protocol as it is "a moment of national mourning in the UK. And I respect that", he said.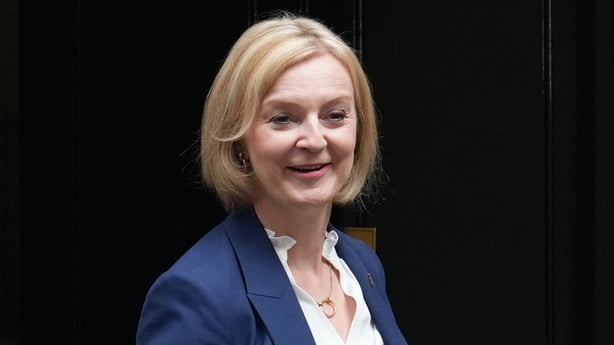 The Taoiseach said he appreciates the opportunity he and President Michael D Higgins have to be in London to express their "deepest sympathies" to Britain's King Charles, the royal family and people of Britain including the many Irish who have lived all their lives in Britain.
Speaking on BBC radio, he spoke about the admiration and respect for Queen Elizabeth II throughout the world, but particularly in Ireland.
"We recall very warmly her visit to Ireland in 2011, a historic visit that in many ways was the culmination of years of peace building.
"We believe that Queen Elizabeth through her authentic actions by that speech in Dublin Castle in many ways opened up a new chapter in British-Irish relations and closed an earlier chapter. And will long live in the memory."
He said over the years King Charles has been a frequent visitor to Ireland and he has a strong sensitivity to all of the issues and met all of the representatives in Northern Ireland.
"What this sad moment brings to mind, really places an obligation on this generation of leaders, is to take the lesson from Queen Elizabeth's actions to understand that the British-Irish relationship needs constant nurturing. We need to reflect at this time on how best to move forward in peace and reconciliation in mutual understanding, how best we can put a framework on the depth and breath of the British-Irish relationship.
He said the fact that they have been invited and given an opportunity to be in London for her funeral reflects that.
"We do deeply appreciate that opportunity afforded to us to be here to pay tribute to Queen Elizabeth and also to acknowledge the important role she played towards reconciliation and mutual understanding on these islands...."
He said he would like to think this "historic" and "sad" moment gives time to reflect and then move forward.
---
---
Separately, Minister of State Dara Calleary said there is a chance to "reset the relationship" between the EU and UK regarding Brexit negotiations with a new British prime minister.
The Fianna Fáil TD also referred to some announcements this week, including from the European Commission's Maroš Šefčovič about trying to meet the demands of the UK.
"We want to get this resolved," he said, as he referred to a deadline looming at the end of October.
Social Democrats co leader Róisín Shortall echoed that, saying Europe wants a resolution and indicated they are prepared to move on it and be "somewhat flexible".
"That is not easy as there are repercussions," she added. However she said the fact there is a new British PM and new Secretary of State opens up an opportunity.
Speaking on RTÉ's The Week in Politics, she said the difference with Boris Johnson is that he was not prepared to sit down and negotiate.
"It is in everybody's interest the issue of the protocol is resolved as soon as possible."
Sinn Féin's Darren O'Rourke said Northern Ireland is changing and the First Minister in Northern Ireland Michelle O'Neill has shown she is a minister for everyone in the aftermath of the queen's death.
He said it is important to recognise peace and reconciliation and the importance of the queen to the wider unionist community.
"That is an important role for the First Minister in the north and someone who wants to see progressive and positive change."
He said her actions are a measurement of leadership and there is an opportunity to build on that in politics.
"There have been significant changes in Britain..... and afoot in Ireland as well."
Independent TD Michael Healy-Rae said progress is important not just for the peace process but to ensure politicians are working together to respond to issues like the cost of living crisis.