President Michael D Higgins and the Taoiseach have paid their respects to Britain's Queen Elizabeth II at her lying in state in Westminster Hall in London.
They also signed a Book of Condolence at the UK Foreign and Commonwealth Office.
President Higgins was among heads of state and dignitaries who have signed the book at Lancaster House in London.
The president said the queen deserved all the tributes that were paid to her because "she represented such an extraordinary combination of talents, a sense of duty to which nearly everybody has referred, a great knowledge of what was happening in the world and a concern for people.
"I have also to say that in relation to Irish matters, her warmth and her deep patient concern that the future would be one that would bring peace and that people would understand each other.
"Her knowledge of Irish history, and her extraordinary statements that there were many things that should have been done differently, and perhaps none at all.
"It is a great, great privilege to be able to pay tribute to somebody who valued friendship so valuably, he added.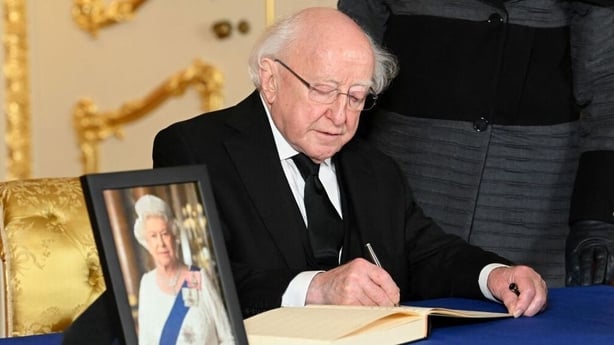 President Higgins also paid tribute to King Charles and the people of Britain who he said were left with a wonderful legacy.
Mr Higgins will also be representing Ireland for the queen's funeral service in Westminster Abbey tomorrow.
It is highly unusual for both the President and the Taoiseach to be out of the country at the same time for an event.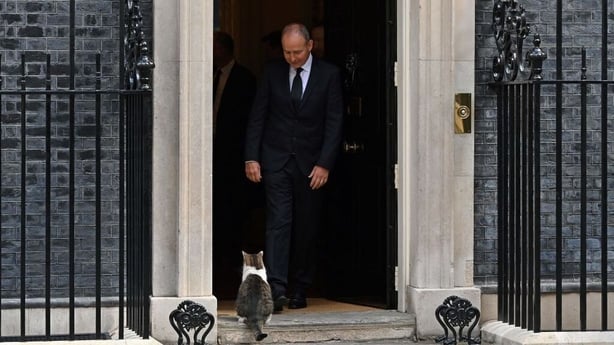 Earlier, the Taoiseach visited 10 Downing Street for a 45-minute meeting with Ms Truss.
It is understood Mr Martin offered condolences to the British people.
They discussed the importance and depth of Irish and British relations and the importance of unity on global challenges.
Both agreed that an opportunity exists for the EU and UK to find a negotiated outcome to issues around the Northern Ireland Protocol.
Mr Martin's visit with Ms Truss was not billed as a bilateral meeting and given the circumstances of the funeral tomorrow, there was no photo call or press release following the meeting.
It is one of a number of meetings the British prime minister will have.
Both the President and the Taoiseach are attending a reception hosted by King Charles III in Buckingham Palace this evening.
President Higgins arrived for the event on a coach with the former King and Queen Consort of Spain, Juan Carlos and Sofia.
European Commission president Ursula von der Leyen and president of the European Council Charles Michel arrived on coaches with several leaders of Commonwealth nations.
They were joined by New Zealand Prime Minister Jacinda Ardern, who walked into the palace followed by Canadian Prime Minister Justin Trudeau.
Brazilian President Jair Bolsonaro was also among guests at the event.
Additional reporting Mícheál Lehane, Juliette Gash