Eirgrid has warned that it cannot give a cast iron guarantee there will be no black outs on the electricity system this winter.
Speaking to the Oireachtas Committee on Environment and Climate Action, the utility's Chief Executive Mark Foley said that "we see a heightened challenge, in that we have less generation available than last winter"
"Our greatest risk will manifest at times of very low to zero wind and low imports from Great Britain," he added.
Mr Foley said that, while Eirgrid had managed to avoid any electricity blackouts last year, "The risk of end customers being impacted is increased this winter".
This is "because all jurisdictions across Europe are tight, and there will be times when wind is low and trades with Great Britain are unavailable."
However, in answer to a question from Social Democrats TD Jennifer Whitmore, Mr Foley insisted that growth in demand was not the issue.
Demand for electricity in Ireland has increased by 9% over the last five years, he noted, but said that this figure is "not off the scale for a prosperous, growing, sophisticated European economy".
Mr Foley said that "we should be able to cope with this", and asserted that, if 500MW of capacity sought in a recent auction had been secured, supply would not be an issue.
We need your consent to load this rte-player contentWe use rte-player to manage extra content that can set cookies on your device and collect data about your activity. Please review their details and accept them to load the content.Manage Preferences
But Commissioner Aoife McEvilly, of the Commission for the Regulation of Utilities (CRU), told the committee that rising demand is indeed an issue.
She respectfully disagreed with some aspects of Mr Foley's opening statement, saying that "we know that growing data centre demand is a challenge, and that has been clear in advice we have received from Eirgrid."
Ms McEvilly added that "we do think it is part of the challenge, and the ability to accurately forecast this is also a challenge for Eirgrid."
Price of gas EU's biggest challenge - Ryan
The Minister for Environment, Climate and Communications and Transport told the committee that the price of gas is overwhelmingly the biggest challenge for Ireland and Europe.
Eamon Ryan said the current spike in gas prices in unprecedented, and that "nothing has ever happened like this".
He added that prices have risen much higher and much faster than even during the oil crisis in the 1970's.
Minister Ryan said that capacity is "a real issue and we have to work on that", and that the rising price of gas will have ten times more impact on Irish households and businesses.
He said that a windfall tax on the profits of energy companies is one of the options the Government is looking at.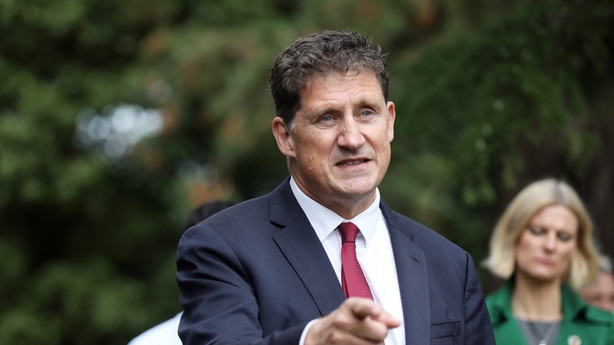 Commissioner Jim Gannon told Deputy Whitmore that the CRU is exploring how optimising batteries may allow energy to be stored for periods of peak demand.
Rodney Doyle, Chief Operations Officer with Eirgrid, warned that the gap between supply and demand this winter could be 280MW, "slightly worse than last winter"
He said "on days we have wind, we have no issue at all" but on calm days Ireland would be looking for trades with Britain.
People Before Profit TD Bríd Smith said data companies should care about their reputation and the sort of society they operate in.
Speaking on RTÉ's Drivetime, Deputy Smith said Ireland is facing a crisis.
"If we need to do something about supply, we also need to look at demand," she said.
"And we should look at heavy industries, data centres and big companies, not individual households."
Speaking on the same programme, Fianna Fáil Senator Timmy Dooley said those who advocate for the elimination of the growth of data centres fail to recognise that as companies move away from storing data within their own companies, they are reducing energy consumption and are sharing spaces instead of data being stored on various sites around the country.
He said more stability was needed for the growth in the economy and the digitisation of economic activity, such as companies using the cloud.
Concerns over supply across EU
The energy crisis in Europe has intensified in recent weeks, adding to problems which already existed in Ireland with the supply of power to the grid.
A series of amber alerts over the summer and concerns over the future of gas supplies in Europe have heightened concerns that supply will not be able to keep pace with demand in Ireland this winter.
Yesterday, European Commission President Ursula Von der Leyen said the commission is working on what she called "an emergency intervention and a structural reform of the electricity market".