The three coalition party leaders are moving closer to an agreement on how much the agriculture sector should have to cut its carbon emissions.
It is now expected talks will continue into tomorrow with growing expectation of a breakthrough by the end of the week.
Taoiseach Micheál Martin, Tánaiste Leo Varadkar and Green Party leader Eamon Ryan failed to reach agreement following talks last night and today.
The Government's Climate Action plan had pledged carbon emission cuts of between 22% and 30% for agriculture.
A number of Fianna Fáil and Fine Gael TDs and senators have argued the final figure should be at the lower end of the scale. The Green Party believes it should be close to 30%.
Green Party Chairperson Senator Pauline O'Reilly said her party would have to convene a meeting to discuss its future in Government if targets are not agreed at the higher level.
She said that "every option is on the table" and she does not think the Green Party can put up with a low figure of 22% reductions.
Describing climate change as an existential crisis, the Taoiseach said that Ireland must play its part, saying all sectors will have to "stretch themselves" when it comes to carbon emissions ceilings.
The contentious issue of carbon emission reduction targets for agriculture did not make it on to today's Cabinet agenda because of a failure to break the impasse last night.
It was the final scheduled Cabinet meeting ahead of the summer break. So if there is to be a breakthrough, the Cabinet would be recalled for an incorporeal meeting to sign-off on the plan.
But at this stage, that is far from certain.
Speaking on RTÉ's Today with Philip Boucher-Hayes, Ms O'Reilly said: "We need to stop talking. We need to agree the targets and get on with the action that's required."
"This issue has to be addressed, urgently … but at the end of the day, this comes down to what the leaders agreed when we went into Government with Fianna Fáil and Fine Gael.
"They agreed to 51% reduction by 2030, as indeed did Sinn Féin, and all of those parties need to now show their true colours."
The Taoiseach said Ireland has to play its part with the "ultimate challenge" being in reconciling food supply with climate change.
"We would like to see agreement on this. There are challenges, it is not easy, but we are determined to get this resolved," he said.
The Taoiseach said earlier that it is important for the Government to get a resolution on this, "in a way that facilitates delivery" down the road.
Minister for the Environment and Green Party leader Eamon Ryan said this morning that he is "hoping to close the difference" with his Government colleagues on emissions targets and "agree an approach today".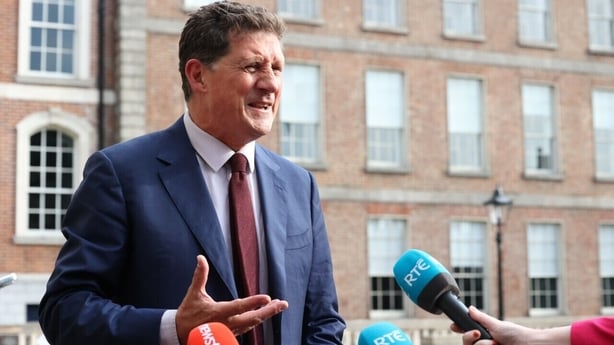 He said the issue was very significant for every part of Irish society and the Government has to ensure that change is made for the better and is good for farmers, transports, energy and employment.
"It's taking a bit of time, but I'm hopeful we can get agreement today," he said.
He said that the Green Party would continue to represent the need to act fast and act more on climate change.
Fianna Fáil TD Barry Cowen said it would be "best for all concerned" if a decision on carbon emission targets for the agriculture sector was deferred until the autumn.
The former agriculture minister said his party "specifically referenced the special social and economic position of agriculture when considering climate action plans in the Programme for Government".
Mr Cowen said that the Green Party "needs to understand we want to bring farmers, their representatives and the industry with us - not kicking and screaming but united with clear, achievable goals".
He said: "It might be best for all concerned for a decision ultimately to come in autumn, when our respective parties can participate and take greater ownership of any solution that has the backing of three parties."
Additional reporting Mary Regan