The Taoiseach has said AIB should "reconsider and reflect on" its decision to remove cash facilities at 70 branches around the country.
Earlier this week, the bank said 70 of its 170 branches would be turned into cashless outlets as a result of what it claimed is declining demand for these services.
Speaking from Asia, Micheál Martin said while he understands that as a society we are moving towards a more cashless society, many towns need this facility.
"There are a significant cohort of people who need this facility and I believe AIB and the banks should take notice of this," Mr Martin said.
He added: "AIB should reconsider and reflect on this and consider the people that have been loyal down through the years, particularly the more senior generations."
The Fianna Fáil leader added that the economic impact for many towns is also a factor.
Mr Martin's office has been in contact with AIB and asked officials from the bank to attend a meeting at his office next week to discuss the issue.
"They need to consider the people who have been loyal and strong customers through the years, particularly senior generations"

The Taoiseach has said AIB should reconsider its decision to remove cash facilities at 70 branches around the country | More: https://t.co/PWS9nZIPw3 pic.twitter.com/MLHkn6DekA

— RTÉ News (@rtenews) July 21, 2022
In a statement, AIB said it is aware of Mr Martin's comments and said it is "happy to engage with him".
It added the bank continues to engage with local communities.
Chairman of the Oireachtas Finance Committee John McGuinness confirmed that AIB will appear before the committee on 3 August, while also accusing the bank of showing "disregard" for the public.
Speaking on RTÉ's Drivetime, Mr McGuinness said that there was "outrage" across the political spectrum.
"We have already been in touch with AIB who have informed us that because next week is their closed period for the reporting of their bank results, that they will not be able to come until 3 August," he said.
"We need the Government to step in and stop this and let the bank bring forward the statistics that they have."
AIB said under its plan it will retain 170 branches in their entirety across the country.
It said as part of the enhanced 20-year "AIB at An Post" arrangement, bank customers wishing to access cash can do so at any post office.
Customers will be able to withdraw up to €1,500 in cash per day from their AIB current account and lodge up to €5,000 a week in cash at the post office.
Businesses will be able to lodge up to €50,000 by prior arrangement with An Post.
AIB confirmed to RTÉ News that ATMs will be removed both inside and outside its branches it has selected to make cashless.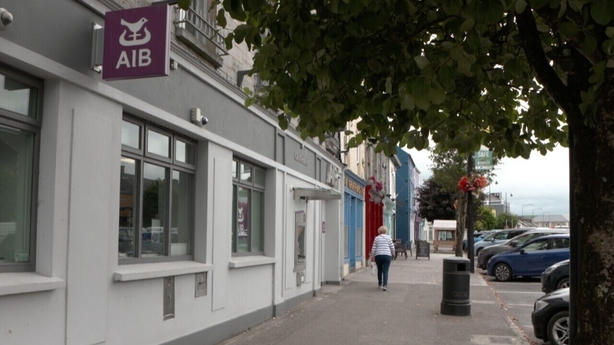 Forty members of the Fianna Fáil parliamentary party have supported a call from Cork East TD James O'Connor to seek an emergency meeting with Minister for Finance Paschal Donohoe on AIB's plans.
Mr O'Connor said the move was backed by nearly all backbenchers and some junior ministers.
"I will tomorrow deliver a letter to the Department of Finance requesting the minister to make himself available to meet the parliamentary party as a consequence of the continued demise of Ireland's community banking," Mr O'Connor said.
"The decision by AIB is not unique and it follows on from 88 Bank of Ireland branch closures and the exit of Ulster Bank from the Irish market. This has left large geographic areas of the country with no banking services."
In a statement, IFA Farm Business National Chair Rose Mary McDonagh said AIB is abandoning the farming community and rural Ireland if it continues with its decision.
She said: "There is huge financial pressure, uncertainty and worry among farmers at the minute. Farmers across all sectors are being hit by an array of spiralling input costs, which are eroding already low margins for most.
"Farmers need to know that their financial provider is there for them when needed and that they have a range of low-cost finance options to meet their personal and business financial needs."
Earlier, Fine Gael TD Michael Ring called for AIB management to appear before the Oireachtas Committee on Finance next week over what he called their "callous decision".
Mr Ring said the move has "rightly generated fury among people" affected.
The Mayo TD said the majority of branches are in rural communities, where there are "many vulnerable customers" who may not have the digital skills to conduct their banking affairs online.
He said management at the bank should come before the committee to explain the rationale behind the move, as well as any future plans.
Chairperson of the Cork and County branch of the Vintners Federation of Ireland Michael O'Donovan said that the move is "placing worry on members".
Speaking on RTÉ's Morning Ireland, he said that with some Cork branches going cashless, some vintners now face lengthy journeys to deposit cash at an AIB bank.
Mr O'Donovan said this could force members to carry more cash on their premises.
"It will be a worry because if you're carrying more cash and having it on your premises, you may become a target," he said.
The move is "another hammer blow for rural Ireland", he said.
He added that cash accounts for roughly 40% of business for pubs and in particular older people still carry cash.
Meanwhile, a series of planned protests at AIB branches across Co Kerry started in Kenmare this morning.
The Kenmare Marketing and Events Group staged the protest outside the AIB branch in Kenmare where the branch manager is former Kerry footballer Colm "Gooch" Cooper.
Mr Cooper is currently on annual leave.
The protests are taking place throughout Kerry over the next week over the planned cuts in the county.