The Taoiseach has told EU and NATO leaders that Ireland was analysing its security and defence posture in the light of Russia's aggression, but insisted that this does not cut across the country's position as militarily neutral.
He said Ireland has never been politically neutral nor slow to take a forward stance against breaches of international peace and security.
Micheál Martin attended the EuroAtlantic dinner in Madrid last night, where he spoke with US President Joe Biden.
At the dinner, President quoted the WB Yeats' line "all has changed utterly" from 'Easter 1916'.
President Biden and Mr Martin discussed the importance of solidarity and agreed to talk again soon.
The Taoiseach also spoke with several other leaders, including British Prime Minister Boris Johnson, Canadian Prime Minister Justin Trudeau and French President Emmanuel Macron.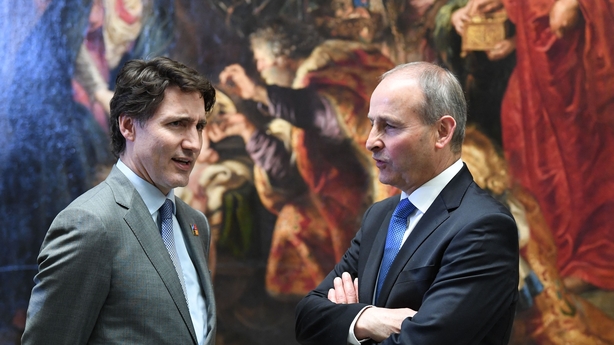 Mr Martin emphasised the need for solidarity amid new threats to global security.
He said countries must stay united on sanctions and on the humanitarian response as the war in Ukraine has seen food, energy and migration weaponised.
"This is a new type of war," he said.
The Taoiseach also spoke with Icelandic Prime Minister Katrín Jakobsdóttir who asked for stronger bilateral relations and invited Mr Martin to visit Iceland.